In this guide, we're taking a deep dive on Printful. We'll break down everything you need to know before choosing Printful for your print-on-demand business.
Are you trying to decide on the right production partner for your P.O.D. business?
Making the right decision about which company to work with is fundamental to setting your business on the right path for success. Whether you are new to the world of print-on-demand or you've already tested a few of the fulfillment companies out there, you know how overwhelming it can be to settle on the right partner.
After all, there are a lot of factors to consider; cost, production time, shipping speeds, product quality, and available products, to name a few. And while there are lots of different production partners to choose from, Printful is easily one of the most popular and well publicized options.
---
Taking a Closer Look at Printful
In this article we are going to cover …
What is Printful?
How to Get Started with Printful
How to Build Your First Print-on-Demand Store
A Brief Product Review
Pros, Cons & Considerations of Using Printful
Before we hop in, if you are still unclear about what exactly print-on-demand is I encourage you to watch the below video:
---
What is Printful?
Printful is a production partner that makes it possible for you to design and sell custom products without ever touching inventory. In essence, Printful acts as your manufacturer, warehouse, design, sourcing and fulfillment team.
The platform that they have built operates behind the scenes allowing sellers to choose from more than 250 different products. With warehouses strategically scattered across North and South America, Europe, Japan and Australia, sellers can reach new markets with minimal effort.
Here's how it works …

Print-on-demand gives you many of the 'benefits' of drop shipping with shorter fulfillment times, greater control and reliability, and infinite scalability. With Printful there is no need to buy and store inventory, source new products, handle order fulfillment, or shell out wads of cash up front.
If you like what you are hearing, you are going to love how easy it is to get started. Next, we are going to create a Printful account, connect it to our e-commerce store, and add our first product.
---
How to Get Started (in 3 Easy Steps)
Step 1. Creating Your Printful Account
If you haven't done so yet, now is the time to create your Printful account. You can do this for free. Unlike some of the other major print-on-demand production partners, Printful doesn't have a monthly fee and won't require order minimums.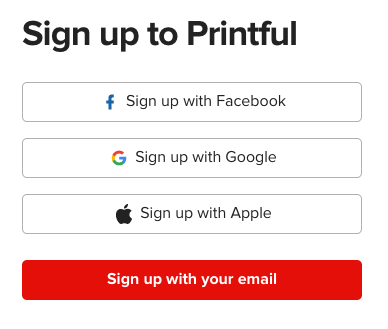 Go ahead and click the Sign Up button and follow the prompts to set up your new account. That's it! Easy wasn't it?
Step 2. Connect Your Shop
The next step is to integrate Printful with your e-commerce store. Fortunately, Printful makes this incredibly easy. With 20+ integrations, it's easy to find your platform or get started with a brand new store. Below you'll find some of the current integrations that Printful supports.
From your dashboard, locate the Stores tab. This will prompt you to choose the ecommerce platform of your choice. While each platform is different, the setup is a breeze.
Watch this short clip to get started with connecting your first store.
Don't feel like you need to limit yourself to one ecommerce platform integration. One of the great things about print-on-demand is that the artwork and products you create can be sold on many different products across multiple different platforms.
My favorite integrations are Etsy, Amazon Seller Central and Shopify!
Step 3. Add Your First Product
By now you should have added your first storefront and connected it to the Printful API. The last step in the setup process is to begin adding products. This is where the real fun begins.
To add your first product to your storefront navigate to your Dashboard and then the Stores tab. All of your connected stores should be showing. Click the Add product button beside the storefront of your choosing.
From here, Printful will prompt you to choose from the 250+ item product catalog (more on this in the next section). Depending on the product you wish to customize, you'll be given numerous options with different materials, price points, fulfillment times, and size options.
After you settle on the product that you want to sell, it's time to make it your own. When it comes to customizing your product, the options are limitless. Simply upload your design, choose your color and size options, crop, resize and customize to your liking.
Finally, choose the mockup that you want to display on your storefront, set the sell price, give your new product a title and populate the product details. Simply hit the Submit to Store button to publish your new product to your storefront.
Products, Pricing & Fulfillment
Now that we have explored how easy it is to setup and integrate your first print-on-demand store, let's dive into some more of the nitty gritty.
Printful Product Options
Printful gives you the freedom to build your business how you'd like. So whether you only want to sell coffee mugs or you want to give shoppers plenty of products to choose from, Printful has you covered. Here are a few of the different products that you can choose from:
T-Shirts, All-over shirts & Tank Tops
Jackets, Hoodies & Sweatshirts
Shorts, Sweatpants & Underwear
Skirts, Dresses & Sports Bras
Kids Clothing & Bibs
Hats, Tote Bags & Phone Cases
Jewelry, Socks and Keychains
Posters, Pillows and Flip Flops
Find the entire Printful product catalog here.
Pricing & Shipping Costs
When looking through the product options you'll want to consider the product base price, the size and color options available, and the estimated fulfillment time.
It is also important to note that the price that is shown beneath each product does not include shipping to your customer. Spend some time vetting out the product options and running some rough calculations to ensure that you can turn a profit.
Printful provides shipping cost breakdowns on their site to give you a better sense of where you stand. For example, t-shirt orders shipped to a customer in the US will cost you $3.99 for the first unit. However, if you manage to pull down a 2+ bagger, the shipping cost for each additional item goes down dramatically.
I primarily sell t-shirts & coffee mugs through Etsy and Amazon Seller Central. As more and more e-commerce platforms are beginning to favor FREE shipping I've adjusted my pricing model to be competitive in the market. Even while offering FREE domestic shipping, I am still able to maintain close to a 25% profit margin and see consistent sales.
To give a personal example, let's take a look at my favorite Printful product: the Gildan Unisex Basic Softstyle T-Shirt.
This shirt has a base cost of $7.95. I offer this shirt for sale with FREE shipping at $19.95. This leaves me with $12 in profit before I factor in my remaining expenses.
Shipping is going to run me about $4.00 and Etsy/Amazon fees will be about 15% of the sell price. So after I deduct the $4 shipping cost & roughly $3 in platform fees I'm left $5 of profit per unit or 25%. As your volume increases with Printful, you'll also have the opportunity to get volume discounts and coupons that will boost your bottom line.
How Fulfillment Works
When you publish products to your e-commerce store using Printful, they will be automatically synced within the API. As soon as your orders start flowing in, Printful automatically recognizes them and begins the fulfillment process.
All of this can be tracked from your dashboard. They handle all of the heavy lifting to print, pack, and ship orders to your customers. This means you can focus on growing your business rather than working on the day-to-day operations.
Take it from me, this process is almost entirely automated. That being said, this is often where the most questions arise. If you have any questions I encourage you to leave a comment below.
---
Printful Product Review
By this point you may have one burning question left: "How do I know if the product quality is any good?" Fortunately I am here to help. I ordered several sample items from Printful to give you a better sense of the quality, packaging and customer experience.
Take a look at my full product review in the below segment.
I highly encourage you to order several sample products as well. Doing this will give you a better sense of how the print-on-demand model works and give you perspective on the customer experience.
---
Pros, Cons & Considerations
With all of that out of the way, it's time to summarize some of the Pros and Cons of Printful.
Printful has been my production partner of choice over the last 3 years. While I do leverage multiple production partners, Printful continues to fulfill the majority of my orders.
Pros of Using Printful
Here is what I like about Printful:
Lots of Product Options: Printful offers a large and constantly growing catalog of 250+ products. You are more than likely going to find at least a few products that catch your eye.
Great Customer Service and Reliable Delivery: over the years, I have had lost orders and other small issues from time-to-time. In my experience, the support team at Printful has always been extremely helpful. I have had lost/damaged orders refunded and in some cases re-shipped at no extra cost.
International Fulfillment Centers: tapping into international markets has become a lot easier. Printful is one of the few print-on-demand production partners that truly has the capabilities to help you expand internationally. Their fulfillment network makes it easy for you to reach audiences in international locales.
Relatively Quick Fulfillment Times: industry average fulfillment times vary significantly. Since all products are made to order, having clear expectations of fulfillment times is important. Over the years I've watched as fulfillment times have improved significantly as Printful has continued to expand on their capabilities. In the last 12 months, I have even experienced a handful of orders that are fulfilled same or next business day.
Tools, Integrations, Coupons, and Volume Discounts: to neatly wrap up everything else… Printful just does things right. Their integrations and UX are seamless and orders are synced and processed with very few manual touch points. As you grow your business, you can also take advantage of coupons and volume discounts to pad your bottom line.
Cons of Using Printful
Ok, now for my cons …
Extended Fulfillment Times: the last few years have been a logistical nightmare for so many companies. In early 2019 when things were turning upside down, I watched my fulfillment times extend to nearly a month on some products. This forced me to shut down a couple of my e-commerce stores as Printful wasn't able to fulfill orders quick enough to meet customer expectations. That being said, I have to cut them some slack as most companies were facing similar delays during this time. I can safely say that in the year+ since, Printful has ramped up capabilities and is meeting demand better than ever.
Price Point: the biggest con I have and probably the one I hear the most from others is in regards to the price point. The print-on-demand space is becoming more and more competitive and companies are dropping prices to grab market share. If you really search for it, you'll likely find another production partner out there that offer products at a better price point.
Closing Considerations
My final piece of advice is to really sit back and consider the following before making a decision on using Printful:
Product Availability
Market Availability
Price Point
Fulfillment Times
Every business is unique and POD businesses aren't any different. It is important that you evaluate your business goals and determine if Printful checks all of the boxes for you.
If you are curious about the other Print-On-Demand companies out there make sure to read my post about The Best Print On Demand Companies and Sites.
---
Ready to Open Your First POD Business with Printful?
Printful is a great option if you are ready to take your print-on-demand business to the next level. Creating an account and launching your first e-commerce store takes just a few minutes.
Between a vast product catalog, numerous integrations, and a reliable system it's no wonder why they have grown to be one of the biggest players in the space. You can't go wrong by giving Printful a try!
Let me know in the comments below if you have any questions about Printful or print-on-demand. And if you are already running a POD business with Printful, I encourage you to check out the video below to take your business to the next level.