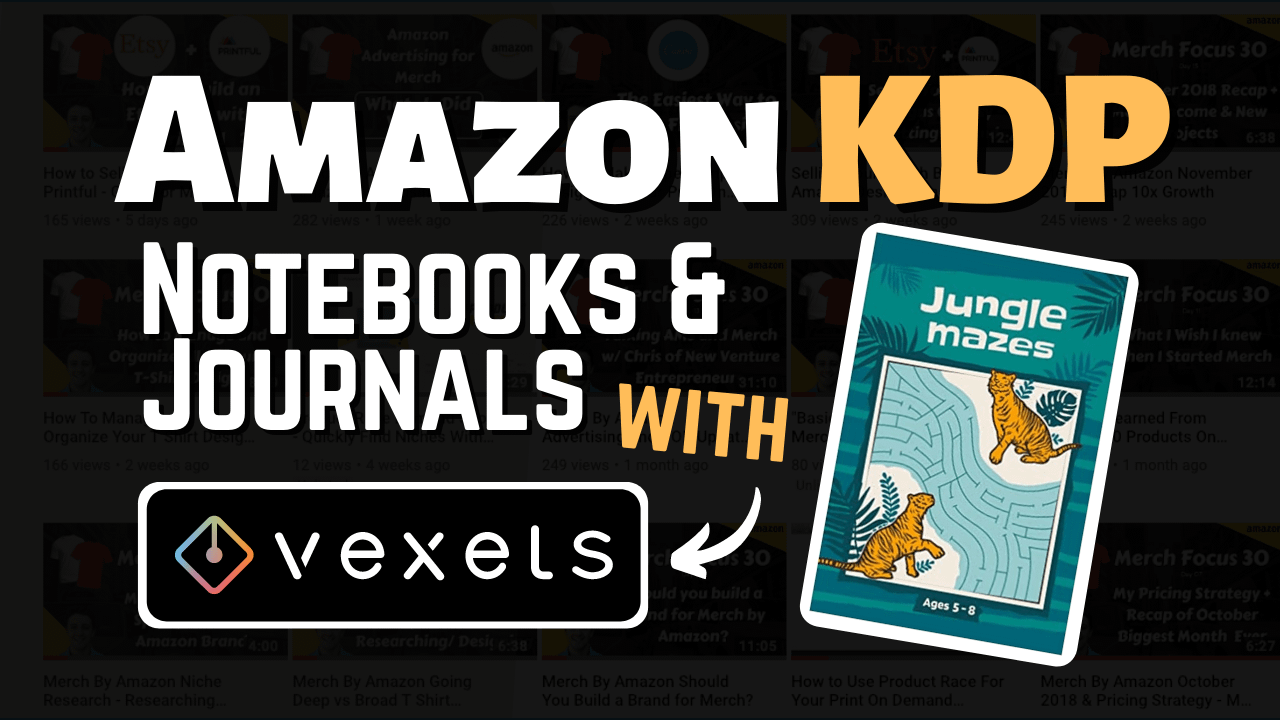 Quickly Create High-Quality Amazon Low-and-No-Content Notebooks and Journals with Vexels KDP Design Assets
If you are interested in starting an online business or expanding your existing print-on-demand empire, Amazon KDP is an amazing avenue to explore. Amazon KDP is a publishing platform that allows writers and e-commerce sellers to publish books directly on the Amazon platform with minimal friction. 
Amazon KDP (Kindle Direct Publishing) was originally intended to position Amazon as an alternative route for writers to independently publish their books for sale through Amazon distribution. When you publish a book to KDP, you are able to instantly tap into the vast capabilities of the Amazon infrastructure.
Writers are able to upload their book manuscript and cover files, fill in basic information about the book and publish their books on the Amazon website in under 5 minutes. After a quick review, Amazon generates a listing for your book and makes it available for purchase to its' massive customer base. Authors are able to publish in multiple formats including paperback, hardcover, Kindle e-book, and even audiobook format. 
The best part about this platform is that Amazon handles every bit of the process. When you receive an order for your book, Amazon handles everything from the transaction and customer service to the printing and shipping process. 
While this is still the most common use for the platform, in recent years sellers have found other ways to capitalize on the platform. Enter low-and-no-content book publishing. Rather than publishing a full written book, prospective sellers can use this same infrastructure to create low-and-no-content products. These range from notebooks and journals to coloring books and log books.
This business model makes it easy for sellers to create and sell hundreds of different KDP books, journals, logbooks and more! While this does take some research and design work, it is relatively easy for anyone to get started with their first Amazon KDP business. In this article we will explore how you can create high-quality designs for your low-and-no-content book business by using Vexels KDP covers, interiors and design assets. 
If you aren't familiar with the basics of the low-and-no-content book business or are looking for inspiration for your next designs, check out this article: Amazon KDP Ideas Made Easy With EZ Pub Profits
Now let's get started! 
Disclosure: Please note that some of the links in this article are affiliate links. When you purchase a subscription or design license through my link, I'll earn a commission at no additional cost to you. I only recommend companies that I am personally using for my own business.
Creating your first Amazon Low-Content Product
If this is the first time you've heard of Amazon KDP it may seem a bit complex. Fortunately, it can be boiled down to just a few easy to follow steps. 
First, you'll need to sign up for an Amazon Kindle Direct Publishing account. Once your account is setup, adding your first publication is fairly straightforward. For low-and-no-content books we'll be focusing on publishing physical books in either paperback or hardcover format. 
From your dashboard choose the paperback or hardcover option to access the publication walkthrough. On the subsequent page you'll be prompted to input information and content for your new product. 
Simply fill in relevant information including a descriptive title and description, add an author or pen name, input keywords, and choose the most relevant product categories. 
Next, you'll be required to upload your product cover design and "manuscript." As low-content-publishers, we are not uploading an actual book manuscript. Instead we are focused on uploading a high quality book interior such as a lined notebook, journal, log book, or coloring book.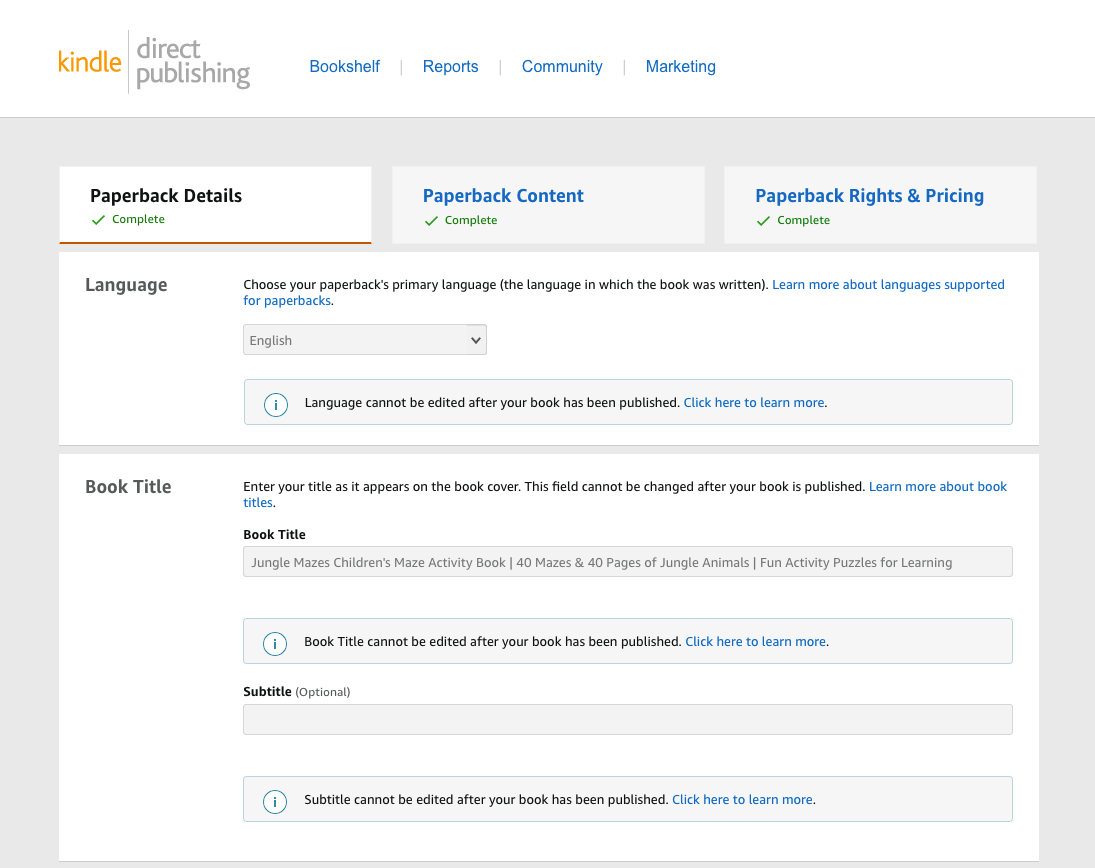 Finally, you'll need to set your pricing and submit your new product to Amazon.
After Amazon performs a brief review and quality check, your new book will be published and made available for sale on the Amazon platform. The end result will look something like the example seen below. 
How to leverage Vexels for your KDP Business
For many sellers the biggest challenge with starting a KDP business comes down to creating quality designs that will appeal to potential shoppers. Even if you are an experienced graphic designer, creating something that will actually generate sales  consumes a lot of time and takes a lot of trial and error. This is where Vexels comes in! 
Vexels is a design marketplace and platform that offers thousands of professional graphic design assets for use in commercial and non-commercial settings.  No matter what type of product you are interested in creating, you'll likely be able to find pre-made designs to incorporate in your product creation process. Vexels employs a team of professional designers who work day-in and out to create unique artwork and assets in nearly every niche imaginable. 
You can sign up for a Vexels subscription to get access to their vast design library or buy individual design licenses. A Vexels subscription is a great tool for your print-on-demand or Amazon KDP business. You'll be able to instantly search and download designs, leverage their design creation tools and even request custom designs all through one simple interface.
Vexels KDP covers and interiors
Beyond accessing a massive library of PNG and Vector files, now Vexels KDP asset library makes it easy to generate scalable interior and cover designs. A simple search of the platform reveals hundreds of designs specifically created for KDP low-and-no-content book sellers.  Even though this is still a relatively new addition to the Vexels library, they are quickly adding hundreds of new designs ready to be downloaded and used for your next notebook or journal.
You have the option to choose a KDP ready design for your cover or interior or utilize multiple different assets to make something of your own. 
Vexels makes it easy to download multiple designs and then use a design or presentation tool like Microsoft Powerpoint or Google Slides to easily format your final product! 
Sign up for a Vexels account here.
Example of a Vexels KDP book live on Amazon 
Incorporating Vexels as part of your KDP low-and-no-content strategy will give you a powerful advantage over other sellers. Amazon has a massive customer base but in order to win on the platform it is crucial that you offer a high-quality product. By leveraging the Vexels platform you are able to create professional KDP books at scale. Whether you are looking for pre-made designs that are ready to be sold immediately or you want to craft your own unique product, Vexels is the Swiss army knife for your business.
Rather than spitting out more of the features and benefits of the platform, I wanted to show you an example of how powerful this resource can be. Check out the video below to see an example of a real low-content-notebook designed using Vexels that gets sales every month.
The cost of using Vexels
You can get started with Vexels by creating an account and browsing for designs. When you've found a design that you wish to use, you can either purchase an individual license or opt in for one of their subscription plans. 
Subscription plans range in price from $7.50 – $99 per month depending on what package you choose and whether you with to pay monthly or annually. The prices for plans have changed and fluctuated over the years so I encourage you to check them out for yourself. 
I've partnered with Vexels to offer readers a discounted price which you can find here.
Wrapping things up
Starting an Amazon KDP low-and-no-content book business is one of the best ways to build a long term internet business that you can profit from for years to come. You don't need to buy inventory, hire staff, or even have your own website. 
This unique opportunity allows ambitious sellers to create products and get them in front of millions of buyers with relatively minimal effort. By partnering with the Vexels team, sellers can easily add countless products to their KDP library at scale.
As the Vexels KDP and design libraries continue to grow you'll be able to find more and more ways to take advantage of this business model to create something that will keep working even when you aren't. 
Regardless of your design skills or e-commerce experience, adding Vexels to your design arsenal will save you time, money and unlock new ways for you to grow your business. Use this link to sign up to Vexels today and get a discount on the plan that best suits your needs.
As always, feel free to let me know if you have any questions about Vexels or the Amazon KDP business model!