Comprehensive Guide to Choosing the Right Print On Demand Companies for Your Business
Making the important decision of the best print on demand company may seem overwhelming with some many to choose from. The goal of this article to to relieve some of your decision making anxiety by breaking down my favorite fulfillment partners.
Before diving in let's take a step back to answer the question; What is print on demand? If you are new to e-commerce or just getting started online you may not be so familiar with one POD. Print on demand drop shipping is by far one of the best business models to start with in 2019 and beyond.
In a nutshell Print On Demand allows you to create 100's if not 1000's of products with little to no investment. The process is simple requiring sellers to research and create winning designs, upload them to the print on demand company of their choosing and then market them to interested buyers.
By utilizing the right print on demand strategy you can take advantage of:
Low barriers to entry making it very easy to get started. This can be accomplished with no prior online selling experience.
Low to no startup costs making the business model accessible to just about anyone. No need to worry about buying inventory or
Ability to sell hundreds of different print on demand products from t-shirts to phone cases and more.
If you are already selling online and looking for ways to make more money check out this in-depth guide I wrote: How I Sold 800+ T-Shirts On Amazon and Made $1700 + In Royalties in 2019
Now it's time to dig in and look at some of the different Print on Demand companies to find the one that is right for you.
Standalone vs. Fulfillment Only Print On Demand Companies
One critical distinction we need to address before getting started is the difference between the standalone Print On Demand Companies vs those that just do fulfillment. A standalone company offers both fulfillment services and an active storefront with existing customers. These companies will not only allow you to create and offer your products but they also have existing customer bases making it easier to get started and get your products in front of buyers.
On the other hand fulfillment only companies like Printful only offer fulfillment and do not have a store front component. Each one of these print on demand companies has distinct advantages and disadvantages.
Understanding the differences we have just laid out is an important advantage in taking full advantage of both business models. Now let's take a look at some of the best print on demand companies on both sides of the coin. Let me know in the comments below if I missed one of your favorites!
Standalone Print On Demand Companies
Let's get started by looking at the standalone print on demand companies. If you are looking for fulfillment only companies feel free to scroll down.
1. Merch By Amazon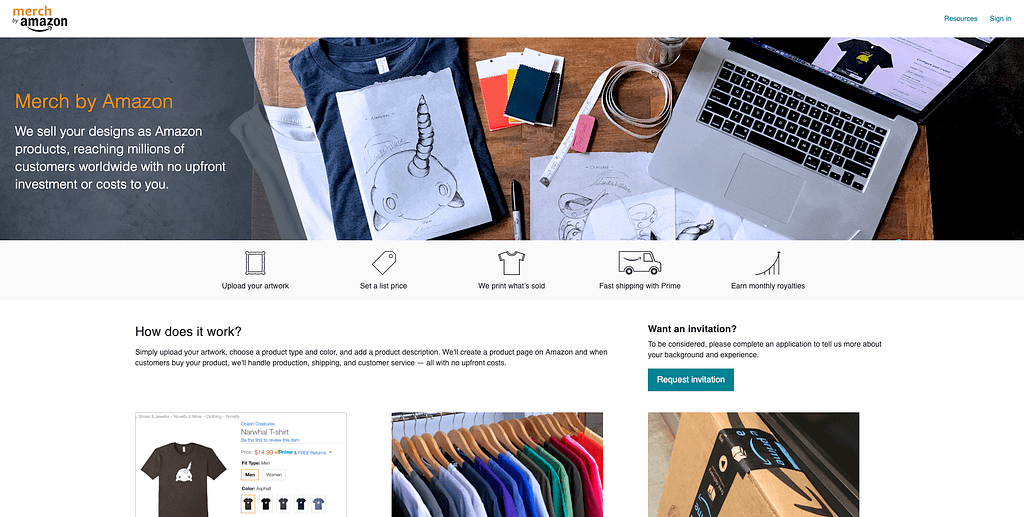 Merch By Amazon is a growing behemoth in the print on demand space. By leveraging the Amazon platform and customer base sellers can quickly deliver a limited selection of print on demand products (t-shirts, popsockets, hoodies and a few others) with 2-day prime shipping.
After being approved to sell on the platform sellers are allotted 10 active slots and slowly gain the ability to activate additional listing slots over time. Listings will be available to Amazon's 197 million+ active monthly buyers.
While this is a great place to start and one of my personal favorites Merch does have its' drawbacks as a print on demand company. Some of these include fierce competition, low royalties per sale, and strict approval and compliance policies.
Despite these drawbacks, Merch by Amazon is one of my most reliable sources of print on demand income. If you want to learn more about how I started selling on the Merch By Amazon Platform be sure to check out my YouTube channel.
2. Redbubble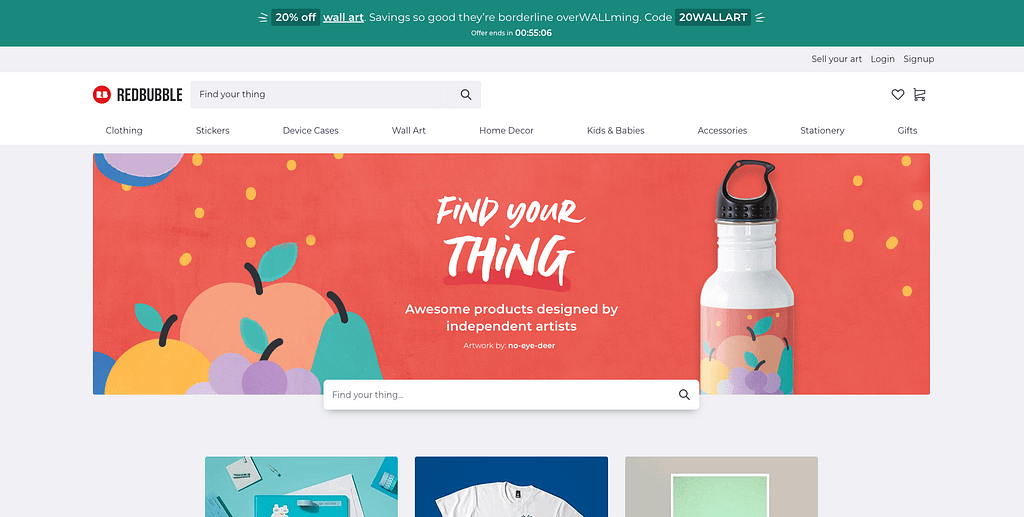 Redbubble is a strong standalone print on demand company to consider. While they don't boast the same customer base as Amazon they still do see upward of 6 million annual searches. The Redbubble platform is significantly easier to use and navigate from the sellers point of view making it easy to upload designs to tens of different products. With strong margins sellers can take advantage of this less competitive platform to create a strong print on demand merchandise partner!
3. Spreadshirt
Being based out of Germany hasn't stopped Spreadshirt from growing to be a strong candidate for your Print On Demand empire. They are a great option for artists and designers to sell products online. What makes Spreadshirt one of the great print on demand companies is their vast selection of products.
Sellers have the ability to drag and drop design files into the dashboard and instantly generate tons of different product mockups.
4. Teespring
Teespring is one of those print on demand companies that has everything from socks to t-shirts and has the fan base to make e-commerce dreams come to life. They have built a solution for everything from iPhone cases to custom prints and designs to make your customers happy!
5. Zazzle
Zazzle wants you to win with print on demand. This print on demand company gives sellers the ability to take custom patterns and images and sell across products like thank you notes to custom phone cases. Their mission is to "give people the power to make anything imaginable."
With a robust backend and botique feeling marketplace new print on demand sellers are sure to find products and customers for their growing business.
6. Society6
Affordable art and wall accessories that look stunning in the hands of the customer are just a few clicks away with Society6. Society6 is geared to serve as a platform for independent artists and a quick look at their site will show that their brand identity is spot on. This is a great print on demand partner to utilize for photography and custom made artwork.
They offer membership and community to their niche of artists and buyers!
7. Designs By Humans
Designs By Humans allows content creators to develop an additional revenue stream through their unique approach to print on demand. Their platform caters specifically to YouTubers, Gamers and Influencers.
This doesn't mean these are the only types of sellers that can take advantage of the platform. Designs By Humans is open to individuals who don't fall into one of the above categories.
8. Fine Art America
Fine Art America focuses heavily on photography for wall art and print outs. While they don't offer the same breadth of apparel options, this print on demand marketplace is great for sellers with lots of high quality photos and custom artwork.
Fine Art America also points out right on their homepage that they offer a whopping 14 different global fulfillment centers. This is a crucial advantage as they will be able to quickly service customers across the US and abroad.
9. SunFrog
SunFrog is a popular Print On Demand platform for finding both custom made artwork designs as well as unique products with an artistic flare. They offer sellers the opportunity to create custom products with ease. This should definitely be a consideration in choosing a solid player in the Print On Demand space.
10. TeeFury
Take advantage of flash sales and buyer gamification with TeeFury. This print on demand site makes unique designs the feature of their store but only for a limited time encouraging buyers to take action. After one of these 24 hour flash sales, products will still be available for purchase at an increased price on the site.
11. Threadless
Threadless is another staple in the e-commerce space. A Chicago based business that got started in 2000, Threadless helps make artists known. Get your print on demand designs onto the platform and they will take care of the rest. If you are lucky enough they may even make you design famous by tweeting out your artist name to their growing fanbase.
13. CafePress
Our final standalone print on demand company is CafePress. Cafepress offers many of the same product offerings as some of its' competitors but goes one step further with some unique products like political yard signs and stickers. At affordable prices and a large active customer base they should certainly be another place for sellers to consider when delving into their print on demand journey.
Fulfillment Only Print On Demand Companies
Now it's time to explore some of the fulfillment only print on demand companies. These apps and services work great on sites like Etsy & Shopify. Partnering with one or multiple of the below companies is a great way to create a professional online portfolio with very little headache.
1. Printify
Printify is a well established print on demand fulfillment company which boasts simplicity in a complex space. While I cannot say that I have personally used Printify I have heard from countless folks that this is a professional production partner to add to your arsenal.
2. Custom Cat
Custom Cat takes me back to the early days of print on demand. They helped me launch my POD business in the early stages selling on Shopify and Amazon SellerCentral. Custom Cat doesn't get enough credit in the POD space. They have extremely friendly support staff, quick fulfillment times and very reasonable pricing.
3. Printbest
Printbest is one of the newest additions to this list. Although they have more than two decades of experience in the print on demand space, the Printbest platform was launched in 2020. One of the big value propositions they boast is 1-2 day printing! The industry average is closer to 5 days. With above average print times compared to the rest of the POD platforms, I expect we will be hearing much more about Printbest in the coming months!
4. Gooten
With a founding date in 2012, Gooten is relatively new to the Print On Demand game. That hasn't prevented them from capitalizing on the this trending ecommerce business model. In year one they posted $1mm in annual revenue with 40,000 customers.
The company is working hard to ensure high quality standards for small print on demand entrepreneurs. This is great news if sellers are just getting started selling products online.
5. Scalable Press
Scalable Press boasts 72 hour turnaround times on print on demand product fulfillment for nearly 4,000 products. They have 6 US based fulfillment sites making it easy for sellers to reach any part of the country in quick order.
Scalable Press also integrates directly with Shopify and WooCommerce.
6. Teelaunch
Another great company to consider partnering with is Teelaunch. They go above and beyond the traditional fulfillment partner by offering unique custom products like backpacks, mousepads and laptop sleeves.
Leveraging their unique product offerings is a great way to corner of your portion of the vast internet landscape.
7. Printful
My relationship with Printful goes way back. They have secured a place in my print on demand business as my main production partner to date. While their pricing is slightly higher than that of competitors, they make up for it with extremely high quality products, excellent seller support, and an impressive product offering.
Printful is based internationally but has US based fulfillment centers which makes them an ideal print on demand company for selling domestically as well as internationally. If you are looking for a quick review video check out the one I did on their product quality earlier this year:
They also integrate with numerous e-commerce applications including Amazon, Shopify, Etsy, eBay and many more. This makes integration a breeze no matter what platform sellers plan to integrate with.
8. WC Fulfillment
WC Fulfillment is a production partner app for Shopify stores which allows sellers to create custom products like skateboards, beach blankets and the more traditional product lines. While WC Fulfillment may limit sellers to just the Shopify platform, they do make up for it by adding many product offerings not supported by other companies.
9. Amplifier Formerly: Merchify
Amplifier formerly Merchify is a smaller player in the print on demand industry. With limited product types higher than expected pricing, this company has a long way to go to meet the standards set by some of the other companies on this list.
That being said, boutique sized companies often have more ability to cater to their customers and partner with them in a more traditional sense. If you have tried Amplifier let me know down below in the comments.
10. CG ProPrints
Take one look at CG ProPrints website and you'll understand exactly what they do. This print on demand site focuses specifically on wall art, canvases, and framed art. With the opportunity to make strong margins for this space, CG ProPrints should definitely be on sellers' watchlists over coming years.
11. Kite
Kite's tag line is "the internet's print button." They offer 250 of the most crucial print on demand products like t-shirts and phone cases and also give sellers photo print services. This is a unique service that only Kite offers allowing print on demand entrepreneurs the ability to create custom photo albums and photo print services.
12. InkThreadable
InkThreadable is a well known production partner for sites like Shopify, Etsy and WooCommerce. The company is based in the UK and while that may seem like a drawback, using them strategically allows print on demand businesses to quickly reach the UK marketplace with a boots on the ground presence.
The company also boasts 3-5 day turnaround times and international shipping.
13. Shine On Jewelry
If you are looking for something different then you need to check out Shine On Jewelery. As their name suggests, they offer print on demand services specifically for jewelry like necklaces, bracelets and even custom engraved leather. This is a great way to capitalize on a very underserved print on demand space.
14. AllOverPrint
With integrations for Etsy and Shopify, AllOverPrint is another great option for UK fulfillment partners. Based in London, they make it easy to expand internationally.
15. GearLaunch
GearLaunch has all the standard product offerings and integrations for Shopify at fairly affordable prices. They are one of the few other print on demand sites that offers jewelry product lines.
Getting The Most From These Print On Demand Companies
The secret to winning in the print on demand space is picking the most cost effective print on demand company for the business you wish to build. By coupling multiple print on demand websites and services together sellers can access vast numbers of products and ship to customers around the world.
Did I miss any companies? Let me know down below in the comments. While this article is fairly comprehensive I'm certain it will change. As it does I'll try my best to keep you up-to-date on marketplace changes!