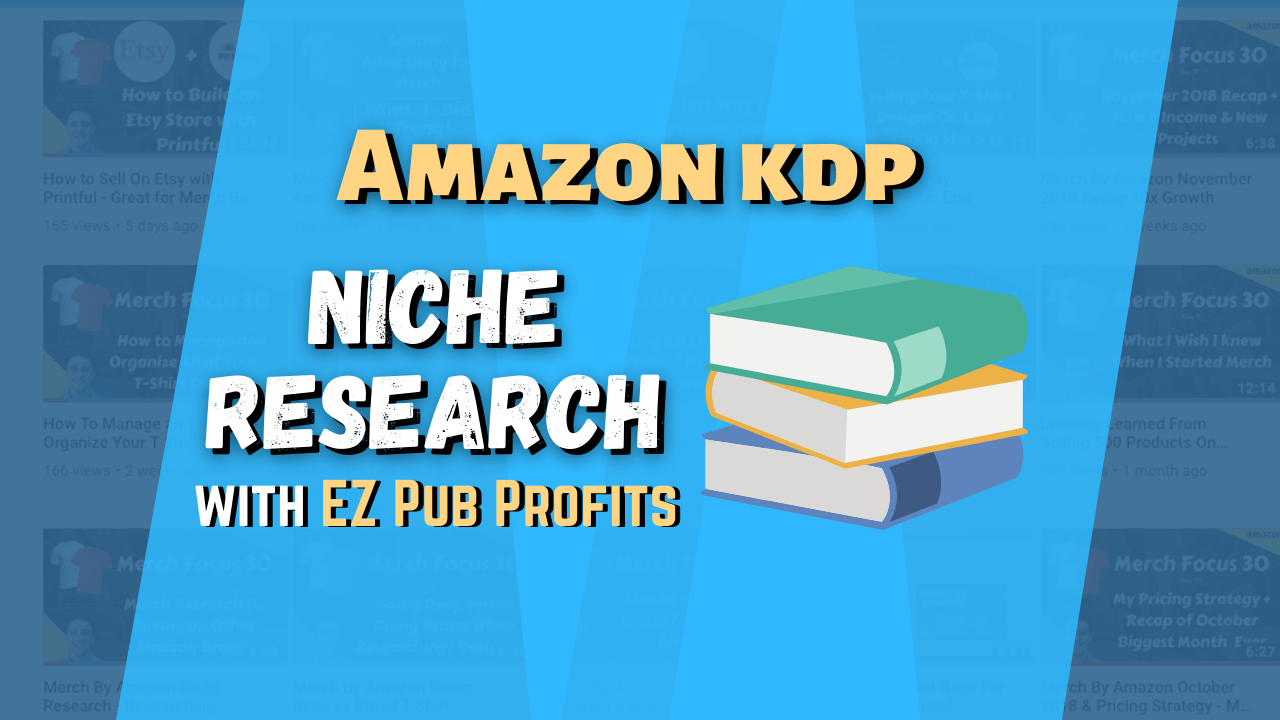 Grow your Amazon KDP Business with monthly niche ideas from EZ Pub Profits! 
Building an Amazon KDP business with low-and-no-content notebooks and journals can be a great way to build passive income. One of the most challenging parts of this business model for both new and experienced sellers is niche research.
The research process can take a lot of time …
Even if you have tools like Helium 10 or Book Bolt to help you, the process can still be daunting. If you have been selling low-and-no-content books you've likely been here before. You open up Amazon or start pouring over keywords but after an hour of research you still aren't able to settle on a good niche. 
And then when something promising finally comes along, you still need to do deeper keyword research and then spend your time actually designing your new product! 
If you have faced this struggle before, you know just how frustrating it is. That is why I wanted to share a resource with you that has been helping me avoid the headache and spend more time actually creating high quality journals and notebooks.
EZ Pub Profits is a monthly guide that takes the heavy lifting out of identifying "low hanging fruit" niche ideas for your KDP business. In this guide, I'll introduce you to what EZ Pub Profits is and how you can use it to identify Amazon KDP ideas for your business. 
Disclosure: Please note that some of the links in this article are affiliate links. When you purchase a subscription or design license through my link, I'll earn a commission at no additional cost to you. I only recommend companies that I am personally using for my own business.
What is EZ Pub Profits?
In a nutshell, EZ Pub Profits is a monthly email newsletter subscription that provides pre-vetted opportunity niches, keyword research and insights to help grow your KDP business.
 These aren't short either! The April 2021 guide was over 100 pages of research and insights! 
Beyond niche ideas and keyword insights, the EZ Pub Profits guides contain important date and holiday reminders, actionable strategies for getting the most out of the niche recommendations, tips and tricks for formatting your books, target audience and demographic insights and access to a private Facebook group. The guides cover upcoming events two months out so that you will have enough time to prepare and create new products before the upcoming events!
For example, the April 2021 guide table of contents looked something like this:
June Monthly Niche Spotlight
National Country Cooking Month
National Men's Health Month
Pride Month
June Monthly Niche Mentions
June Important Date Highlights
June BOOK A DAY
The Importance of your Book Description
A Strategy for Indexing in Google Search
How to Write a Compelling Book Description
Formatting Your Description with HTML
More Book Description Examples
Collaboration with Pixel POD Studios 
The cost for all of this is $10 per month. And you can cancel at any time, Just one profitable book KDP idea per month more than covers the cost of entrance.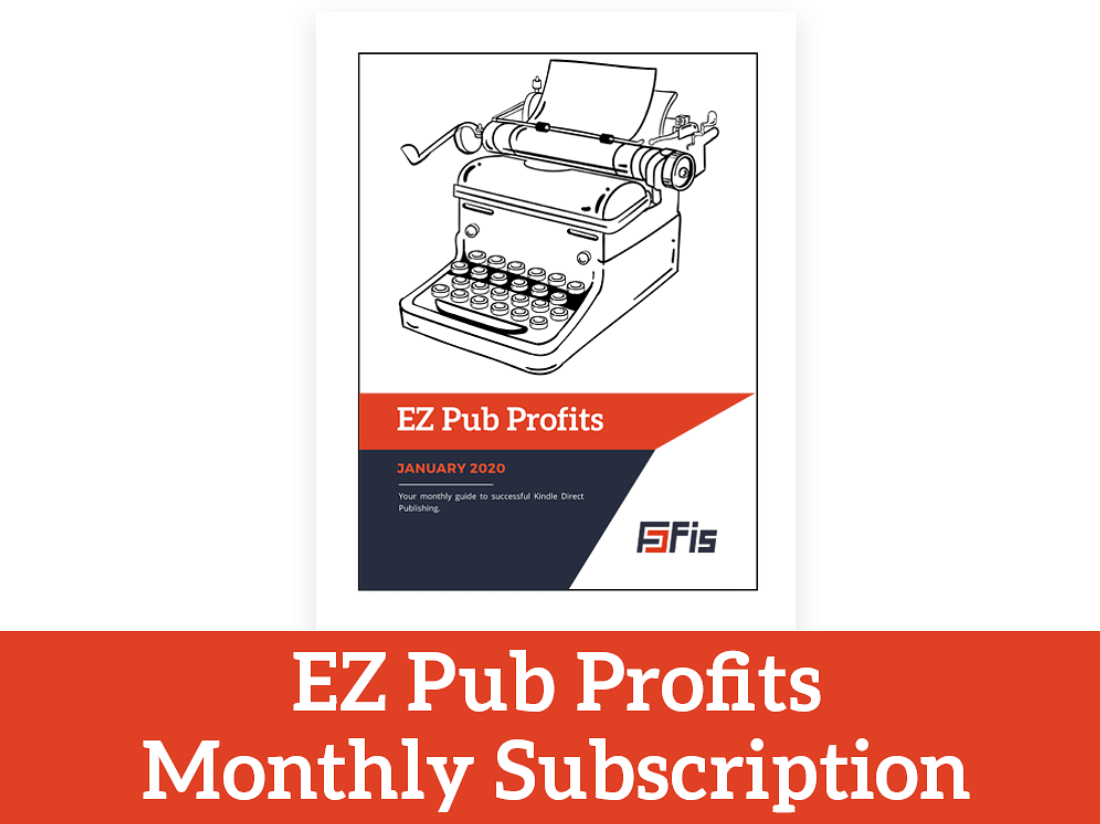 How to use EZ Pub Profits for your KDP Business
After signing up for for the EZ Pub Profits guide, you'll start receiving a monthly email containing the research PDF. Take time each month to carefully review the contents. By adding EZ Pub Profits to your toolkit, you are gaining an edge on the competition and outsourcing part of the research process.
The guides are focused on "done for you" niche and keyword research so you can quickly go from scanning the guide straight into the design process. What I recommend doing is reading through guide to get a grasp of upcoming holidays, review potential Amazon KDP niches, and learn about the latest strategies being used. Identify a niche or two that look promising or that you have designs for.  
These monthly guides are designed to focus on quality over quantity. Focus on one of the pre-vetted niches and take your time to design a high-quality low-content-notebook or journal. In many cases, the researched niches may extend to other formats like logbooks or activity books so don't limit yourself to a single format. 
If you haven't already, make sure to check out this post on 12 Low Content Notebook Ideas for Amazon KDP.
Once you've spent some time and chosen a niche to work in, it's time to move to the next step. Although, most of these guides provide related keywords and estimated monthly search volumes, it's always a good idea to further vet them out.
At this stage, I normally like to perform a brief keyword search using Book Bolt's Keyword tool or Helium10's Magnet tool. From this research, I can determine niche demand and gather keywords to use in my listing title, description and backend keywords.
Using, the example of "grandma recipe book" as my seed keyword, I can gather related keywords of interest:
family recipe book
blank cookbook
recipe organizer
cook book for recipes
Once you've identified your main keyword and related keywords, it's time to take to Amazon. Enter your main keyword in the Amazon search bar and look at the results. This is a great time to gather inspiration for your notebook design. 
Repeat this process for any of the related keywords as well to get further insight. 
By now, you should have a good idea of the amount of demand in the niche, keywords to use in your listing and a sense of the quality of the competitors! It's time to take your research and get to designing.
The focus of this article isn't on the design process, but I'm going to go ahead and add a few helpful notes on how you can take this research and quickly make high quality low-content designs! 
Creating high-quality KDP designs
There are tons of great design resources out there to help you create KDP covers and interiors even if you aren't a designer. I fall into the non-designer category, so I rely on tools and resources to help simplify the design process. 
After you've settled on your niche and gathered inspiration for your product design you'll need to create 1) a cover for your book & 2) an interior. I normally like to start with the interior as it will dictate the dimensions for my cover. While you can certainly take the time to create an interior yourself using Powerpoint or another tool, an easier way to jumpstart the process is by leveraging pre-made interiors. Pixel POD is a great resource for this! Because they put out new interior designs each month, it's generally easy to find an interior that will work for my new KDP journal or notebook. 
Download and format the ready-made interior of your choosing and move on to the cover creation process! 
For covers, I turn to Vexels, which not only has tens of thousands of vector and png files but recently added pre-made KDP covers. They've also recently added KDP interior assets to make it easy to create stunning interiors for your new notebook or journal. You can leverage the Vexels platform to cherry pick professionally made graphics to utilize with your new notebook. 
In Summary
EZ Pub Profits takes the heavy lifting out of researching Amazon KDP ideas for your low-and-no-content business. There is a lot of power in being able to receive low hanging fruit niche opportunities straight to your inbox. Not only do you save time and headache, but you are able to leverage the monthly guides to identify niches and strategies that you may have otherwise missed.
Joining the EZ Pub Profits Facebook community also provides you with a forum to connect with other Amazon KDP sellers and seek guidance when you get stuck! 
Putting the Amazon KDP Ideas to the test
I only recommend products and services that I am personally using in my business. I put EZ Pub Profits to the test in August of this year. 
After receiving my monthly guide, I identified two awesome niches that I wanted to test out. Following the same process I've outlined in this article, I was able to upload several high-quality notebooks and journals to my Amazon KDP account.
In the months since, these designs have sold numerous times helping add to my monthly income streams. 
But don't just take my word for it, give EZ Pub Profits a try and sign up today! And if you have any questions along the way, I encourage you to come back and leave them below.
Enjoying articles like this? Make sure to subscribe to my newsletter for more on KDP and print-on-demand!