There are very few e-commerce businesses that can be started in just an afternoon without having significant experience or startup capital. I've been building online businesses for the last 6 years and have seen a lot. From Amazon FBA to niche blog websites, each one of these requires upfront time, technical know-how, and or a reserve of cash to invest in inventory and expensive software tools.
So whether you are new to the world of e-commerce or are just looking for the next business model to add to your online empire, you are in the right place. In this article you will learn how to start your very first print on demand t-shirt business in less than an hour.
Are You Ready to Start Your Very First Print On Demand Business?
If you are new to the world of Print On Demand, you are about to be introduced to one of my favorite business models. So what exactly is Print On Demand?
Print on demand is an order fulfillment method in which items are custom printed and sent to your customer after they have already bought and paid for the item.
Essentially, you list products on your online store be it Shopify, Etsy, Wix, or eBay. Then when a customer purchases your product, you collect the cash upfront and your production partner goes to work and ships your order directly to the customer. They deduct the cost of the materials and shipping and you keep the difference.
There are many benefits of building an e-commerce business using the print on demand method but my favorite are the following:
No need to buy, hold, or store any inventory. Your production partner will handle all of this for you.
You can get started even if you've never set up an online store, don't have coding experience, and have no design experience.
When the orders start rolling in you won't be the one printing, packing and shipping the orders! That means you get to sit back, relax, and collect your earnings.
If you have $25 in your bank account you are ready to start TODAY!
This can all be accomplished in less than 60 minutes. We don't have time to waste so let's dive in!
Start Your Business (And Making Money) In Three Easy Steps
Learn how to start a print on demand business in three easy steps.
Choose a production partner and create an account
Set up your first e-Commerce store
List your first product
BONUS: What quality to expect from your production partner
1. Choose a Production Partner and Create An Account
The first thing we need to do is pick our production and fulfillment company. You can think of your production partner as your inventory supplier. Your production company will dictate things like production and shipping speed, product cost, and ultimately the quality of the end product.
It's important to spend time choosing a print on demand provider that will serve your business needs. I've played around with many of these companies and they all have their unique advantages.
Spending time researching production partners can be overwhelming and slow down the process of actually launching your first store. That is exactly where Printify comes into play. Printify itself is NOT a print on demand production partner. Instead they connect you to more than 90 different production partners spread all over the US, Canada, and the UK.

Printify gives you access to 200+ different products and allows you to choose from many different production partners. This allows you to start an agile business from the get go.
Their software allows you to sell internationally and choose print on demand partners based on things like:
Cost of goods
Production time
Shipping speeds
Types of products offered
Printify 1-10 rating
Another very important reason to choose Printify is to create a failsafe for your business. When you only have one production partner you rely on that partner for everything. But if they run out of inventory or go out of business, you are out of luck.
If you want to do some more homework make sure to check out my post on the Best Print On Demand Sites and Companies.
Creating Your Account
Navigate over to the Printify Homepage and click 'Sign Up.' Printify will ask you a few questions about your business and ask you to add an email and password.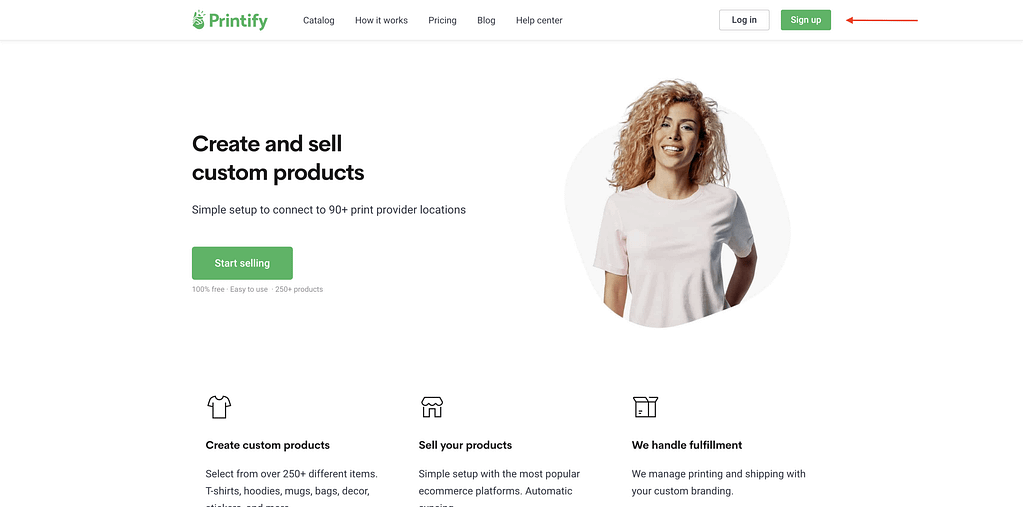 Now that your account is setup, it's time to add payment details. It is important to do this step now to prevent issues when orders start coming in. From your account dashboard click on the profile icon in the top right. Then click on 'Payments.'
You can add either Paypal or a Credit Card here. This is the method that will be billed by your production partner for the cost of goods and shipping.
On this page you will also notice a coupon code section. I've reached out to Printify to get a special coupon for my readers that will give you 30 Days Of Printify Premium for FREE. I don't get anything when you use this code I just wanted to give you more incentive to get started today.
So on this payment page make sure you add the coupon code SKIPWITHBEN30.
Is Printify Premium Worth It?
Printify offers a premium subscription similar to the Amazon Seller Central professional seller plan. Essentially, you pay a $29 a month subscription fee and in turn you receive up to 20% off the cost on all products.
So is it really worth paying for the subscription service offered by Printify? Well the answer is it depends. If you are just getting started and only expect to sell a few products a month, then it is probably not worth it.
On the other hand, if you are serious about getting your print on demand business going, are an experienced seller, or expect to get 15-20 orders a month or more then go for it. If you are unsure it is always best to do the math. Let's look at a quick example:
This is one of my favorite Print On Demand t-shirt options because of the cost and the quality of the product. So without Printify Premium our cost for each shirt is $7.10 (before shipping). With Printify Premium our new cost is $5.47 per shirt, or a savings of $1.63/shirt. So if we want to break even on our $29/month Printify Premium subscription, we need to sell 18 shirts per month (18 x $1.63 = $29.34 in savings).
So if you are on the fence I recommend using my coupon code (SKIPWITHBEN30) to try it out for free and decide how serious you are going to take your business.
2. Set up your first e-Commerce Store
At the time of this post, Printify offers easy integrations with several of the largest e-commerce platforms on the market.
My favorite platforms, based on experience, are Shopify, Etsy, and eBay. Today we are going to focus on Etsy because it is one of the easiest and lowest cost ways to setup your first e-commerce store.
Head over to the Etsy Seller Signup Page and click 'Open Your Etsy Store.' You'll need to enter your email, password, answer a few questions and agree to the selling terms of service to get started.
Choose a name for your store that is representative of what you plan on selling. I made a quick example store for this post. In this example I am going to focus on selling posters and wall art so the name I chose is SoCalWallPrints being that I am currently living in Southern California.
Now you will have a basic store front ready to accept customer orders and payments. Please note that you won't have any products live until we get to the next step of this process.
You can spend time customizing your storefront now or later. I recommend spending 5-10 minutes creating a custom logo using a free tool such as Canva.
Head back over to Printify to connect your store and add your first listings. To do this make sure you are logged into your account and click on 'Manage My Stores'.
Then click on 'Add A New Store.'
And finally, click on 'Connect' next to Etsy or your platform of choice. The step-by-step integration will prompt you to follow a few steps and in less than 30 seconds you've connected your first store.
To verify that your store is connected you can head back over to the manage my store section and confirm that your store was connected.
Now we are ready to add our first product.
3. List your first product
If you prefer to watch this process make sure you watch my detailed YouTube video on adding your first product.
Click on 'My Store' and then 'Add a Product' to get started. You'll be prompted to select the custom product that you want to start designing.
Next you need to choose which print on demand production partner you want to use. Depending on the product type you will have anything from 1-15+ different providers to choose from. As you may notice in the screenshot below there are a lot of different options to help you make the best decision.
Review the options available such as product cost, shipping cost, size and color options available, average production time, and available printing areas.
One of the unique things about Printify is that they also give each production partner a 1-10 rating which you will note next to the POD print provider name.
Once you select your production partner click on 'Start Designing' to get started!
Printify print on demand product creation is easy and streamlined. Upload a design, choose the colors that you want to offer, and click preview to see what the product will look like on your Etsy Storefront.
If you don't have any design experience I suggest finding a designer to make designs like the one in the above example. Take a look at my article on Finding and Hiring Your First Print On Demand Designer.
Once you are satisfied with your design, click on 'Next.' Choose your main product mockup on the next page and then click on 'Next' again.
Next, you'll need to add a Title and Modify your description. Make sure to choose a keyword rich title as this will help buyers find your product.
On the variants page, choose the price that you would like to sell each of your products for. Remember that this does not include shipping so make sure when you set the price you factor in the cost of shipping.
I personally like to offer my products with FREE shipping. The reason I do this is because Etsy is currently giving listings with free shipping a boost in search results.
I like to sell my t-shirts for $19.95 with free shipping. Shipping costs about $4 per shirt leaving me with $9 in profit per sale. Finally click 'Next' and mark the box 'Publish product to Etsy store.'
Normally it will take a minute or two to process and publish your product to your storefront. Once this process is complete you will see your new product live on your Etsy store.
4. BONUS: What quality to expect from your production partner
For this head over to YouTube to watch my product review and get a first hand look at how your products will arrive.
I've taken it upon myself to order a sample t-shirt and poster. In this video I show you what the packaging looks like, what the products look like, and the overall product quality. I encourage you to order a few samples to get a feel for the quality and the customer experience.
Quick Summary of Printify Print On Demand
To sum things up, when you are starting your first Printify Print On Demand business, you need to:
Choose a production partner and create an account
Set up your first e-Commerce store
List your first product
Now it's time to add more products and grow your business!