March was another strong month of online income generation. My work-side-hustle balance has continued to be in flux, and I've been struggling to create time to work on my passive income streams. This was my most profitable month to date in the new year with $863.20 in passive profits.
For me personally, it has been fun to reflect on the growth and stability of my side-hustles. Just over a year ago I was making about 50% less and working quite a bit more. For many readers $800/mo may not seem like much, but given the context I continue to feel grateful in seeing stable growth.
Check out last month's income report here: 💸 Online Income Report for February 2021: How I Earned $751.94
---
Trying to Find A Balance
Zooming in on March, my Print on Demand and YouTube income remained fairly consistent over last month. That being said, I saw a decent bump in profits earned through Etsy and Spreadshirt.
Overall, my side hustles generated $863.20 in profits during March 2021. This has been a result of longer-term goals I have been working towards over the last few years. The big difference from the same time last year, is that my active working hours have remained minimal.
Although I have yet to really announce it, in September 2020 I made the decision to quit my full-time job and take a shot at building my own business. That has come with a lot of new challenges that have been extremely rewarding.
In the last two months, my focus on my new "full-time" job (business) has taken up a considerable amount of time. I've had to make serious cutbacks to my side-hustle workflow. Having these passive income streams has given me the ability to focus on my active business … and provided some sense of financial stability while doing so.
---
March 2021 Income Breakdown
In March, I generated income from 7 different income streams including Print-on-Demand, Content Creation and Affiliate Marketing:
Merch by Amazon
YouTube
Kindle Direct Publishing (KDP)
Spreadshirt
Etsy
Affiliate Income
Medium
---
Here is the breakdown of the income distribution: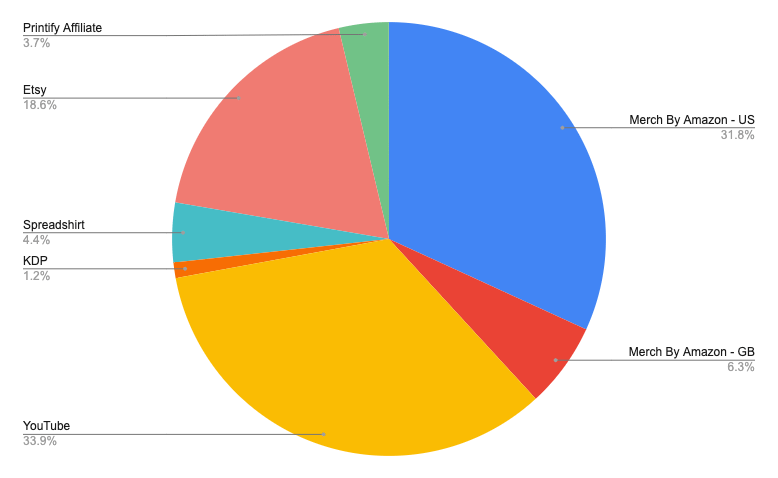 This month Amazon Print on Demand and Redbubble failed to generate any income. As always, my YouTube channel and Merch by Amazon business were the biggest income streams.
In these income reports, I breakdown how much I made from each platform and the associated stats. If you want to learn more about the strategies I'm using to generate online income I recommend checking out my YouTube channel!
Now onto the breakdown …
---
Merch By Amazon: $329.52
Units Sold: 119 units
Revenue: $2,040.80
Royalty: $329.52
Avg. Royalty: $2.78/unit
Merch by Amazon saw almost identical performance for the month. I had a total of 119 units sold between the US and UK markets. This was achieved 100% from organic sales mostly on evergreen designs.
The UK market generated 16.6% of my total profits this month. This was my best non-Q4 month in the market. US performance was also strong, but I did see 6 returns.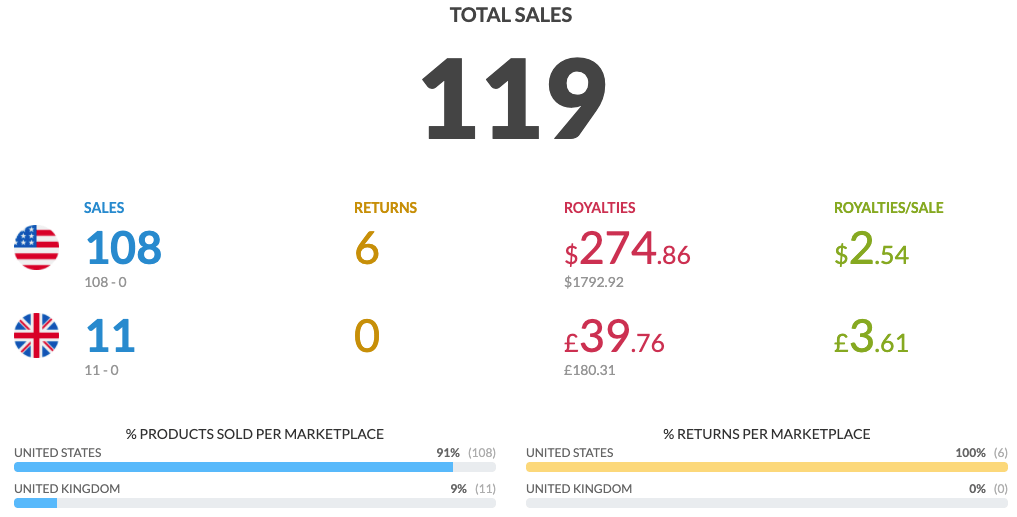 Sometime in March, I got tiered up to TIER 6,000. Cue the confetti! Accordingly, I decided to get back into research mode and identified 40 new designs which I had my designer take care of. Using the multi-uploader, I was able to turn these 40 designs into about 300 new products. I've already started making organic sales on those new designs.
While I am definitely not a designer, the last 3 years on Merch by Amazon has slowly taught me what to look for in potential print on demand niches. If you are interested in hiring a designer I highly recommend checking out onlinejobs.ph. I've personally used this site to hire two separate virtual assistants to help scale my online businesses.
In the next few weeks, I intend to continue researching and publishing new designs.
---
YouTube: $292.95
Impressions: 204,723
Views: 14,512
Watch Time (Hours): 1,437
Subscribers Gained: 288 gained
Total Subscriber Count: 9,167 subscribers
Est. Revenue: $292.95
My YouTube content creation game was weak in the month of March. With my focus scattered, I published just 2 videos for the entire month.
Despite, minimal content creation, the month started out very well and I forecasted my best month on the platform ever. Unfortunately, the last few days saw a dip in revenue as my lack of fresh content caught up to me.
On the plus side, I did manage to sit down with RJ Martinez and get the inside scoop on how he has generated more than $150,000 … now $200,000+ in royalties from Merch by Amazon.
In an effort to motivate myself to publish more, I finally broke down and bought a new camera that is way above my skillset. Hopefully, over the next few months this investment will begin to pay dividends.
Here are the videos I published in March 2021:
---
Kindle Direct Publishing (KDP): $9.97
Units Sold: 5 books
Books Live: 851 books
Royalty: $9.97
Breezing right on through the next few sections…
Amazon KDP generated 5 low-content book sales. There isn't much of an update here as my low-content notebook and journal sales trickle in a couple at a time.
---
Spreadshirt: $38.27
Units Sold: 10 units
Revenue: $391.90
Royalty: $38.27
Avg. Royalty: $3.83/unit
Finally, Spreadshirt sales began picking back up. I sold 10 units in March vs just 2 units last month. Royalties were up 400% from February to a total of $38.27.
For context I paid my designer $150 to upload about 1,200 designs to the platform. That was more than 1.5 years ago. That investment has certainly paid for itself. Remember, if you have designs, you are shooting yourself in the foot by not listing them to as many marketplaces as possible.
---
Etsy: $160.27
Units Sold: 21 units
Revenue: $480.45
Royalty: $160.27
Avg. Royalty: $7.63/unit
This was a particularly strong month for Etsy. My sales were up just over 30% but my total profit nearly doubled. My Etsy stores run on auto-pilot thanks to print-on-demand partners like Printify and Printful.
This month my average royalty per unit increased to $7.63/unit, amounting to a 33% profit much … much higher that my margins with Merch by Amazon.
I'm still working towards opening a couple new shops, a project which I hope to complete by midyear.
---
Affiliate Income: $32.09
Printify Affiliate Payout: $32.09
Printify has continued to provide a reasonable income stream from affiliate payouts each month. If you don't know about Printify, they are one of the largest Print-on-demand production partners out there. Unlike, many other print-on-demand companies, Printify connects sellers with tons of different print on demand partners all over the world.
What I love about Printify, is that they give you the flexibility to choose the right partner for your business. You can search for reliable production partners based on criteria like fulfillment speed, cost, ratings and reviews, products and production location.
I personally use Printify to help streamline my Etsy print on demand business. If you are new to print on demand check out this step-by-step review of Printify. I even breakdown how to setup your first store this weekend!
---
Medium: $0.13
You may be saying "$0.13!!! Why even include it on your income report?" The honest truth, is I'm not sure! But this is a new platform and income stream for me and I want to see where it goes.
I only have three articles on my Medium account but it has been a fun site to experiment with. Anyone can sign up, write content and start making money. Medium writers earn money when readers with subscriptions read their content.
What continues to surprise me the most about Medium is the caliber of the writing. You can find some incredible articles on Medium for normal people like you and me!
So for the month of March I earned a grand total of $0.13 from Medium!
---
Wrapping Up
That's all for my March 2021 income report. I'd love to hear from you in the comments below.
Here are the projects I'm working on right now (surprise, they are the same as last month):
Master Design List: I am working on compiling all of my print on demand designs in a single file that will include title, bullets, description, keywords and tags. The purpose of this is both for organization and to make the upload process much more efficient. My end goal being to expand to other POD platforms.
Expanding to New Platforms: After finish my Master Design List, I plan to list all of my products to Amazon Sellercentral, open several new Etsy stores, and create more low and no content notebooks and journals.
Re-branding my Blog: The time has come for me to get a refreshed brand look. As I get ready to scale, I am planning on refreshing the look of my blog and YouTube channel. I'm in no rush but looking forward to this refresh.
More Print on Demand Designs: Finally, once I get tiered up with Merch by Amazon, I will have my designer start creating more designs. This is on the horizon and I am excited to finally get the ball rolling again.
The Forecast ☀️: I expect my April profits to see a dip as my focus has still been elsewhere. I'm hoping to put out some more content on YouTube and my blog this month and continue uploading more designs to Merch by Amazon. I also have long term plans of hiring a video editor and virtual assistant to help free up some more time.
That's it for now. Thanks for being part of the journey and I'll see you in the next Income Report!