Unsurprisingly, January 2021 income was down from December but this was actually a great month for me personally. Before Q4 of 2020 my online income was averaging closer to $500 a month. So to see a healthy $829.20 for January 2021 is hopefully a good sign of the growth to come this year.
Read last month's report here: 💸 Online Income Report for December 2020: How I Earned $1,090.02
I also added a new "income stream" in January. I am testing out the blogging platform Medium which allows anyone to start creating and monetizing content right out of the gate.
With the addition of Medium, my online income this month came from 9 different sources:
Merch by Amazon
YouTube
Kindle Direct Publishing (KDP)
Spreadshirt
Redbubble
Etsy
Affiliate Income
Amazon POD
Medium
---
Here is the breakdown of the income by source. You'll notice that Medium is not even showing on the below pie chart. I put quotations around "income stream" because this platform accounted for just $.09! But hey, you've got to start somewhere right?
Here is the breakdown:
---
Merch By Amazon: $374.48
Units Sold: 146 units
Revenue: $2,469.25
Royalty: $374.48
Avg. Royalty: $2.56/unit
January sales on the Merch by Amazon platform were pretty stable generating $374 in royalties from sales in the US and UK markets.
This was my best January performance to date, likely attributed to maxing out my 4,000 available slots. Towards the end of the month I crossed 4,000 lifetime sales as well.
Here are the results for my account: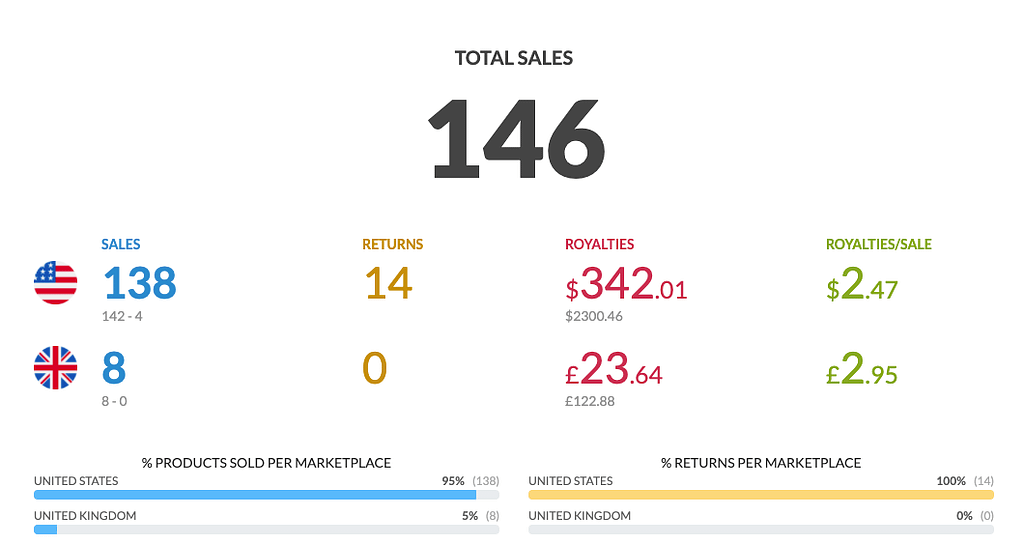 While standard t-shirts continued to be my top sellers, I did see some distributed sales volume on other products.
Thanks to my efforts to max out my slots with phone cases in December 2020, I started to get a few sales on phone cases this month. I'm interested to see how these perform in coming months.
I simply took my most popular designs and used Merch Informer to convert them to phone cases. I talk more about this process in this YouTube video.
YouTube: $305.48
Back in December 2020 I hit my highest month of YouTube earnings at $225.89. Well January eclipsed that with a total of $305.48 in earnings!
This 35% increase was largely attributable to simply publishing new content. In December, I published 5 new videos and another 4 videos in January 2021.
Here are my YouTube metrics for January:
Impressions: 246,420
Views: 18,925
Watch Time (Hours): 1,782
Subscribers Gained: 414 gained
Total Subscriber Count: 8,577 subscribers
Est. Revenue: $305.48
Creating content is extremely tedious for me. Right now my biggest internal battle is to decide whether to focus on quantity of videos published vs quality. The more I edit, the quality does get a bump but it takes a lot more time.
I'm still learning a lot as I go and continue getting use to using Final Cut Pro X. Back in 2020 I took Ali Abdaal's Skillshare Course which was super helpful.
My goal for 2021 is to publish at least 60 videos to keep growing my channel. The content creation process is extremely rewarding and January was a great example of what consistency does.
---
I made a big mistake …
My Merch by Amazon: 8 Lessons Learned video was published in the middle of the month but forgot to blur out some of my shirt designs! I didn't notice for about 2 days until a subscriber pointed it out.
I made the tough decision to pull the video and re-publish it which was painful since this video was performing exceptionally well in the first 48 hours.
---
Here are the videos I published in January 2021:
Amazon KDP: $16.79
Units Sold: 9 books
Books Live: 851 books
Royalty: $16.79
I still haven't touched KDP in months! So I won't spend much time here but here is a snap from my dashboard.
As always, I plan to invest more time and money into this platform later this year.
Spreadshirt: $15.53
Units Sold: 5 units
Revenue: $144.95
Royalty: $15.53
Avg. Royalty: $3.11/unit
January saw a slow start to the Spreadshirt platform. In total, I saw just 5 units sold for the month (80% US, 20% AUS). This generated a total of $144.95 in revenue and $15.53 in royalties.
This month, my top products were hats (40%) and sweatshirts (40%). Here is a quick screenshot from my account:
Redbubble: $0.75
My Redbubble account only has about 75 live designs right now so sales have been pretty low. In January, I sold just one sticker for a total of $0.75 in royalties.
Right now, in the backend, I'm working on logging all my designs, titles, bullets, tags, and keywords in one central location. Once I have this project finalized I'm going to get to work uploading ALL of my designs to Redbubble and a bunch of other platforms that I'm not currently on.
Etsy: $63.12
Units Sold: 30 units (28 orders)
Revenue: $607.88
Royalty: $63.12
Avg. Royalty: $2.10/unit
This month my total profit is only $63.12 from 30 orders. Normally my profit margin is closer to 25%.
I ordered a few sample orders this month for an upcoming YouTube video which cost me about $60. This hit my bottom line and pulled the average royalty per sale down to $2.10 vs closer to the $5-6 I normally see.
---
Regardless, this was still a pretty strong month for me. Here are my stats from my main Etsy store:
In the next 45 days, I plan on launching 1-2 new Etsy stores. My primary store just selling t-shirts so my plan is to launch these new stores specific to other product categories like coffee mugs and wall art using the Printful and Printify integrations.
Amazon Print on Demand: $2.12
Units Sold: 1 unit
Net Profit: $2.12
I still have several hundred old listings on Amazon that I am using Printful to fulfill. In January, I sold one coffee mug for a total of $24.99 in revenue.
As mentioned previously in this report, I'm working on pulling all of my designs, keywords and product detail page information into one place. After I do this, I will be re-launching all of my optimized listings on Amazon.
Affiliate Income: $50.84
Shopify Affiliate Conversions: 1 conversion
Shopify Affiliate Payout: $29.00
Printify Affiliate Payout: $21.84
Affiliate income is a nice little boost each month. Shopify and Printify are still my two most consistent affiliate streams generating $50.84 in January 2021.
Most of my affiliate traffic is driven through my YouTube channel but I do get some hits from my blog as well! So thank you if you have clicked anything.
I also have a number of other affiliate programs that generate some additional income each month. For now, I'm leaving those out of these online income reports since most of these platforms have minimum thresholds.
Medium: $0.09!!!
Medium is new to the report this month. In December, I published my first Medium post Print On Demand: The Complete Guide.
If you are new Medium, in a nutshell, it is a blogging platform. It is unique in the sense that you can literally create an account today and start monetizing it right away.
The bigger challenge is getting traffic to your stories.
---
After publishing my initial post, which I enabled monetization for, I published 2 more articles in January 2021.
I read through a bunch of blog articles and watched a ton of YouTube videos to learn about the platform. After doing some research, I submitted my first two articles to a publication and was accepted!
The results…
This publication allowed me to access a pool of readers which jumpstarted my stories. I gained 4 followers, received 140+ impressions and 69 reads.
The resulting traffic generated $0.09 in income for me in my first month. This reminds me of my early days on YouTube.
Initially, you need to put in tons of work to create content with minimal return. But each subsequent piece of content continues to snowball.
---
In case you are interested, here are my first 3 Medium posts:
That's it for January 2021
Overall, January 2021 was another fun month. Sometimes the growth can seem slow in the short-term but looking back over months the growth starts to add up.
Upcoming projects
I've got a lot of fun stuff I'm slowly working on in the backend including a blog revamp, launching a new FBA business and continuing to develop new ways to grow my YouTube channel and print on demand businesses.
So stay tuned! As always I appreciate your support.