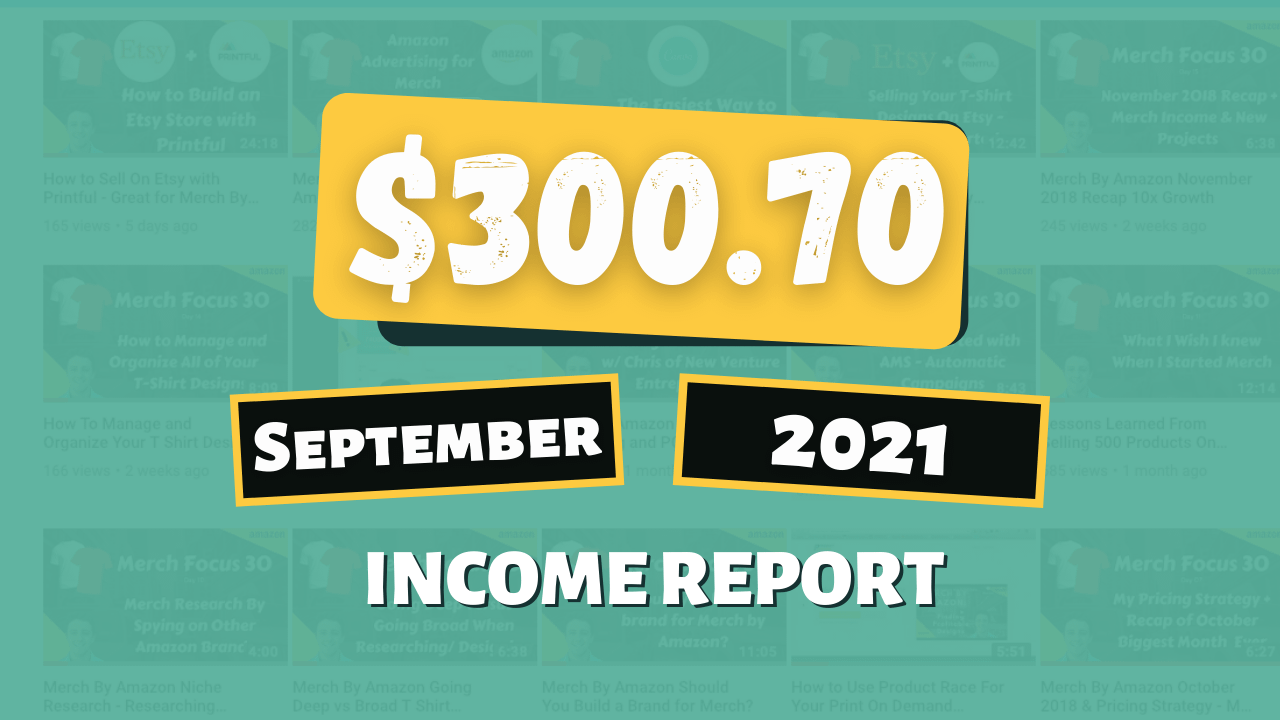 September saw a 60% drop in net profit from my online income streams!
This month brought in a total of $300.70 in profit from my various side hustles. This was a decline by more than 60% from the last month. Read on to find out why!
If you are new to my income reports series, in these reports I break down my numerous online businesses and how much I earned from each. I cover the strategies I'm implementing to grow each business, things that are working (and not working), and share insights that will help you build your own online income streams. And I don't hold back.
Before we get into the report make sure to subscribe to the newsletter and take a peek at last months report: August 2021 Online Income Report 
In September, I saw a large drop in overall net profit. For reference, my 2021 monthly average is closer to $800. If you ask any business owner, seeing a 60% drop in profits is not a fun feeling. The good news is that there is a good reason behind this big drop so it's not all bad!
Now, let's get into the breakdown!
P.S. I'll include project updates at the end of this post.
September 2021 Income Breakdown
Merch by Amazon is normally my largest income generator, averaging $400/mo in profits. This month, Merch actually saw a net negative for the first time ever.
In September, I generated income from 11 different sources:
Merch by Amazon
YouTube
Amazon POD
KDP 
Spreadshirt
Redbubble
Teepublic
Zazzle
Etsy
Affiliate Income
Medium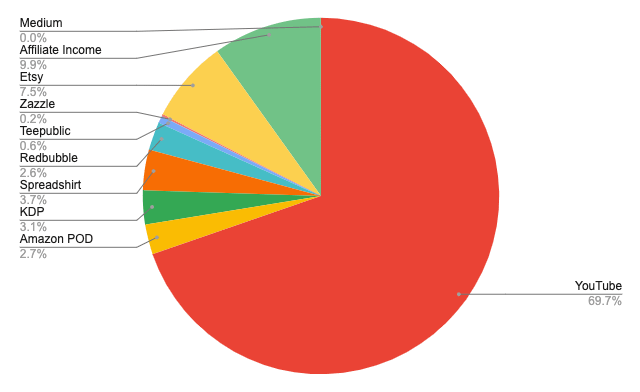 The month was full of lots of new developments across my portfolio of side hustles. The biggest test we ran this month was related to Amazon PPC. With Q4 looming, I made the decision to allocate a budget towards PPC to begin ranking some of my top Merch designs in anticipation of the holiday sales period. This ultimately resulted in a net loss on Merch by Amazon but was an investment into the next few months.
Aside from the PPC adventures, I continued working on the two new Amazon KDP Self-Publish book launches which are due to hit in November, continued to run automated uploads to Redbubble, Teepublic, Zazzle and Amazon Seller Central, added more lifestyle content to the Amazon Posts account, and manually uploaded more designs to Merch by Amazon.
Disclosure: Please note that some of the links in this article are affiliate links. When you purchase a subscription or design license through my link, I'll earn a commission at no additional cost to you. I only recommend companies that I am personally using for my own business.
Merch by Amazon: -$11.28
Units Sold: 239 units
Revenue: $4,051.95
Royalty: $656.26

Avg. Royalty: $2.74

Ad Spend: -$667.54
Merch by Amazon units sold and revenue were both up by nearly 50% over August! In total, my Merch account generated $4,051 in revenue from 239 units sold. 
This was actually my 3rd strongest month ever with Merch by Amazon. Before ad spend, my royalties were $656.26. I saw sales across the US, UK and DE markets.
I also spent a significant amount of time uploading new designs to inch closer to maxing out my Tier 6,000 slots and added content to the Amazon Posts brand feed. I currently have about 1,600 unique designs live and 20k total live products. These are primarily evergreen designs with a handful of scattered trends.
As always, standard t-shirts made up 99% of product sales for the month.
The big change this month was the introduction of Amazon PPC. I've had access to ads for nearly 2 years, and have spent plenty of time working with various ad formats and budgets over the year. I've mostly put off running ads to my Merch listings because I truly enjoy the passive nature of the business. But this month I made the decision to switch things up.
The goal with running ads was to: 
Increase top-line revenue and ideally profit
Increase overall sales volume to speed up Tier up eligibility 
And most importantly, boost BSR and product ranking in preparation for Q4
I'll save you the pain of going in-depth on Amazon PPC tactics and strategy, but I'll share the results below. Overall, we spent $667 to drive $1,525 in added revenue from 89 orders. This amounted to a 43.76% ACoS. 
As my margins are closer to 24%, we were running ads at a loss deemed acceptable for achieving our goals. Ultimately, I hoped to break even across my Merch by Amazon account while moving popular t-shirt designs the organic ranking up. Here is an example of the progress made on one of my t-shirts. In the screenshot from the Helium 10 plugin, the blue line represents BSR (Best Sellers Rank). Through our ad placements we were able to drive the BSR down from +1,000,000 to <190,000.
Of course, the ultimate goal is to improve overall profitability. We've already made numerous adjustments to the campaigns and will further assess and pivot as needed in the coming months!
YouTube: $217.47
Impressions: 113,651
Views: 8,619
Watch Time (Hours): 740.0

Subscribers Gained: 127 gained

Total Subscriber Count: 10,335 subscribers
Est. Revenue: $217.47
Since I continued my YouTube hiatus in September, my metrics were down across the board. I didn't publish any new content or spend any time working on my YouTube channel yet I still managed to earn $217.47 from my past video content.
I've updated my content schedule and have new content on the way in coming weeks!
Amazon POD: $8.50
Units Sold: 1 unit
Profit: $8.50
I've been continuing to re-add products to my Amazon Seller Central account using the Printful integration and POD Connect automation software. Currently I've been limited to publishing 100 new products per week. These are synced with Printful, so when orders come in they are automatically fulfilled allowing me to be completely hands off. 
In September, I had 1 order for a t-shirt which resulted in $8.50 in profit. I only have about 200 live listings but am adding to the catalog on a weekly basis.
Kindle Direct Publishing (KDP): $9.60
Units Sold: 7 books
Books Live: 878 books
Royalty: $9.60
In September, I didn't add any new books to my catalog and had just a handful of sales from low-and-no-content notebooks and journals. This resulted in a total of $9.60 in royalties. 
The big project I have underway right now is working on my first two true self-published books. These are being ghostwritten and should be ready to launch in November. I'll have plenty of updates as we get closer to launching these new books!
If you are curious about the KDP low-and-no-content business, make sure to check out this article on how to turbocharge your Amazon KDP research process.
Spreadshirt: $11.50
Units Sold: 2 units
Revenue: $71.98
Royalty: $11.50
Avg. Royalty: $5.75
Spreadshirt has been incredibly slow over the last few months. Even though I haven't touched my Spreadshirt account sales have continued to decline in recent months. 
September brought in just 2 sales and generated $11.50 in profits for the month. I have just shy of 1,000 listings on the platform. In the next month or two I'll be spending time adding to my design catalog in hopes of improving sales volume on the platform!
Redbubble: $7.97
Units Sold: 3 units
Royalty: $7.97
As I've added more products to my Redbubble account, I've slowly started to see the sales trickle in. In September, I had 3 sales that brought in a total profit of $7.97. 
I've been spending time adding products using the POD Connect automation platform. Leveraging automation has helped me scale to new sites tremendously fast over the previous months. 
While sales on Redbubble are still not where I want them to be, the influx in traffic is an encouraging sign. Excited to see what Q4 is able to bring!
Teepublic: $2.00
Units Sold: 1 units
Royalty: $2.00
Teepublic saw one sale in September which generated $2.00 in profits. I don't expect this platform to be a major income generator so I haven't been too focused on optimization. For now, I've just been going through the motions to add my designs in hopes of the one-off sales here and there.
Zazzle: $0.56
Units Sold: 1 units
Royalty: $0.56
Zazzle also had 1 sale in September for a grand total of $0.56 in profits! Not much else to report for now.
Etsy: $23.48
Units Sold: 8 units
Revenue: $187.63
Royalty: $23.48

Avg. Royalty: $2.94
Overall, Etsy revenue saw a significant drop in September. I'm operating two separate stores; one niche store and one general store. I let about 1,000 old listings expire in September which likely contributed to the decline in revenue. This month I sold 8 units across the two stores. This netted me $23.48 in profits.
Most of my product listings are synced through Printful using the Gildan 64000 t-shirt. In September, Printful increased the base price on this product by $1 which cut into my bottom line. My royalties/sale dropped accordingly. I've since increased my sell price to account for this change.
Affiliate Income: $30.86
Printify Affiliate Income: $30.86
I make a little bit of money each month through a handful of affiliate programs. Affiliate earnings fluctuate quite a bit from one month to the next. In September, I generated $30.86 in affiliate income from Printify. 
Affiliate income has never been a major focus of mine but still helps to bring in a nice bump in income each month.
Medium: $0.04
New Articles Published: 0 
Views: 26 views
Reads: 9 reads
Income: $0.04
I occasionally publish articles over on Medium. In September, I didn't add any new articles and generated $0.04 in income from my existing stories.
If you aren't familiar with Medium, it is a blogging and news platform in which anyone can start writing and earning from their publications. You earn money when readers with a premium Medium account read your articles. The longer they spend reading, the more money you make. The great thing about Medium is that anyone can start writing and earning today. The biggest challenge is getting traffic to your articles.  
Summarizing the September 2021 Income Report
I've detailed all of the different income streams that helped me generated $300.70 in profits from my side hustles in September. It was another month of experimentation and learning from what's working and what isn't. While my profits were down this month, I am optimistic that it will all be a worthwhile investment as we head into the holiday selling period.
In the coming months I plan to create new designs for my print-on-demand business, continue running ads on Amazon and expanding to other POD sites. I also have the exciting launch of the two self-published books which will go live within a week or two of each other sometime in November. 
To wrap this up, let's touch on some quick project updates!  
Project updates!
Finally, as promised, I want to share some of the projects that I am currently working on or that I have wrapped up in the time since the last income report:
Expanding to new POD platforms [nearing completion]: After about 2 months of automated uploads I'm finally getting close to finishing my expansion to other platforms. I've added nearly 2,000 designs to Redbubble and Zazzle and I'm currently working on wrapping up the expansion process to Teepublic and Etsy! 
Scaled Print on Demand designs [in progress]: In effort to fill out my 4,000+ open slots on Merch by Amazon, I've turned to scaled designs. I'm currently experimenting with several tools including Vexels, Canva and Canvas Titans to quickly create high-quality designs to add to my print-on-demand catalog.
Self-Publishing [in progress]: In August, I also started the research process for two ghostwritten books. These are currently being written and will hopefully be launched in early November to catch some of the Q4 momentum!
If you have any questions about these reports, the business models and/or strategies I'm toiling with, feel free to drop a comment below! Make sure to subscribe to my newsletter to get the latest updates. Until next time!