My May 2021 online income report is here. In May, I generated $753.78 in profits from my various side hustles. In this income report I'll break down where my income came from and highlight the high level information about each income stream.
Read last months report 👉👉 April 2021 Income Report
The goal of these income reports is to track my side hustle progress while remaining transparent about the ups and downs of building each income stream. At the end of these reports, I also mention the open projects that I am working on to advance each of my businesses.
The highlight: May profits were up 22% from April!
Now let's get into the breakdown
---
May 2021 Income Breakdown
This month had 9 different income streams:
Merch by Amazon
YouTube
Amazon POD
Kindle Direct Publishing (KDP)
Spreadshirt
Redbubble
Etsy
Affiliate Income
Medium
Here is the breakdown of earnings by platform: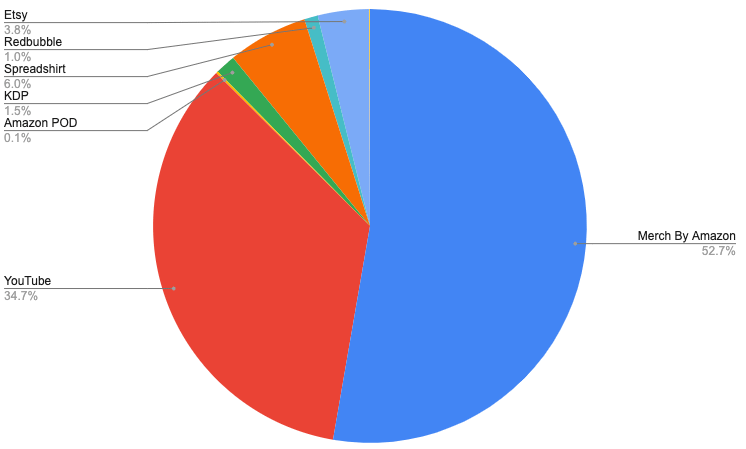 May saw fairly consistent performance despite entering some of the slowest e-commerce months of the year. My Merch by Amazon account has continued to see strong gains. In May I threw a little bit of money into Amazon advertising to fan the flame for some of my t-shirt designs (more on this below).
This was the first month of really starting to get back into pushing for growth across all of my platforms. I added nearly 500 designs to Redbubble, started uploading to Zazzle & Teepublic, and have been working in the background to streamline some of my content creation processes.
The Forecast ☀️: While we are in the slow part of the year, I am focused on making efforts to get my existing online income streams over $1k in monthly profits while adding new streams to the mix. I've been investing more time and effort in streamlining design creation and uploading, content creation, and training my team up. It's fairly safe to assume that income will see consistent performance over the next 2 months with momentum building into Q4.
---
Merch by Amazon: $397.45
Units Sold: 153 units
Revenue: $2,617.52
Royalty: $420.24
Ad Spend: -$22.79
Profit: $397.45
Avg. Royalty: $2.75/unit
Between the US and UK markets Merch generated 52% of my total income this month. I sold 1 less unit than the previous month but had a significant increase in returns. After factoring in both returns and ad spend net profits settled at $397.45.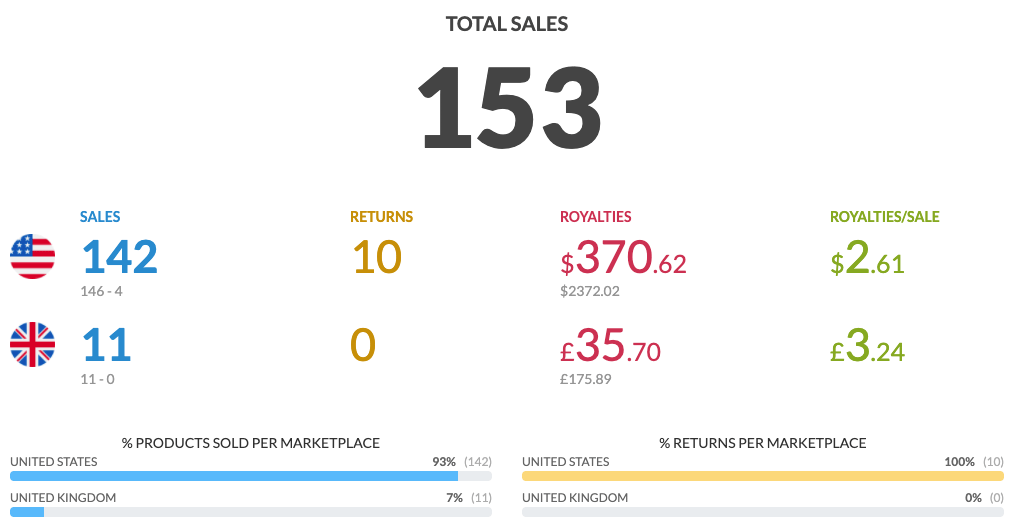 As mentioned previously, I also threw a little bit of money towards PPC to help get my Mother's Day designs seen by shoppers. I don't often talk about PPC on this blog or on my YouTube channel but I have overseen $100k+ in ad spend on the Amazon platform.
I like to run a tight ship when it comes to PPC for Print-on-Demand. The nature of the business model makes it challenging to turn a direct profit on PPC without increasing prices or reaching scale. My current outlook on PPC is that it should be deployed with a goal of breaking even while driving sales for ranking purposes.
In May we deployed $22.79 in spend for a 5.95 ROAS.
Tools I'm Using for my Merch Business:
If you are curious for more strategies on my research process check out my YouTube channel.
---
YouTube: $261.80
Impressions: 157,657
Views: 11,863
Watch Time (Hours): 1,140
Subscribers Gained: 230 gained
Total Subscriber Count: 9,656 subscribers
Est. Revenue: $261.80
I didn't publish a single video in May 😬😬. So this month my income was truly passive. That being said, my metrics didn't look great. Total views were down 16% and revenue saw a 9% dip over April.
If you haven't subscribed to my YouTube channel you can find me here.
Here were my most viewed videos in May 2021:
---
Amazon POD: $1.12
It's almost not worth mentioning but there was one POD order through my Amazon Seller Central account. I am currently using Printful & Printify to integrate with my Seller Central account. Having deleted all of my old listings out in late April/early May, I am just starting to submit new, better optimized listings.
To help expedite this process I've been leaning hard on one tool: POD Connect
POD Connect helps automate the upload process to a number of different Print-on-Demand platforms. While I am normally quite conservative with automated uploading, POD Connect comes in handy to expedite uploading designs to Printful.
P.S. if you are interested in POD Connect use code skipwithben for 20% off
In May, I had just one POD Order. After Amazon fees, shipping, etc. my net profit was $1.12!
---

Kindle Direct Publishing (KDP): $11.42
Units Sold: 6 books
Books Live: 851 books
Royalty: $11.42
My KDP sales doubled from the previous month to a whopping 6 units! Currently my sales seem to come in sporadically across a bunch of different niches. I'm working on creating new KDP Low and No Content designs and will give you guys updates along the way.
---
Spreadshirt: $45.10
Units Sold: 11 units
Revenue: $372.21
Royalty: $45.10
Avg. Royalty: $4.10/unit
Spreadshirt had a strong comparatively strong month bringing in 11 organic sales from <1,000 listings. Spreadshirt is 100% passive for me at this point. This month was the strongest one this year and generated a nice bump with $45.10 in royalties.
Learn more about Spreadshirt from my YouTube channel: How To Get Started with Selling On Spreadshirt Print On Demand How Much I Make
---
Redbubble: $7.62
Units Sold: 5 unit
Royalty: $7.62
I made a big push in May to add more designs to Redbubble. This took me from 20 live designs to several hundred. While there is still a ton of work to do on the platform, initial sales and traffic results are already evident.
My sales have started to slowly rally and equally as important, organic traffic is starting to climb. I hope to have more progress as my designs and product listings start to get indexed within the Redbubble platform.
---
Etsy: $28.68
Units Sold: 16 units
Revenue: $292.75
Royalty: $28.68
Avg. Royalty: $1.79
Etsy returned to profitability this month after seeing a net loss in April. Despite bouncing back, my total revenue was still below average at $292.
My current monthly average revenue is closer to $430 (across multiple stores) with a monthly net profit closer to $90. Because of the drop in revenue, lingering listing renewal fees and 1 free customer re-shipment, my total net profit dropped to $28.68 for the month.
---
Affiliate Income: $0.55
Printify Affiliate Payout: $0.55
I generate a small bit of affiliate income through my content on here and on my YouTube channel. In May, my only affiliate payout came from Printify which netted me $0.55.
May saw the lowest Affiliate Income YTD! While earning affiliate income is always fun and rewarding, it has never been a big focus of my content.
---
Medium: $0.04
Finally, we have Medium! Medium is my newest income stream and is an extension of my personal blog. I currently have just 3 articles published and only one that I have submitted for monetization.
If you aren't familiar with Medium I encourage you to check it out. I personally read multiple articles a week on the platform to intentionally learn about things that are not in my normal day-to-day realm.
In May, my one monetized article, Print On Demand: The Complete Guide [2021], generated $0.04 in passive income.
---
Wrapping Up
Well, that's a wrap for my May 2021 Income Report. Thanks for following along on this journey! Overall, May saw fairly standard performance.
There were some ups and downs. While YouTube and Etsy have seen two month lows in income generation, Redbubble and Merch by Amazon have continued to make up ground.
I try not to get too caught up in month-to-month performance and instead focus on projects that move the needle. So let's cover the project updates that have been made since the April 2021 Income Report:
Expanding to New Platforms [in progress]: My master design list has been done since early April! Because I now have all my listing and design information centralized in one place, uploading has become a breeze. In May, I started uploading to Redbubble, TeePublic and Zazzle. To date we now have a couple hundred designs live on each platform with more on the way.
Re-branding my Blog [in progress]: In April, I purchased a new, premium theme for my blog. You may notice a slightly new format. I am working on creating an updated layout and aesthetic that is more in line with my vision for my personal brand going forward.
More Print on Demand Designs [in progress]: It's go time. One of my new favorite platforms, Vexels, just had a re-launch. I've been diving in and leveraging them to help me generate new POD designs. During this process I've also been testing out scaled t-shirt designs.
Thanks for being a part of the journey and I hope to see you in the next Income Report!