What a month! June was my strongest month of 2021. In this report, I'll break down how I made $946.90 from my various side hustles.
I publish these income reports each month on my blog and YouTube channel to provide insight into how I'm building my side hustles through the highs and lows. So make sure to subscribe to my newsletter and if you haven't already, check out last month's report here: May 2021 Online Income Report
I continue to be super grateful for what these little side hustles are able to accomplish. In June, I spent more time behind the computer investing in future growth which helped to generate 25% more income this month. In this report I'll share some insights from each income stream and projects I'm working on towards the end.
Let's get started!
---
June 2021 Income Breakdown
My income came from 8 different income streams this month:
Merch by Amazon
YouTube
KDP
Spreadshirt
Redbubble
Etsy
Affiliate Income
Medium
YouTube, Merch by Amazon and Etsy saw considerable growth in June making up a combined 88% of my total income.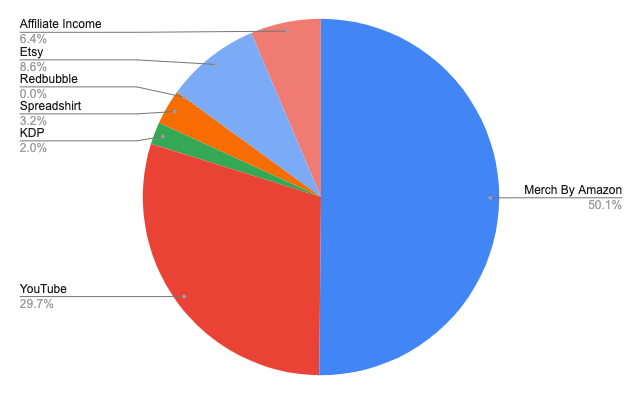 Merch by Amazon really turned on the heat this month. Despite not adding many new products total royalties were up nearly 25% thanks to Prime Day. I also got back into the publishing groove on YouTube which helped pad my losses from the previous month.
The Forecast ☀️: I am expecting the next two months to remain around the same or slightly lower in terms of income. The majority of my focus is currently on expanding to new platforms, consistently publishing content, and researching trends for new POD designs.
---
Merch by Amazon: $474.85
Units Sold: 171 units
Revenue: $2,915.50
Royalty: $474.85
Avg. Royalty: $2.78/unit
Merch sales increased by +10% for the month. In total, I generated $474.85 in royalties between the US and UK markets despite a handful of returns.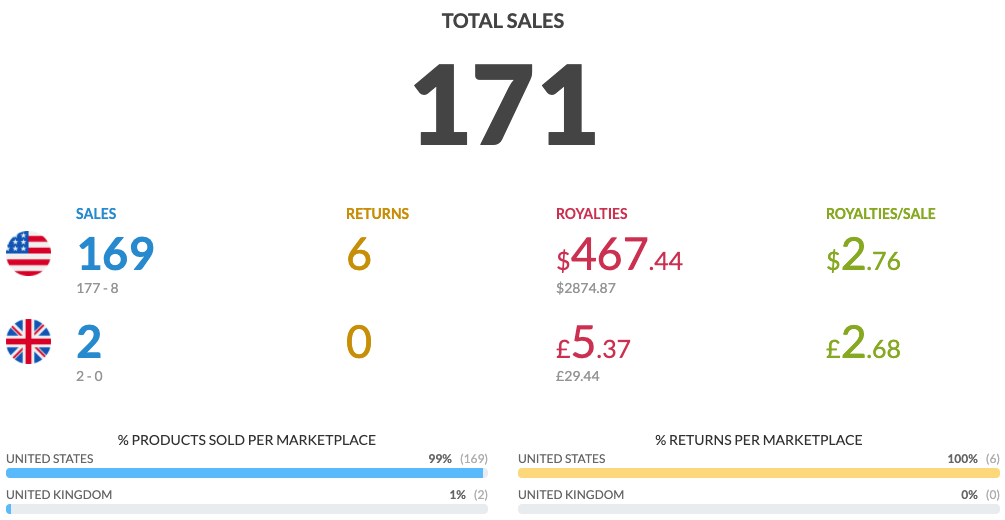 Given that we are in the slow months for e-commerce, I was very pleased with how strong the numbers turned out. This month was the second strongest month I've had in the trailing 12 with December 2020 being the only exception.
As previously mentioned, my attention is mostly focused on finishing up some expansion efforts to other POD platforms. That means my Merch account hasn't been receiving nearly as much attention. While I expect this to remain the same for the next 1-2 months, it is hard to deny that I should be focusing more on Merch.
My next phase of Merch by Amazon work will be centered around:
Maxxing out my Tier 6,000 slots.
Running selective PPC to improve organic positioning for top sellers.
Merch serves as the launchpad for the rest of my Print-on-Demand efforts and I don't expect that to change any time soon.
---
YouTube: $281.15
Impressions: 148,755
Views: 11,072
Watch Time (Hours): 1,040
Subscribers Gained: 143 gained
Total Subscriber Count: 9,799 subscribers
Est. Revenue: $281.15
May was a demoralizingly slow month for my YouTube channel with no new content. Fortunately, I was able to find my footing and start getting back in the groove this month. In anticipation for cracking the 10,000 subscriber mark, I have been ramping up my content and trying to stick to 1-2 new videos per week.
My YouTube Channel generated $281.15 in Google Adsense income for the month of June. While revenue did stabilize, my channel felt the aftereffects of inconsistency on my part in the prior months. Impressions, views, watch time and subscriber growth were all down for the month.
Besides generating revenue from the ads that play before and after each video, YouTube is also my biggest traffic driver for my blog. So periods of inconsistent publishing efforts have compounding implications for better or worse on my other income streams.
I published a total of four new videos in June 2021:
---
Kindle Direct Publishing (KDP): $18.83
Units Sold: 10 books
Books Live: 851 books
Royalty: $18.83
My low-and-no-content book business generated $18.83 in royalties, 100% passively, from the sale of 10 journals/notebooks. All of my existing listings are repurposed Merch by Amazon t-shirt designs.
---
Spreadshirt: $30.15
Units Sold: 9 units
Revenue: $210.42
Royalty: $30.15
Avg. Royalty: $3.35/unit
In June, my Spreadshirt sales were down to a total of 9 units. Despite the drop, this was still on the stronger side of performance for 2021.
It seems that a significant portion of my Spreadshirt sales continue come from international markets. This month was no different with Australia and Canada generating roughly 30% of sales for the month.
---
Redbubble: $0.28
Units Sold: 1 unit
Royalty: $0.28
Despite putting more focus on Redbubble in the last 2 months, sales have remained slow. This month saw just 1 sale for a royalty of $0.28.
In past income reports I've talked about how I am expanding my existing design catalog to Redbubble, Zazzle and several other platforms. Between the start of May and end of June I published nearly 1,000 new products to my Redbubble account. Therefore, I expected to see more in terms of sales volume, as these are proven designs that sell well on other platforms.
Fortunately, traffic does seem to be steadily growing which helps take the sting away from the lack of conversions this month. My hope is that many of my designs are taking their sweet time to index and start getting exposure on the platform. Regardless, I will continue to report in on my Redbubble sales in subsequent reports.
---
Etsy: $81.03
Units Sold: 16 units
Revenue: $300.16
Royalty: $81.03
Avg. Royalty: $5.06
Etsy came in at #3 this month generating $81.03 in profits. My royalty per unit recovered to $5.06 as performance stabilized. I also had several, multiple unit orders which padded my bottom line thanks to the economies of scale on the shipping costs.
Despite a solid month, it has been a relatively stagnant year for my Etsy business. To combat this I'm starting to test a new Niche Etsy Store. My main store sells only t-shirts using the Printful and Printify integrations but does not have a single niche/topic. In contrast, my new niche store offers multiple different products but all focused around the same category.
I also ran some Etsy Ads in June. I have experimented with these in the past and had mixed results but decided I'd give it another shot.
In total, I spent $12.04 across several of my top sellers for 0 ROI. While this is something that I'll likely continue testing, it is not going to be a big focus of mine in the near future.
---
Affiliate Income: $60.52
Printify Affiliate Payout: $60.52
I generate a small bit of affiliate income through my content on here and on my YouTube channel. June brought a nice influx of affiliate earnings from Printify with a payout of $60.52 this month vs. just $0.55 last month.
I am involved in a number of other affiliate programs however the income generated from those is too small to report on this month.
---
Medium: $0.09
My Medium stories generated $0.09 from paying readers in June. I didn't add any new stories this month but I am actively working on joining new publications and adding some syndicated content to the platform. I also enrolled my other two stories in the Medium Partner Program.
---
That's a Wrap for June 2021
We've covered all of my different income streams that helped generate $946.90 in income for the month of June. I'd love to hear your thoughts about this income report and about your side hustles in the comments down below.
Overall, it turned out to be a fantastic month and has really helped reaffirm my commitment to grow these side hustles no matter how slow or fast I go. We have covered a lot in this Income Report so let's end with a brief project update:
Expanding to New Platforms [in progress]: I am probably about 30% of the way through expanding my existing catalog to other standalone POD platforms. My current expansion list includes: Redbubble, TeePublic, Zazzle and Amazon Seller Central. This process is sped up significantly by my Master Organization File.
Re-branding my Blog [in progress]: I expect to finish rebranding my blog (and YouTube channel) within the next 1-2 months. The goal of this is to create a more defined brand identity to get me to the next level as I grow my YouTube channel beyond 10k subs.
More Print on Demand Designs [in progress]: It's go time. One of my new favorite platforms, Vexels, just had a re-launch. I've been diving in and leveraging them to help me generate new POD designs. During this process I've also been testing out scaled t-shirt designs.
I have lots more projects on the horizon and in brainstorming phases including: scaled POD designs, KDP Low-and-No-Content books, ACX/KDP Ghostwritten Books, Amazon Private Label, and more! So stay tuned!