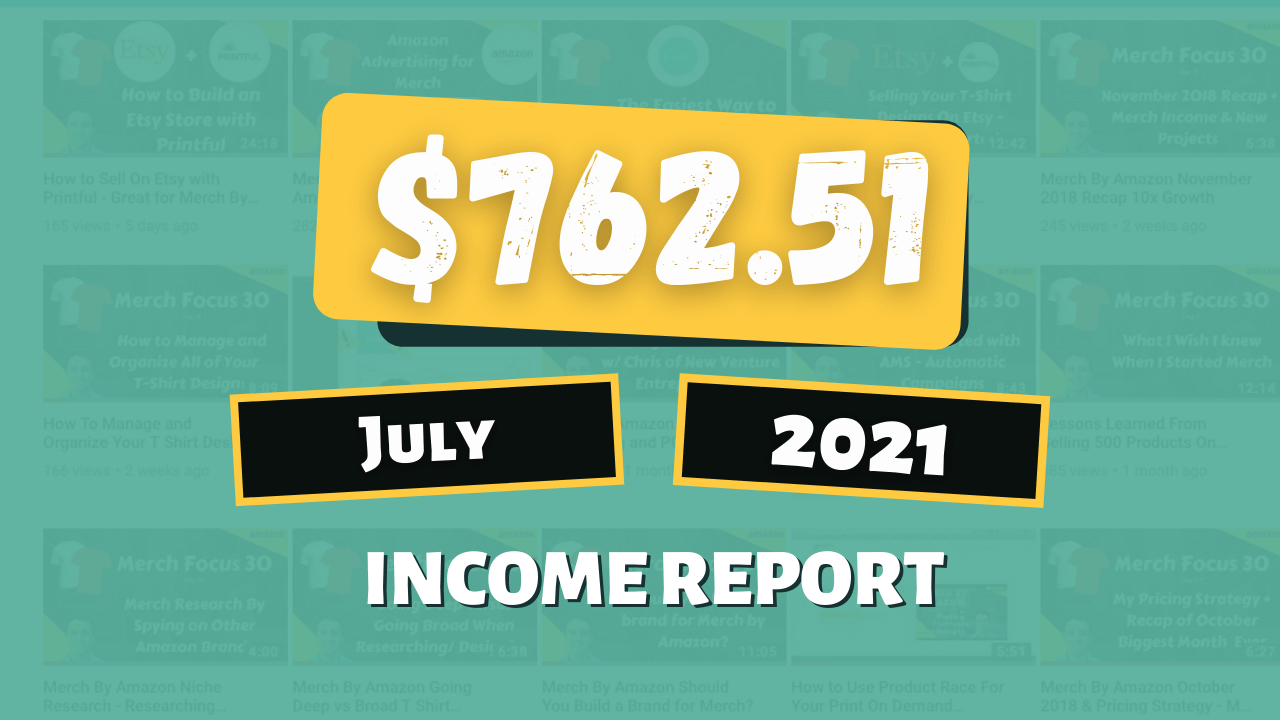 In July 2021, my side hustles brought in $762.51 in profit.
This was down from the previous month and on par with my average monthly income. In this report, I'll break down how I made this money, which side hustles were the most; and least; profitable, and a couple insights along the way.
I publish these income reports each month on my blog and YouTube channel to give you a window into what it is like to build and grow multiple side hustles. If you haven't already, subscribe to my newsletter and check out last month's income report here: June 2021 Online Income Report
My income saw a significant drop from June but despite that I am still super impressed by the consistency of these platforms. In July, I made solid progress on a lot of my ongoing projects and started uploading more video content and adding more print-on-demand designs to my catalog. I'll detail my current projects towards the end of this report so you can see what I am currently focused on for the coming months.
Now, let's get into the breakdown!
July 2021 Income Breakdown
I'm currently working on expanding my print on demand business to a few new platforms but no income on those just yet. This month, my side hustle income came from 8 different income sources:
Merch by Amazon
YouTube
KDP 
Spreadshirt
Redbubble
Etsy
Affiliate Income
Medium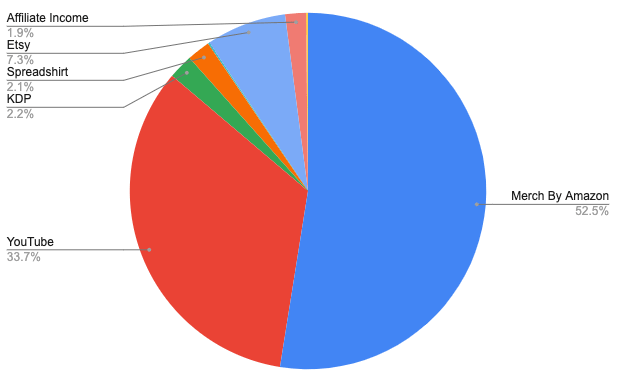 This month saw dips in revenue across my three largest platforms; Merch by Amazon, Etsy & YouTube. Most of my e-commerce businesses are in the normal mid-year slump so the drop in sales volume wasn't totally unexpected. Oddly enough, YouTube has seen much lower revenue for the last two months despite the fact that I've been putting out quite a bit of fresh content.
I try not to pay too much attention to the monthly swings in income and instead pay more attention to doing the work. In July, I had my designer create 100 new print-on-demand designs, I added 500+ designs to Redbubble and Zazzle, published one new article on Medium, and added 3 new articles to my blog. Phew! It was a busy month.
I also published 5 new YouTube videos. One of the most exciting things to happen in July was a hitting a mini YouTube milestone. 
At the tail end of July my YouTube channel crossed the 10,000 subscriber milestone!
 I'll talk more about this later but in the meantime I want to say thank you to those of you who have subscribed to my YouTube channel. I couldn't have done it without you!
The Forecast ☀️: Now that we are heading full force into Q4 I'm anticipating a gradual increase in earnings across the board. I've been fully focused on growing my businesses and have been investing time and money into making that happen. Since I've started uploading new content to my various social platforms, uploading more designs to Merch and expanding to new platforms, I am hoping to see stronger numbers through the next couple of months. 
Merch by Amazon: $400.46
Units Sold: 147 units
Revenue: $2,550.39
Royalty: $400.46

Avg. Royalty: $2.72

My Merch by Amazon sales were down about 15% from last month. In total, I generated $400.46 from 147 units across the US, UK, and JP. 
I also had 10 returns this month vs. just 6 last month. However, it was cool to see a couple of sales trickle in through the Japanese market. These both came from listings that Amazon translated as part of their recent translation updates.
I've been super inspired by some of the numbers that I have seen other Merch by Amazon sellers put up. The nice thing about Merch is that it is so incredibly hands off. Since I've revisited this realization I am more bullish on uploading as many new designs as possible.
In July, I researched new niches with the help of Merch Informer and had my designer create 100 new designs which have since been uploaded to my account. 
I'm currently on Tier 6,000 but thanks to the recent changes to the Merch by Amazon Tier System I have nearly 4,500 available upload slots for new designs. Here is the breakdown of sales by color and product type from my Pretty Merch Dashboard.
YouTube: $256.76
Impressions: 158,707
Views: 11,585
Watch Time (Hours): 1,072

Subscribers Gained: 229 gained

Total Subscriber Count: 10,023 subscribers
Est. Revenue: $256.76
All of my metrics showed improvement in July. Impressions were up 6.6%, views were up 4.6%, watch time hours were up 3%, and subscriber growth was up 60%. Despite publishing 5 new videos and seeing bumps to all of my metrics, my income declined 8% this month to $256.76.
July also marked an important milestone for my YouTube channel. I published my first video in December of 2017 on a whim. Since then I've published more than 150 videos about print-on-demand and building side hustles. 
This month my channel crossed 10,000 subscribers and I'm nearing 400,000 total views! 
Here are the the 5 videos published to my channel in July:
Kindle Direct Publishing (KDP): $16.96
Units Sold: 9 books
Books Live: 851 books
Royalty: $16.96
I didn't add any new items to my low-and-no-content book catalog this month but my existing collection of notebooks and journals still generated $16.96 in profits from 9 sales.
I'm currently working on creating a handful of new low-and-no-content designs which I will be uploading in the next few weeks. 
Spreadshirt: $16.00
Units Sold: 5 units
Revenue: $148.95
Royalty: $16.00
Avg. Royalty: $3.20
Spreadshirt generated $16 in earnings from 5 orders. I still haven't added any new designs to the Spreadshirt marketplace. Currently I have a little less than 1,000 live designs.
Since I have another 1,500 or so designs ready to go, in September I'll be spending some time uploading these to Spreadshirt using the POD Connect automation tool.
Redbubble: $1.14
Units Sold: 4 units
Royalty: $1.14
A couple of sales rolled in for Redbubble in July. All four of my orders came from stickers hence the low royalty amount. In total, I made just $1.14 in royalties from the platform this month.
After noticing that the majority of my sales have been coming from stickers, I decided to increase my margins. I normally add a 20% margin on all of my products however I doubled that to 40% for stickers.
I also just finished uploading nearly 1,400 designs to Redbubble. Traffic has started to pickup significantly so I'm hoping that as these designs are indexed I'll start seeing an influx in sales volume as well!
Etsy: $264.63
Units Sold: 13 units
Revenue: $264.63
Royalty: $55.45

Avg. Royalty: $4.27
I'm now running two different Etsy stores; one generic store for t-shirts and one niche store that sells shirts, mugs and stickers. Overall, July saw fairly low sales volume with just 13 units moved between my two stores. In total, I made $55.45 in profit this month.
My avg. royalty per unit was also down this month due to a few international orders that weren't properly configured to handle shipping costs. 
I ran some Etsy ads this month and spent $17.25 to drive 57 clicks and 1 order. 
I don't have much experience running ads on the Etsy platform but from what I've experienced I'm not super sold on the effectiveness of advertising my listings.
While this is not much data to go off, CTR was fairly low at 0.8% which makes me think that there is work to be done in terms of relevancy. 
I may play around with these more in the future but for now I've paused my Etsy PPC campaigns.
Affiliate Income: $14.39
Printify Affiliate Income: $11.40
PixelPOD Affiliate Income: $2.99
I make a little bit of money each month through a handful of affiliate programs. The income fluctuates quite a bit from month to month. I've had some months make as much as $300 only to make $0 the following month. 
In July, I received affiliate income payouts from Printify and PixelPOD for a total of $14.39. This is the first time that I've mentioned PixelPOD. This is a great resource for KDP sellers. Each month they research and discover a handful of opportunity niches and provide insights, keyword research and even interiors for these niches. If you are selling low-and-no-content notebooks and journals this is an easy way to source design inspiration.
Medium: $1.35
New Articles Published: 1 
Views: 151 views
Reads: 81 reads
Income: $1.35
I started publishing articles to Medium at the very end of 2020. Since then I've published a total of 4 articles. In July, I published 1 new article and made $1.35.
Anyone can start writing on Medium and instantly join the Medium partner program to start earning from their posts. Medium pays content creators based on the amount of time the article is read by users who are paying for a premium account. The trick to Medium is getting your articles in front of the right readers. Unless you have a strong following this can be challenging. Fortunately, you can leverage other people's audiences to get more exposure.  I joined one publication which isn't in my direct niche but gets several hundred thousand monthly readers.  
That's a wrap for the July 2021 Income Report
We've covered all of my different income streams that helped me generate $762.51 in income for the month of July. I'm continuing to invest my time and energy into doubling down over the coming months. That means more POD designs on more platforms, more content on my YouTube channel, blog, and Medium outlets, and a lot of experimenting.
It takes a lot of work to keep all the balls in the air but the money I make from my side hustles is more rewarding than any other income I generate. If you want to stay up-to-date with everything that I am working on make sure to subscribe to my newsletter! I'd love to have you.
Project updates!
Finally, as promised, I want to share some of the projects that I am currently working on or that I have wrapped up in the time since the last income report:
Expanding to new POD platforms [in progress]: I've been taking my current catalog of designs (about 2,500 of them) and expanding to other POD platforms like Redbubble, Teepublic, Zazzle and Amazon Seller Central. I'm now about 40% of the way through this process! I have nearly 1,500 designs on Redbubble, and several hundred added to the other platforms.
Re-branding my Blog [DONE]: In July, I finally finished my blog re-brand. I'm still working out some kinks but it is about 95% there. I added a new home page, created a tools and resources page that shares all of the tools I am using for my business, updated my about page, and changed the overall look and feel of my site. I'm also going to be sending out semi-frequent updates through my newsletter!
More Print on Demand designs [in progress]: I'm working on creating 100-300 new POD designs per month to keep the momentum going. In July, we created and uploaded 100 new designs to Merch by Amazon! 
Thanks again for your continued support and for spending the time to join me for this Income Report. There are a lot of exciting things in the works so make sure to stay tuned for future updates! 
If you have any questions or comments I'd love to hear from you down below. Until next time, I'm wishing you the best!