The profits from my side hustles amounted to $806.56 for the month of August! 
In this report, I'll break down my various income sources that helped me make more than $800 in side hustle income for the month. 
If this is your first time here, 👋 welcome and thanks for stopping by. Since I'm a bit behind in getting this report out it will be a bit shorter than my average income report. My goal with these is to breakdown each of my income sources to show you exactly how much money I made, walk through the strategies I'm implementing and break down projects I'm working on to grow my businesses.
Overall, August was a strong month! My income was up a tad from the previous month and was in line with the top end of my 2021 average. If you haven't already, subscribe to my newsletter and check out last month's income report here: July 2021 Online Income Report
Now, let's get into the breakdown!
P.S. I'll include project updates at the end of this post.
August 2021 Income Breakdown
After hitting 10,000 subscribers on my YouTube channel in early August, I took my foot off the pedal on content creation. This gave me more time to focus on growing my print-on-demand and KDP businesses.
For August, there are a few new income sources! This month, my side hustle income came from 10 different platforms:
Merch by Amazon
YouTube
Amazon POD
KDP 
Spreadshirt
Redbubble
Zazzle
Etsy
Affiliate Income
Medium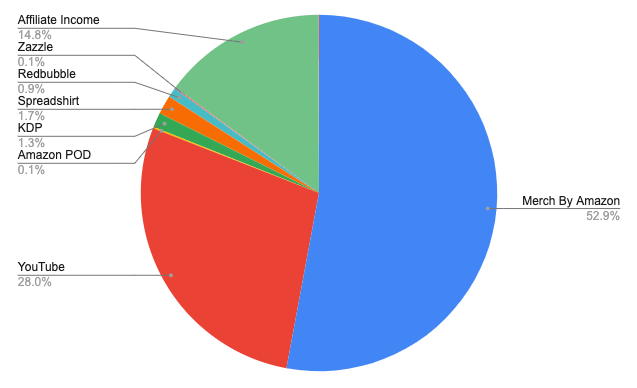 It was a solid month thanks to improvements in sales volume on Merch by Amazon (up 10% from last month) and some affiliate income payouts. That being said, my YouTube income was down due to lack of fresh content and my Etsy profits were in the red due to listing renewal fees which hit this month. 
The most notable progress I made this month came from building my Merch by Amazon catalog by adding new designs, preparing to start PPC on my Merch listings, leveraging automation software (POD Connect) to add hundreds of listings to Redbubble, Zazzle and Teepublic and getting into the self-publishing space! 
Merch by Amazon: $450.46
Units Sold: 160 units
Revenue: $2,746.05
Royalty: $450.46

Avg. Royalty: $2.82

Merch by Amazon accounted for more than 50% of my side hustle income for the month. Sales were up MoM accruing 160 units sold for a total royalty payout of $450.46.
Given that Merch makes up such a big slice of my income and is very passive, I have been trying to give the platform more attention. I ordered 300 new designs from my designer to help build up my catalog.
I've also been experimenting with some design automation software to help me quickly fill my Tier 6,000 slots in anticipation of a tier up.  I've been using Canvas Titans and Canva to quickly create hundreds of scaled designs. 
I haven't had enough time to give a full endorsement of this setup but from my first trials it seems to be working quite well.
On a final note, I'm also going to be experimenting with PPC on my Merch account. In August, we didn't have any ad spend but my PPC freelancer started keyword research to begin running ads in September. So stay tuned for the update on that! 
Amazon POD: $1.12
Units Sold: 1 unit
Profit: $1.12
Besides selling through the Merch by Amazon platform, I've also been adding products directly to the Seller Central portion of Amazon. I primarily rely on the integration between Printful and Seller Central. This makes it relatively easy to publish POD products that are synced to Printful for order fulfillment. In August, I added 400 t-shirt listings using this integration.
With one order in August, I generated $1.12 in profit after fees and expenses. Amazon recently changed the limits for new listing creation to 100/week so I'll be continuing to slowly rollout new product listings over the coming weeks.
YouTube: $238.29
Impressions: 158,707
Views: 10,638
Watch Time (Hours): 931.2

Subscribers Gained: 185 gained

Total Subscriber Count: 10,208 subscribers
Est. Revenue: $238.29
I only published two new videos in August! After reaching the 10,000 subscriber milestone last month, I decided to take some down time (too much). As expected, my views declined and so did my revenue. My total payout for the month was $238.29. 
I'm working on picking things back up for Q4 to get some fresh content pushed out.
Kindle Direct Publishing (KDP): $11.37
Units Sold: 6 books
Books Live: 878 books
Royalty: $11.37
In August, I published a handful of new low-and-no-content notebooks and journals! This marks the first time I've uploaded anything new to KDP in more than a year.
When I first started uploading to KDP I simply converted my existing Merch by Amazon design catalog to covers and quickly uploaded them. This time I decided to do a bit more research and spend more time on creating quality designs. 
To accomplish this I relied on a couple of different tools …  
Rather than starting the research process from scratch, I reviewed the monthly niche suggestions from EZ Pub Profits and found a couple promising niches. They send out a monthly list of curated opportunity niches specifically for low-and-no-content KDP sellers. 
Next, I created covers using the recently added premade Vexels KDP cover designs and then pulled some image elements for the interiors. And finally I downloaded interiors from Pixel POD to populate the interior of the journals. This took a little bit of time and some Powerpoint wizardry, but ultimately allowed me to upload some new high quality products to the KDP platform. Since uploading, I've already started seeing some sales roll through.
Spreadshirt: $14.50
Units Sold: 3 units
Revenue: $88.97
Royalty: $14.50
Avg. Royalty: $4.83
Spreadshirt has seen a big slow down in sales volume over the recent months. I haven't made any changes to my catalog so it's tough to diagnose exactly what is going on. Currently I have a little less than 1,000 live designs. In August, I generated $14.50 from 3 units sold.
Since I have another 1,500 or so designs ready to go, in September I'll be spending some time uploading these to Spreadshirt using the POD Connect automation tool.
Redbubble: $7.50
Units Sold: 10 units
Royalty: $7.50
In August, I sold 10 items through Redbubble. These were mostly stickers, hence the low royalty figures. Since starting to upload more products earlier this year, I've seen solid traffic growth which has resulted in more sales.
I hope that this trend will continue in the coming months as my product catalog becomes indexed and I continue to upload new designs. In the past, I had another Redbubble account which was generating $20-50/ month. 
I've been using the POD Connect platform to help with the upload process and I'm now approaching 1,500 designs on the platform. 
Zazzle: $1.00
Units Sold: 1 units
Royalty: $1.00
Zazzle is new to the income report this month. After about a month of uploading designs I finally received my first sale in August. The sale was for a t-shirt from the UK which generated a total of $1.00 in royalties. While I'm not currently focused on Zazzle, I have been uploading my designs slowly to start padding my income streams. 
Etsy: -$44.59
Units Sold: 17 units
Revenue: $640.48
Royalty: -$44.59

Avg. Royalty: –
Despite seeing a strong increase in revenue in August across my two stores, my net profit was in the red at -$44.59 in August. This was due 100% to my listing renewal fees which came through for a cost of roughly $260.  
I have one general store with about 1,400 listings that brought in 16 orders and then a separate niche store that features mugs, stickers and shirts which had 1 order this month. I'm excited to continue testing my newer niche store to see how it stacks up against an Etsy general store. Both of these use Printful & Printify as fulfillment partners.
Affiliate Income: $126.16
Printify Affiliate Income: $24.07
Bookbolt: $102.09
I make a little bit of money each month through a handful of affiliate programs. The income fluctuates quite a bit from month to month. I've had some months make as much as $300 only to make $0 the following month. 
In August, I received affiliate income payouts from Printify and Bookbolt for a total of $126.16. I have mentioned Printify already several times in this report but Bookbolt has gone without much info. Bookbolt is a great resource that I personally use to help with the research process for KDP Self Publishing as well as low-and-no-content notebooks and journals. I've been slowly accruing an affiliate balance which finally hit the payment threshold in August resulting in a $102.09 payout. 
Affiliate income was my biggest gainer this month up 4x from July.
Medium: $0.75
New Articles Published: 0 
Views: 151 views
Reads: 81 reads
Income: $0.75
I started publishing articles to Medium at the very end of 2020. Since then I've published a total of 4 articles. In August, I published 0 new articles but still made a total of $0.75.
Anyone can start writing on Medium and instantly join the Medium partner program to start earning from their posts. Medium pays content creators based on the amount of time the article is read by users who are paying for a premium account. The trick to Medium is getting your articles in front of the right readers. Unless you have a strong following this can be challenging. Fortunately, you can leverage other people's audiences to get more exposure.  I joined one publication which isn't in my direct niche but gets several hundred thousand monthly readers.  
That's a wrap for the August 2021 Income Report
We've covered all of my different income streams that helped me generate $806.56 in income for the month of August. This was a strong month and while I know I'll continue to see growth, in coming months my expectation is reduce profits as I spend more money investing into my business. 
I'll be publishing the September income report within the next week or so and one big change will be a noticeable drop in net profit. Why? In September, I made the decision to start running aggressive PPC on my Merch account to start ranking designs for Q4. As such, we invested a decent amount in ads. 
I'm also in the process of having my first two self-published books written specifically for KDP and ACX (Audible)! So there will be some exciting updates and content in the coming weeks around this process. Make sure you stay tuned by signing up for my newsletter to get the latest updates!
Project updates!
Finally, as promised, I want to share some of the projects that I am currently working on or that I have wrapped up in the time since the last income report:
Expanding to new POD platforms [in progress]: I've been taking my current catalog of designs (about 2,600 of them) and expanding to other POD platforms like Redbubble, Teepublic, Zazzle and Amazon Seller Central. I'm now about 55% of the way through this process! I have nearly 1,500 designs on Redbubble, and several hundred added to the other platforms.
More Print on Demand designs [DONE]: Over the month of August, I had my designer create 300+ new designs which are either uploaded or in draft status to be uploaded to my POD platforms.
Self-Publishing [in progress]: In August, I also started the research process for two ghostwritten books. These are currently being written and will hopefully be launched in early November to catch some of the Q4 momentum!
Thanks again for your continued support and for spending the time to join me for this Income Report. There are a lot of exciting things in the works so make sure to stay tuned for future updates! 
If you have any questions or comments I'd love to hear from you down below. Until next time, I'm wishing you the best!