In April, I earned $613.59 in income from my various online income sources. While I netted nearly 30% less profit MoM, this was still a strong month with a few notable advancements. I put more time into my side hustles to knock out some of the big projects and keep building momentum for long term growth.
If you read last months Income Report you may remember that March was my highest grossing month for 2021 to date. On the other hand, April had higher expenses attributed to Etsy listing fee renewals for my 1,000+ listings. Despite increased expenses I had three big accomplishments this month:
Merch by Amazon income was up +30%!
I finished compiling my bulk organization file (more on this at the end of this post).
I started my blog overhaul.
Although my blog is not currently generating much in terms of direct income, I have continued to spend time and money investing in it for the long term. Content creation has been at the heart of my long term strategy to build a personal brand.
In April, I purchased a new theme which I have started rolling out. The results are much faster load times and much more control over the style and layout of my personal website. Since making just a few subtle updates I have noticed an 80% jump in organic traffic!
Now let's get into the breakdown …
---
April 2021 Income Breakdown
This month had 8 different income streams:
Merch by Amazon
YouTube
Kindle Direct Publishing (KDP)
Spreadshirt
Redbubble
Etsy
Affiliate Income
Medium
Here is the breakdown of earnings by platform: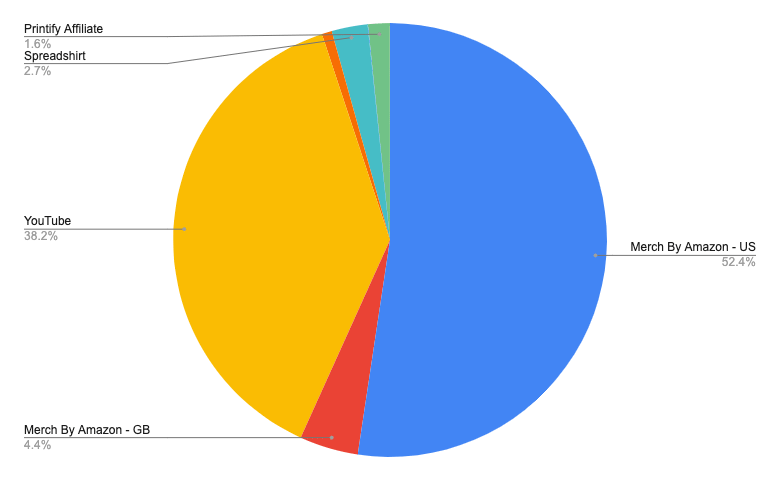 The biggest callout this month is the missing income from Etsy. Etsy normally generates $100-$175 in monthly profit for me. As expected, this month my listing renewals hit all at once which resulted in renewal fees of -$264.20.
I also saw a dip in income from several of my smaller income sources. Despite these fluctuations, I'm still optimistic about the growth over the next couple of months.
The Forecast ☀️: With several big projects getting closer to completion and a few brand deals in the pipeline, I'm expecting May and beyond to start seeing a steady uptick in monthly income. I'm experimenting with several new pieces of software, Amazon PPC for my Merch designs, and optimization of my existing POD listings. On top of these efforts, I finally completed my master design organization file which will allow me to expedite the process of expanding my print on demand designs to other platforms.
---
Merch by Amazon: $430.05
Units Sold: 154 units
Revenue: $2,672.54
Royalty: $430.05
Avg. Royalty: $2.79/unit
April culminated in a generous 30% increase in royalties. In March, I sold 119 units across the UK and US and generated a total of $329.52 in royalties. This month total units sold increased to 154 across the US and UK, generating $430.05 in royalties.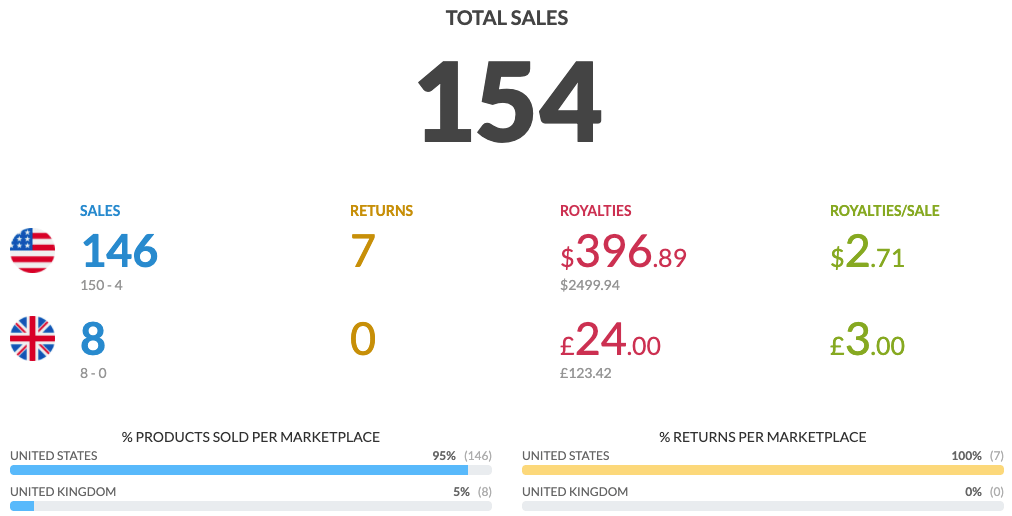 I had several Mother's Day designs that picked up additional sales as the holiday approached and saw some early sales on the new designs I've added in the last 30 days. The Merch by Amazon team recently announced several major changes to the Tier system that will make it possible for me to increase my total live products. In light of this update I'm spending more time on the research front.
Several years of experience in the Print On Demand space has given me time to tweak my research and design process. My focus in recent months has shifted to increased time spent on research before working on creating high-quality designs.
Right now I am following the following general design research workflow:
Use Pretty Merch Pro to analyze my sales data and double down on the things that are working. When I notice a niche that I am getting sales in, I start to go deep and add more designs in that niche before researching new niches.
Find and validate potential new or trending niches using Merch Informer & Helium10. I like to use both tools to cross reference data and find relevant keywords for the designs I am planning to create. P.S. you can use code SKIPWITHBEN for 20% off a new Merch Informer account.
Once I am ready to get my designs done I either pass the necessary information to my designer or start the process of creating designs myself. Since I consider myself a novice in the t-shirt design space, I rely heavily on tools like Vexels to get high quality graphics to serve as the foundation of my designs.
If you are curious for more strategies on my research process check out my YouTube channel.
---
YouTube: $289.17
Impressions: 196,201
Views: 14,099
Watch Time (Hours): 1,367
Subscribers Gained: 326 gained
Total Subscriber Count: 9,426 subscribers
Est. Revenue: $289.17
I only managed to publish two videos in the month of April. My current goal is to publish a minimum of one video per week. As expected, my overall viewership & watch time was down compared to the previous month. On the bright side, I managed to gain more subscribers this month (+326 vs. +288 in March) and estimated revenue remained fairly steady.
I have been spending some more time focusing on optimizing my channel and videos for the YouTube algorithm. While maintaining a consistent publishing schedule seems to be the biggest indicator of channel health, I am experimenting with content length, thumbnail styling, and overall video quality.
Reviewing my data for 2021 is telling. My click-through rate (CTR) has improved month-over-month:
I've also spent more active hours editing my videos & made a recent investment in a Sony a7 III camera to help with production quality. In the upcoming months I hope to find someone to help me with video editing so that I can focus on the actual content.
If you haven't subscribed to my YouTube channel you can find me here.
Here are the videos I published in April 2021:
---
Kindle Direct Publishing (KDP): $5.63
Units Sold: 3 books
Books Live: 851 books
Royalty: $5.63
I only saw 3 sales through KDP on my low and no content books last month. Now that I have had a chance to catch up on some of my other projects, I am beginning to review my KDP library to remove a majority of the low quality e-books and focus on creating high quality designs to add.
---
Spreadshirt: $20.37
Units Sold: 6 units
Revenue: $124.96
Royalty: $20.37
Avg. Royalty: $3.40/unit
April saw a decline in sales on the Spreadshirt platform but my second best month of the year. I have nearly 1,000 live products on Spreadshirt currently.
The hands-off nature of this platform is the major draw for me right now. I haven't touched Spreadshirt in 1.5 years. So while the royalties are minimal, it is an easy way to generate passive income from my existing print-on-demand catalog.
I don't have plans to invest a lot more into Spreadshirt this year since I am focused on Merch, Etsy, and some of the larger opportunities.
---
Redbubble: $0.21
Units Sold: 1 unit
Royalty: $0.21
I have less than 20 designs on Rebubble right now so I don't expect to see any big numbers here. I haven't had a chance to upload my design catalog to the platform just yet. This month I had just one sale for a sticker which netted me a whopping $0.21 royalty.
If you have been following along on my blog or YouTube channel you may have heard me mention my Bulk Organization File. This is a project I have had in the background for a while now. In a nutshell, I am creating a single excel sheet that includes all of my designs (design paths on my local hard drive), titles, brand names, bullets, tags, descriptions, prices and colors the designs look best on.
This project has taken me ages but I finally managed to complete this in April. This will help me expedite the upload process so that I can quickly list my full design catalog to other platforms such as Redbubble. Hopefully, in the next two months I'll be able to get my catalog rolled out to this platform to help generate more income.
---
Etsy: -$144.13
Units Sold: 16 units
Revenue: $382.41
Royalty: –
Avg. Royalty: –
As scheduled, my Etsy catalog of roughly 1,000 listings renewed in April. This led to high renewal fees to the tune of $264.40. My revenue was also down MoM ($382 this month vs. $480 in March) despite getting 50% more listing visits.
Overall, this led to a net loss for Etsy this month. Without the renewal fee costs, my profit would have been roughly $120 this month. I expect profitability to return in the coming 3 months as Etsy renewal fees are only 1 x every 4 months.
One thing I have done to help reduce my overhead costs is to streamline my catalog. I had a number of duplicate listings as I use both Printful & Printify to create listings and fulfill orders. I removed auto-renewal from these duplicate listings to prevent future excessive renewal fee charges.
---
Affiliate Income: $12.17
Printify Affiliate Payout: $12.17
I generate a small bit of affiliate income through my content on here and on my YouTube channel. In April, my only affiliate payout came from Printify which netted me a passive $12.17.
As always, affiliate income is not a current priority for me but a nice passive bump that helps me afford all of the coffee I need to keep working.
---
Medium: $0.12
Finally, we have Medium! Medium is my newest income stream and is an extension of my personal blog. I currently have just 3 articles published and only one that I have submitted for monetization.
If you aren't familiar with Medium I encourage you to check it out. I personally read multiple articles a week on the platform to intentionally learn about things that are not in my normal day-to-day realm.
In April, my one monetized article, Print On Demand: The Complete Guide [2021], generated $0.12 in passive income.
---
Wrapping Up
That's it for my April 2021 income report. My intent in publishing these is to give a transparent window into my workflow and progress as I build my various online income streams. If you enjoyed this content, I would love to hear from you in the comments below.
Here are a few project updates since my March 2021 Income Report:
Master Design List [completed]: As mentioned earlier in this post, I've been spending a lot of time compiling a master file for all of my designs. I was finally able to complete this in April! I'll probably create a blog post and/or YouTube video in the future about how I organize my print-on-demand designs so stay tuned.
Expanding to New Platforms: Now that my master design list is completed it's time to rock and roll! I am going to start publishing my designs to Redbubble, Society6, Teepublic, ShirTee, Teespring & Zazzle in the coming months.
Re-branding my Blog [in progress]: In April, I purchased a new, premium theme for my blog. You may notice a slightly new format. I am working on creating an updated layout and aesthetic that is more in line with my vision for my personal brand going forward.
More Print on Demand Designs: This will probably be a never ending project. Especially with the recent Merch by Amazon tier system announcement, new design creation is the biggest growth factor for any Print-on-Demand business. Currently, I am working towards maxxing out my Tier 6,000 Merch account.
Thanks for being a part of the journey and I hope to see you in the next Income Report!