2021 is chugging right along. It's time for another online income report!
In February 2021 my online businesses generated $751.94 in profits. If you have been following along on my journey, you'll know that this was down from January.
Check out last month's income report here: 💸 Online Income Report for January 2021: How I Earned $829.20
Given that February is the shortest month of the year a decrease in profits was to be expected. Surprisingly, my daily average income actually increased from $26.74/day in January to $26.85 in February. Let's hop right in.
---
I'm now up to 9 different income streams including Print On Demand, Content Creation and Affiliate Marketing:
Merch by Amazon
YouTube
Kindle Direct Publishing (KDP)
Spreadshirt
Redbubble
Etsy
Affiliate Income
Amazon POD
Medium
---
Below is the breakdown of my income distribution.
Merch by Amazon and YouTube continue to be my two most stable sources of income. I'm always amazed at the consistency of these platforms. While Merch has been somewhat stagnant for the last few months (more on this later), YouTube has continued to grow to the point where it has become a cornerstone of my business.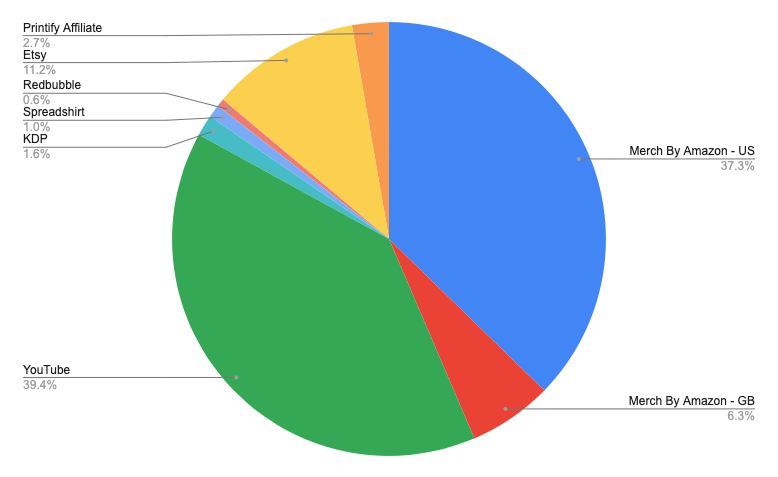 The last few months I've been slowly trying to diversify my income streams. I started publishing content on Medium, which is a long term play similar to YouTube. Similarly, I've been sticking to a somewhat consistent publishing schedule with my YouTube content which has definitely shown in recent months.
In the background, I'm also working on compiling all of my Print on Demand designs into a central Excel file. Once done, this will allow me to efficiently publish them to the other print on demand sites like Zazzle, Teespring, and Amazon Sellercentral.
---
Merch By Amazon: $327.55
Units Sold: 118 units
Revenue: $1.841.67
Royalty: $327.55
Avg. Royalty: $2.77/unit
My Merch by Amazon royalties came in at $327.55 from the sale of 118 units between the US and UK markets. This platform made up 43% of my income for the month!
And the best part is that I did absolutely nothing to grow my Merch business this month. I've been maxed out at Tier 4,000 for some time now, so it's been a waiting game in terms of tiering up.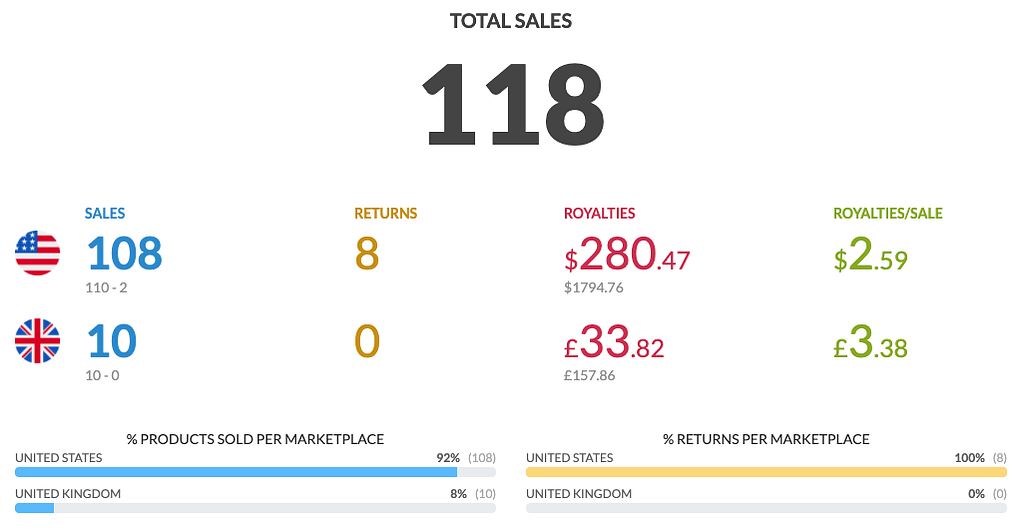 As soon as I get tiered up, I plan on getting back to the design grind to continue growing the account.
---
YouTube: $296.43
Impressions: 196,004
Views: 15,059
Watch Time (Hours): 1,457
Subscribers Gained: 314 gained
Total Subscriber Count: 8,891 subscribers
Est. Revenue: $296.43
Getting semi-consistent content out has definitely helped with my YouTube channel growth (no duh!). In February, I added four new videos to my library. While my channel views were down, I have come to recognize the power of publishing content that sets things up for the long term.
If there is anything that I have learned in the last year, it is the importance of building a personal brand. YouTube is the gateway drug for introducing people to my "brand." Believe me, it feels cringeworthy even writing that but it is true.
YouTube is such a powerful platform. Even though it requires A LOT of work, I think it is one of the best ways to create a loyal following.
Here are my stats for the month of February:
Here are the videos I published in February 2021:
---
Amazon KDP: $11.91
Units Sold: 7 books
Books Live: 851 books
Royalty: $11.91
Still NO updates to KDP. I have added exactly 0 new low content book designs in nearly a year.
---
Spreadshirt: $7.22
Units Sold: 2 units
Revenue: $50.99
Royalty: $7.22
Avg. Royalty: $3.61/unit
Spreadshirt also saw a very slow month with just 2 sales. Especially after seeing a very strong Q4 I had higher expectations for Spreadshirt this year. While it is entirely passive, for the number of live designs I certainly expected more sales volume.
---
Redbubble: $4.41
My Redbubble account only has a handful of live designs and I haven't had time to work on growing this account. That being said I still saw a couple of sales in February which netted me $4.41 in royalties.
---
Etsy: $83.85
Units Sold: 15 units
Revenue: $342.74
Royalty: $83.85
Avg. Royalty: $5.59/unit
My Etsy sales dropped by 50% from January. On top of that, my total performance was actually worse off than February 2020. Despite all this, my profit increased this month.
In my last Income Report I mentioned that I had ordered a few sample products from Printful. I used these to publish a Printful Review video on my YouTube channel. However, these samples set me back last month hence the seemingly higher profit in February.
---
Here is a shot of my Etsy sales dashboard:
Affiliate Income: $20.55
Printify Affiliate Payout: $20.55
This month the only notable affiliate income came from Printify. I had several affiliate signups who have continued to successfully sell products using the Printify Print on Demand Integration.
I plan on publishing more content around Printify in coming months as I use the platform to expand my Etsy Print-on-Demand business.
---
That's a wrap
You may have noticed I left off Amazon POD and Medium this month. Unfortunately, I had no Amazon print on demand orders for February and Medium generated a grand total of $0.02!
Don't worry, you will be hearing more about these income streams in the future!
Right now I have a number of projects going on in the background to help grow my passive income streams. Here is what I am working on:
Master Design List: I am working on compiling all of my print on demand designs in a single file that will include title, bullets, description, keywords and tags. The purpose of this is both for organization and to make the upload process much more efficient. My end goal being to expand to other POD platforms.
Expanding to New Platforms: After finish my Master Design List, I plan to list all of my products to Amazon Sellercentral, open several new Etsy stores, and create more low and no content notebooks and journals.
Re-branding my Blog: The time has come for me to get a refreshed brand look. As I get ready to scale, I am planning on refreshing the look of my blog and YouTube channel. I'm in no rush but looking forward to this refresh.
More Print on Demand Designs: Finally, once I get tiered up with Merch by Amazon, I will have my designer start creating more designs. This is on the horizon and I am excited to finally get the ball rolling again.
Thanks for reading along and traveling on this path with me. I hope that these blog posts serve to motivate you along your own side hustle journey.