Fourth quarter is at an end and so it is time for another online income report. It was another great month across the board. As expected profit was up, just slightly, despite an overall increase in total revenue. For the month of December 2020, my income came in at $1,090.02.
In my November 2020 Income Report I mentioned how I've been mostly hand off my online income streams in 2020. In December, I finally started getting back to work uploading about 100 new products to Merch by Amazon, publishing 4 new YouTube videos, 2 new blog posts, and my first-ever Medium story.
Overall, this month felt like a lot of admin work to get up-to-speed with where my online business stood.
Now, let's dig in. My income came from 8 different sources:
YouTube (Google Adsense)
Kindle Direct Publishing (KDP)
Redbubble
Amazon POD
While my income was up over November, Etsy dragged my total profits down. This was my biggest month ever on the platform with a total revenue of $1,286.53, BUT my listings were all up for renewal this month. This resulted in an expense of $416 for listing fees for a net loss of -$84.77 😬😬.
Regardless, here is the breakdown of my other income sources: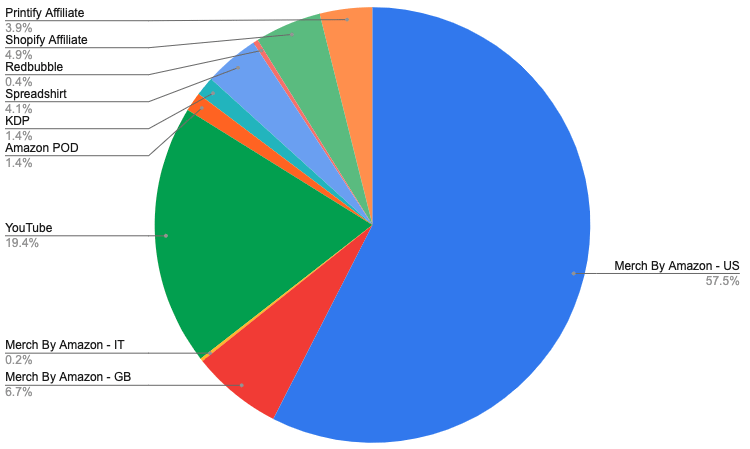 Merch By Amazon: $757.46
Units Sold: 262 units
Revenue: $4,577.48
Royalty: $757.46
Avg. Royalty: $2.89/unit
December was my single biggest month on Merch by Amazon since my account went live in September of 2017. Prior to this December, my next best month was December or 2018 when I sold 237 units (and $400 in royalties).
Not much changed on my Merch account this month besides adding 130+ new listings (mostly Merch phone cases). I am still at Tier 4,000 with 3,604 live listings.
Here are the results for my US account from the Pretty Merch Pro plugin: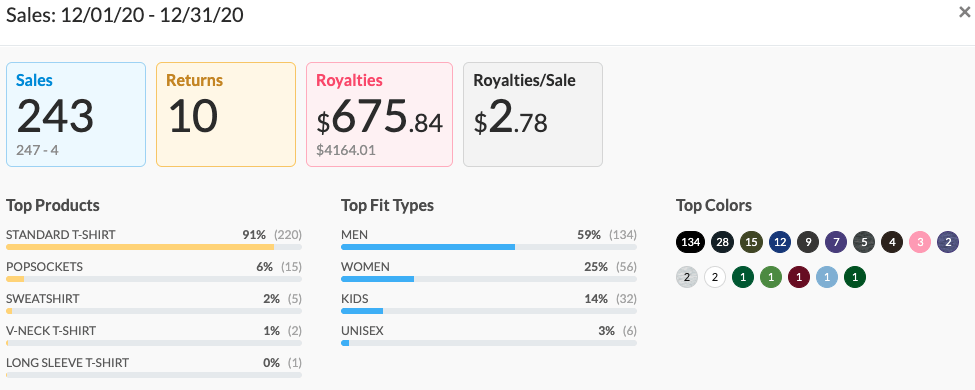 Standard t-shirts are still the bulk of my sales at 91%, up from 85% in November. Notably, my royalties/sale were also down slightly this month ($2.78/sale this month vs $2.85 in November).
Here are the results from my UK Merch by Amazon Dashboard:
The UK market saw 18 sales which is nearly double my best month. It's nice to finally see some notable income from a second market to help balance out my Merch by Amazon income streams.
This month also generated my first sale from the European markets! 🤩
Here is the one big sale I received in Italy!
It is important to note that I am not fluent in Italian and this design was actually in English! You really never know when, where and what people will buy.
I listed a handful of products in the European markets using a simple Google Translate strategy I talk about in this e-commerce listing translation video.
YouTube (Google Adsense): $227.75
Next up is YouTube (Google Adsense)! In December, I published 5 new videos to my channel and my views started to climb. Here are the numbers …
Impressions: 205,005
Views: 15,248
Watch Time (Hours): 1,417
Subscribers Gained: 305
Total Subscriber Count: 8,101
Est. Revenue: $227.75
Getting back to the publishing grind was the catalyst for a big boost in performance. My channel views were up 31%, watch time up 26%, Subscribers gained up 37%, and revenue up 30% from November 2020.
If you want a more in-depth breakdown of how I've built up my YouTube channel, check out How to Make Money on YouTube (Start a Profitable Channel).
Getting on a more consistent publishing schedule has helped me tremendously. In 2021, I plan on publishing at least 1 new video per week and hope to keep building my audience on this platform.
Here are my top 5 YouTube videos for December 2020:
Amazon KDP: $16.79
Units Sold: 9 books
Books Live: 851 books
Royalty: $16.79
KDP hasn't had much going for it. This month saw a slight bump in sales and generated $16.79 from the sale of 9 books. The most common question I get asked about KDP is 'how are you making so little from 851 live books?'
While it may seem crazy, the reality is I haven't touched this portion of my business since June 2019. All of the books I uploaded were done in weekend using Book Bolt. They are very low quality!
Spreadshirt: $47.87
Units Sold: 12 units
Revenue: $338.88
Royalty: $47.87
Avg. Royalty: $3.99/unit
I love Spreadshirt! It is very hands-off. I haven't touched my Spreadshirt business in over a year and have still generated several hundred dollars of income without any more work.
While t-shirts remain the best selling products, sweatshirts made up a solid percentage of sales for December and generated some great royalties.
If you want to learn more about starting your first print on demand business on Spreadshirt, check out this video:
Redbubble: $4.41
Units Sold: 2 units
Revenue: $28.69
Royalty: $4.41
Redbubble is still a small portion of my online income. My account has just a few live products so the income is accordingly small.
Not much more to talk about this month for Redbubble!
Etsy: -$84.77
Units Sold: 61 units (61 orders)
Revenue: $1,291.90
Royalty: -$84.77
Avg. Royalty: –
OOOOhhhh that hurts! Etsy had its highest revenue month every with 61 orders and $1,291.90 in revenue. Storefront traffic was also up 25% from the previous month.
Unfortunately, my net profit was in the red at -$84.77 due to listing fees which amounted to $416.00. Other Etsy fees and taxes made up $68.06 and cost of goods from Printful and Printify amounted to $887.24.
If my listing renewal fees hadn't been a factor to consider this month, my net profit would have been closer to $331.23. Cost of doing business!
Amazon Print On Demand: $16.58
Units Sold: 2 units
Net Profit: $16.58
New to the report this month is Amazon Print On Demand. And no, I'm not talking about Merch by Amazon. Recently, I used Printful to publish a number of products to Amazon Sellercentral.
In December, I received 2 orders for POD products which I fulfilled from Printful. Fulfillment time is definitely a pain point but my customers were fine waiting for the orders to come through.
This is a widely undiscussed opportunity with Print-on-Demand but something I'll be spending much more time on in the new year.
Affiliate Income: $103.93
Shopify Affiliate: 2 conversion
Shopify Affiliate Payout: $58.00
Printify Affiliate Payout: $45.93
I have a number of affiliate income accounts that generate commissions each month. The two most prominent of these are Shopify and Printify.
Printify has been a stable piece of affiliate income for the last 6 or so months. The majority of the referrals I have received come from a single YouTube video I published back in March of 2020.
This single video has generated more than $300 in affiliate income.
My second source of affiliate income this month is Shopify. Shopify has a great payout rate and no real minimum thresholds. In December, I had 5 unique clicks, 1 new signup and generated a total of $58.
That's a wrap for my December 2020 Online Income Report
While Etsy was a point of frustration this month, generating nearly $1,100 in semi-passive income is awesome!
As I mentioned early in this report, 2020 was generally a slow year in terms of my online side hustles. Working two jobs and trying to keep some sort of social life definitely took precedence.
Looking forward…
Heading in to 2021, I'm predicting big growth for each of these income streams. My main focus still remains YouTube and growing my Print-on-demand business but I plan on launching a couple of new income streams.
I'll update y'all as we move along. Wishing you all a happy new year!