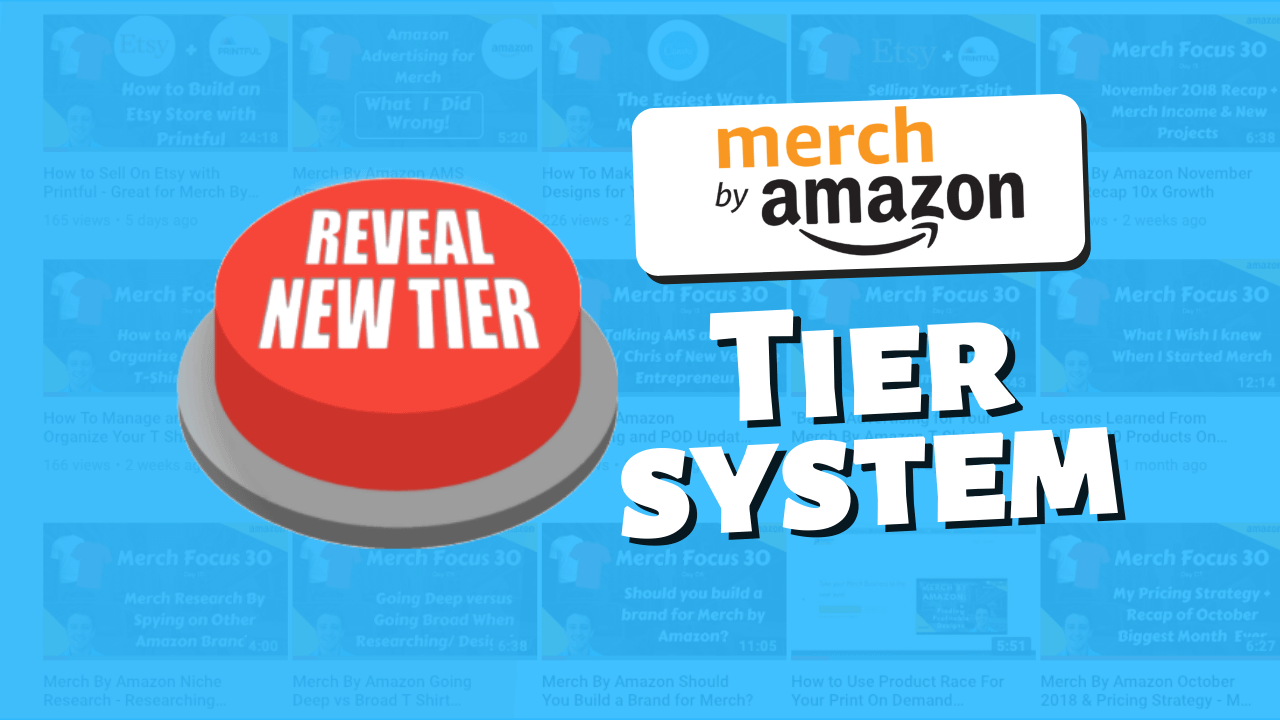 Level up your game by learning more about the Merch by Amazon Tier System
The Merch by Amazon tier system is the bane of many print-on-demand seller's existence.  Amazon intentionally created this system to add a quality control mechanism to the Merch platform to prevent product spamming and nefarious sellers.
Brand new sellers start in the lowest tiers and have tight limitations over how many products they can upload.  This makes the early stages of any Merch by Amazon journey quite frustrating.
As you demonstrate a successful track record, Amazon rewards you by incrementally increasing your design upload slots. This is commonly referred to as "tiering up."
If you want to take your Merch business to the next level, it is helpful to understand how the system works.
Big changes to the Merch by Amazon tiers
While Amazon has been known to make seemingly sudden changes, the Merch by Amazon tier structure has remained relatively untouched in recent years. 
But in April of 2021, that all changed … 
On April 29th, 2021, sellers started seeing a message in their Merch by Amazon accounts. In it, the Amazon team laid out details for sweeping updates that changed the fundamentals of how tier levels were described. 
Prior to this message, a sellers tier level corresponded to the number of products that they could list at any given time. This meant that if you were in Tier 10 and you uploaded one design to ten different products (ie. standard t-shirt, premium t-shirt, tank top etc.) you would hit the design slot limitation for your tier.  
With this new update, tier levels started to correlate to the number of designs a seller could create rather than products. This means that in the same example, if a seller uploaded one design to ten or more products, this would still only count as one used slot as opposed to ten with the previous tier system. 
What this means for sellers
For the most part, these changes have been welcomed by sellers with open arms. After all, this means no matter what tier you are currently in, you will have the ability to create and sell more products. 
Sellers at all levels can maximize their exposure by publishing designs across every available product and marketplace as they see fit. This is especially helpful for new Merch by Amazon sellers as it takes some of the pressure off and gives them more opportunities to get sales with Merch.
How many more products can you create?
On the Tier Level Update FAQ published on the Merch resources page, the following example is given:
Design-based tiers will allow you to apply one design to all available product and locale options. When the same design is published across multiple products and locales, it will only count once against your tier limit. For example, if you are a Tier 10 Content Creator, you can publish up to 10 designs and create a maximum of 640 products across all locales with rights.
This is great news since Amazon has been consistently adding new markets and additional product types. The more places you are able to publish a design, the more opportunities you have to generate additional sales.
Using my account as an example, at Tier 6,000 I can publish 6,000 designs and have a total of 384,000 live products on Amazon. 
Daily upload limits
Amazon still imposes limitations on all sellers in regards to how many new products can be uploaded in a given day. The upload limits are generally tethered to your tier level however, Amazon periodically raises and lowers these limitations. 
Current Merch by Amazon Tiers
The Merch by Amazon tier system has changed over time. However, as of writing this article the current tier levels are as follows:
In case you were wondering why you see these little monsters everywhere, they come from the Pretty Merch plugin for Merch by Amazon. Pretty Merch is a popular Google Chrome plugin that allows Merch sellers to view and analyze their sales data from a cleaned up dashboard. Best of all it is Free!
These monsters have become synonymous with the Merch by Amazon tier system.
Tips for Tiering Up Faster
Aside from maxing out all of your available slots with high quality designs, there are a couple of things that you can do to accelerate your journey through the Merch by Amazon tier system.Here are some of my tips for getting tiered up faster:
Buy Your Way Out
In the low tiers (tier 10 & 25) buying your own products is one of the easiest ways to get tiered up. I inadvertently did this in my early days without realizing that it would help get me tiered up. Amazon counts products that you order towards your overall sales numbers.
By buying one or two of your own products you get closer to meeting the tier up requirements. This is also a great way to learn about how the customer experience works and get a hands on understanding of product quality.
Price Low
Pricing competitively is another easy way to increase your chance of making sales. When just starting out with Merch by Amazon your goal shouldn't be to make as much money as possible. Your goal should be to tier up as quickly as possible. Remember, more available slots means more products.
If you are listing high quality designs, dropping your price may be the factor that helps a potential buyer decide on your product over a competitors. Pricing low boosts your chances of converting. You can always increase your prices later on as you progress through the tier levels.
Advertise Your Products
While I have made 99% of my Merch by Amazon sales organically, advertising with Amazon PPC can be a great option to increase sales. This is a great strategy especially for those Merch sellers who are already in the higher tiers. PPC is its own beast and takes some basic knowhow that deserves its own article. There are lots of great resources out there so do a quick search and you'll find plenty of tutorials on Amazon PPC.
Dropshipping For Sales Made on Other Channels
Dropshipping your Merch by Amazon products is not as commonly talked about. Amazon does allow you to use their platform for dropshipping (see warning below). In theory, you could take one of your Merch products and list it to other platforms like Etsy, Ebay, Shopify etc. When someone purchases your product from one of these other platforms, you then place an order for it on Amazon and have it shipped directly to your customer.
You do need to be careful here as there are important terms of service that you must adhere to. For one, Amazon does not allow you to use your Amazon Prime account for dropshipping. So before implementing this strategy make sure to familiarize yourself with the Amazon Terms of Service.
Still have questions about how the tier system works?
Amazon makes changes to their tier system from time to time. While I will do my best to update this post accordingly, let me know if there is anything that I missed about the Merch tier system.
And I want to hear about where you are on your side hustle journey. Leave a comment below to tell me what tier you are on. Wishing you the best on your Merch by Amazon journey!