Backstory…
How I Got Forced Into Side Hustling.
Don't worry, we will get to the breakdown on how I used Merch By Amazon to generate 4 figures in royalties – but first a little backstory.
My love for side hustling goes back to my college days when I was a beyond broke college student working an on-campus part-time job for less than minimum wage in the mail room at Chapman University. Between rent, typical college expenses (beer and trips to Las Vegas), and trying to maintain some kind of nutritional diet, the need for money was shoved into the center of my life. It didn't stop when I graduated from college and transitioned into door-to-door sales. Moving from city to city across the US, I thought my big break was finally just beyond my grasp. Unfortunately, after more than two years of working my ass off, I found myself with nothing more than a boat load of credit card debt and student loans to show for my 12-hour days of "hustling.'"
I felt stuck. I'm sure that anyone reading this can probably relate to my journey. I didn't know how I was going to make it and felt like a failure. My college years had painted future hopes that I would be the next Forbes 30 Under 30 with multiple shining accolades riding on an internet-based success story that had materialized with ease. Fast forward to three years later while sitting in my car wondering where my next rent check was coming from – I couldn't have felt further from that story line.
While I may not have fallen into a successful career, my days struggling to make ends meet instilled in me the desire for success and the burning passion to make it happen. I also came to terms with the fact that a full-time job wouldn't guarantee this future and that if I really wanted to win at all costs, it meant I would have to take matters into my own hands. This became the catalyst I so desperately needed to set my sights upon side hustling. This side hustler tale has been anything but easy and has had its fair share of "failures" deemed as learning lessons by the many podcast gurus who filled my car speakers as I drove to subsequent 9-5 job drudgeries.
This post will not dive into the many other side hustles I built only to watch crash and burn as that is not why you are here. This is the story of one of my successes. Read on to learn about how I have built a semi-successful online t-shirt business that has created a semi-passive income source in a little over 2 years of work.
How I Sold 800+ T-Shirts and Made Over $1700 in Royalties with No Advertising
Gone are the days of needing your own e-commerce store and boat loads of inventory to satisfy hundreds of website patrons. In this expose, I will break down how I was able to quickly build an Amazon T-Shirt business that generates close to $300 on average per month with no inventory, no advertising, no e-commerce store, and certainly no inventory. By outsourcing design work, leveraging Amazon's e-commerce behemoth to handle customer service, fulfillment and returns and my own technical expertise, creating a scalable e-commerce venture is more attainable than any other time in history.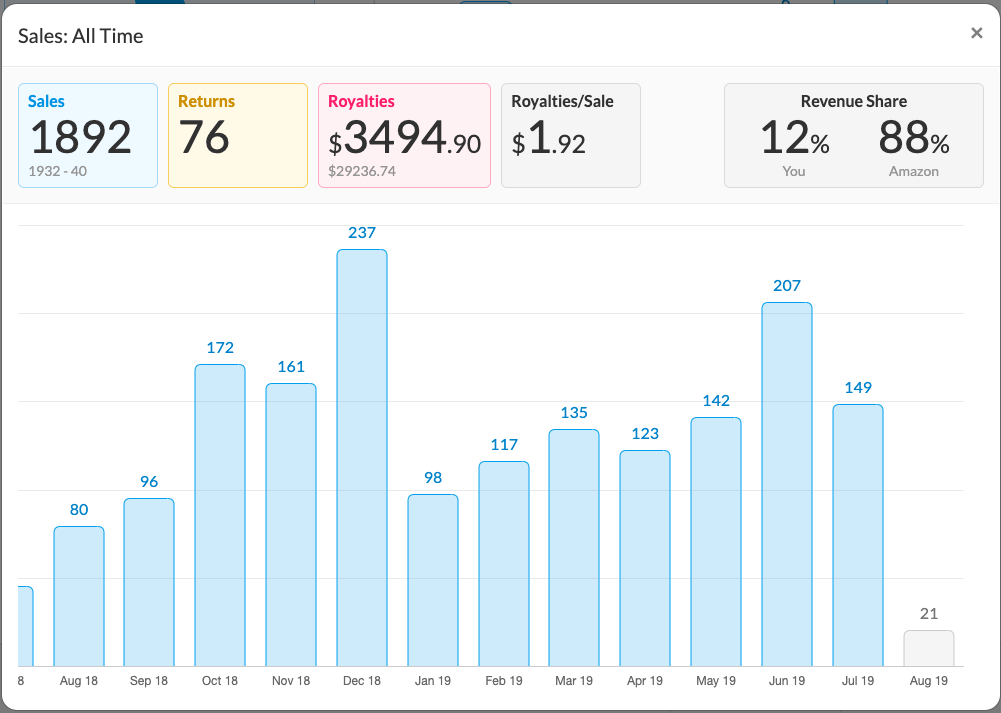 Here are the exact steps to get started with selling on Merch by Amazon
Apply for a Merch By Amazon Account
Get a Designer
Find Out What Types of Products Sell and Start Designing
Upload Your First Designs
Start Selling and Upload More Designs
Expand to New Platforms to Reach More Buyers
Helpful Tools and Resources
Let's dig in and get started so you can quickly get your first few sales.
1. Apply for a Merch By Amazon Account
The first thing you will need to do is get you approved to sell on the Merch By Amazon platform. This step will take a well-crafted application that demonstrates to the people making decisions, that you understand their policies and that you will be able to add value to the Merch platform (aka make money for Amazon). Before we dive into the details of creating your perfect Merch By Amazon application, let's talk about what MBA (Merch By Amazon) is and what benefits you get by selling on the platform.
Amazon sums the platform benefits up pretty well: "Merch by Amazon: We sell your designs as Amazon products, reaching millions of customers worldwide with no upfront investment or costs to you."
In short, you upload winning designs and put in a few keywords phrased as sentences and Amazon creates mockups and product listings which they serve up to their ever-growing customer base. When an order comes in, Amazon will print your design onto a t-shirt, ship it to the customer, and pay you a royalty. In addition, they will handle any customer questions, returns, or product complaints. On top of all that, your Amazon product listings will even get the coveted "Amazon Prime Badge" which helps you get your designs in the customers' hands quickly. The platform is fairly scalable – allowing you to consistently grow your e-commerce business and launch more and more products across multiple marketplaces.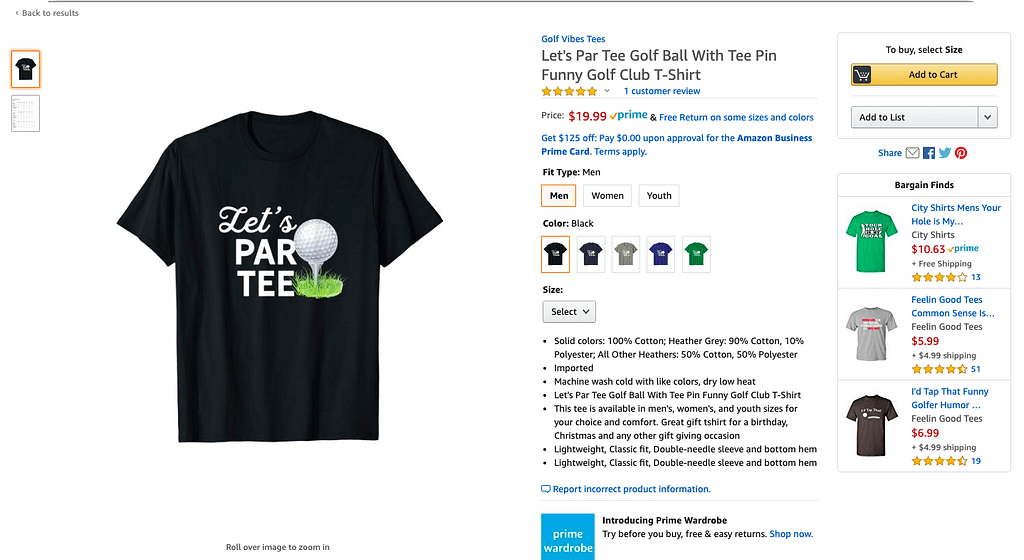 We've talked about some of the benefits of selling on Amazon but it's also important to highlight a few of the downsides of using the Amazon Platform:
Amazon owns your customers. One of the main drawbacks of selling on Amazon is that you, as a seller, do not own the rights to your customer. Amazon retains all of your customer information, preventing you from selling to them directly or making future sales through retargeting and various other marketing campaigns.
Fairly low royalties per sales. When selling on the MBA platform you can expect standard royalties from $1-$5 per sale. This is fairly low in comparison to selling through your own website such as a Shopify store where you can convert potential buyers and make closer to $5-$15 per sale.
Fierce competition. With hundreds of new sellers applying to the platform on a daily basis, there will always be new sellers willing to market and sell their designs at lower price to win the deal. While it is true that the market is becoming more saturated, it is important to remember that good research and design will trump most competition.
OK, now that we have detailed some of the pros and cons of the MBA platform, and assuming that you are still with me, let's break down how to submit a strong application for approval to sell with Merch By Amazon. You can start your application process here.
You will begin by applying and accepting Amazon's standard terms and conditions. Before starting, make sure to have your business contact information (don't worry if you don't have an official business entity), bank account and routing numbers, your social security or TIN for tax purposes.
After filling out your basic banking and personal information, Amazon will ask if you have an existing online business. I highly recommend that you create an online store using Shopify as it will vastly improve your chances of being accepted into the Merch By Amazon program. If you need help creating a Shopify store there are plenty of great free YouTube resources for doing so. Amazon will also give you the option to add some additional information about you and your experience with selling & designing to sell online. In this section, it is great to describe any and all experiences with selling online whether on Shopify, eBay, Etsy, Redbubble or another online platform. Your goal here should be to make it as apparent as possible that you are a great resource for the platform and that you are willing to do what it takes to bring high-quality compliant designs to the platform and start making sales.
Still have questions? Let me know down below in the comments and check out the following two videos:
Check out My Channel: http://www.skipwithben.com/youtube/
Start Starting Up: https://www.youtube.com/watch?v=kiB51aBSF0A
Rob Cubbon: https://www.youtube.com/watch?v=KiuWoy9fPdo
Congratulations! Now you are approved to sell on Merch By Amazon's Print On Demand Platform.
2. Get a Designer
Assuming that you aren't a designer yourself, now it's time to find a reliable designer to create high quality designs for your T-shirts. If you are a designer yourself, you can go ahead and skip ahead to the third step in this process.
Fiverr – Making a Fiverr account takes less than five minutes and is one of the easiest ways to start searching for a design professional. I find that Fiverr is best for small batch orders of anywhere from 1-10 designs. This is a great place to start if you want to dip your feet in and get your first few designs done this weekend.
Upwork – Upwork is where I personally found the designer that I still work with today. My favorite way to use this platform is to create a job listing and then ask any applicants to submit sample work. Upon vetting out the applicants, you should easily be able to negotiate rates and get started with the one who performs the best for you.
Onlinejobs.ph – Onlinejobs.ph is another great resource. This marketplace caters specifically to finding virtual assistants and qualified workers in the Philippines allowing you to leverage currency differences to get the most out of your workers. I love the idea of being able to find a qualified designer here and pay them a wage that is extremely livable for their local while getting your work done at a discount in comparison to most other US based workers.
How much should you pay your designers?
This is a great question and one that will change as you develop a deeper relationship with your designer. To entice high quality workers to apply for my job listings I started by paying about $5 per design. Now that I have a strong working relationship with my designer, I often order anywhere from 100-1000 designs at a time for a discounted rate of $2-$3 per design.
Hiring a great designer for your Merch By Amazon business is the first real step in getting your online income business established and a very worthwhile investment. If you take the time to get this part right, many of the subsequent steps will fall into place.
3. Find Out What Types of Products Sell and Start Designing
Now that you have a designer ready to help you build your e-commerce empire, it's time to find designs that sell and have your designer craft original pieces of artwork to put on you product mockups. This process can be done manually by searching Amazon for examples of products that are already selling, but if you want to take your business seriously, I strongly encourage you to invest in tools like Merch Informer which help take the leg work out of the research process for less than a dollar per day. I'll start by breaking down the free process and then give you resources to get started by utilizing Merch Informer to speed the process up.
The Free Way
Researching is easy when you understand how the Amazon BSR or Best Sellers Rank works. Rather than break this down in detail, I'll let you watch a quick video laying out BSR in detail.
With a thorough understanding of how the BSR system works, you are now more than capable of doing some FREE research for you Merch By Amazon business.
As a general rule, we want to find shirts that have under a 1,000,000 BSR. This signifies that the product is compelling enough to get people to buy!
If you don't know where to start with your niche research, I recommend beginning by reviewing passion niches like fishing, dog ownership, boating, etc. Take a look at this list of passion niches if you need a jumpstart.
The goal with this research method is to find niches where the majority of the first page of t-shirt search results have BSR's under 1 million. From there we want to filter our potential niches down by finding ones with low competition. To accomplish this we can look at the number of listings displayed in the search results.
The above show two great examples for a search term with very high competition. This is indicated by the huge number of search results that we received 20,000+ total results.
The second image shows much lower competition in a sub-niche of less than 1,000 total results.
Turbocharging Your MBA Research
You've done enough reading for a bit. As a reward, go ahead and watch this video detailing how you can use Merch Informer to expedite your research process.
I highly recommend that you consider signing up for a free or paid plan with Merch Informer. Electing to use software to help you with the heavy lifting will help you free up your time and make more money.
Still have questions? Let me know in the comments below.
During your research process, it is imperative that you make notes of niches to dive into. I like to do this in a simple Word document. Make sure you leave yourself links to shirt designs you like. The more you find, the better.
Now that you have 5-10 winning niches, you can work with your designer to create designs for your t-shirts. I won't spend much time talking about design work in here so make sure you subscribe to my YouTube Channel to find advice on how to create winning designs.
4. Uploading Designs to Merch By Amazon and Selling More Shirts
By now you should have a great understanding of how to do research and find winning niches. You should also have a designer (if you don't do design work yourself). The next step is to upload your designs and optimize your listings to sell.
Keyword Research for Merch By Amazon Listings
How to Build a Great Merch By Amazon T-Shirt Listing
When you first get onto the Merch By Amazon platform you will only have ten slots available for uploads. This creates some restrictions for your uploads. Use these early stages as a time to learn the platform and once you have maxed out your first ten slots, spend your time researching and designing!
5. Expand To Other Platforms Besides Merch By Amazon
Now you are ready to build a true e-commerce empire. Merch By Amazon is a great place to start building your print on demand business but it is only one of many platforms.
The beauty of print-on-demand is that you are not restricted to staying on one platform. You own all your t-shirt designs and if you aren't listing across multiple platforms and products you are missing out on $$$$.
Here are a few of the other platforms you should be selling on:
Etsy
Rebubble
Teespring
Spreadshirt
Printify
In the future, I plan to add more in-depth reviews for selling on these other platforms so stay tuned!
6. Helpful Merch By Amazon Tools and Resources
Here are a few of my favorite tools and resources for selling on the Merch By Amazon and expanding onto other platforms.
YouTube Channels:
Tools For Merch and More
Congratulations! You made it through. If you managed to stick with me for this full article my guess is that you are feeling pretty excited and maybe just a bit overwhelmed. That's ok. Many great new adventures start with excitement and a bit of fear.
Merch By Amazon is a fantastic way to ease in to your e-commerce journey with minimal risk. The information detailed in this article is the exact information I wish I had stumbled upon when I got started 2 years ago.
I wish you the best of luck in your e-commerce journey and hope that our paths will cross one day. Until then, make sure you subscribe to my email list below or to my YouTube channel to keep up with my online journey.
Un Abrazo Fuerte. -Ben