YouTube is the second most visited site in the world according to Alexa.com and the second largest search engine. That's a lot of eye balls!
As of 2020, tubics.com reported that there are more than 37 million YouTube channels in existence. And, YouTube paid out more than $7.5 billion, with a 'b', to content creators in 2019 according to this article from Vox.
BUT, my favorite stat is this one:
Number of channels earning six figures per year on YouTube grows by 40% every year.

Source: Omnicore Agency
Had I known these figures back in 2017 when I started my YouTube channel, I probably would have given YouTube a lot more attention. The reality is I just never bothered to take the time to learn about the YouTube opportunity.
If you are reading this, then chances are that you are interested in starting and growing a YouTube channel of your own. I commend you for taking an interest in this online business model and I'm genuinely excited for the opportunity that you have in front of you.
While it is not always easy, I promise you, creating valuable content for others (or yourself) will be incredibly rewarding if you just have the desire to stick with it.
Building a following on YouTube is one of the lowest cost businesses that you can start today. It was this very reason that inspired me to write this article detailing how much YouTube channels can make.
How I Got My Start On YouTube
I published my first YouTube video on December 3rd, 2017. It was awful!
I was sick, I had no idea how to record a video or screen-recording, and I didn't have a camera other than the one on my 6 year old laptop. I still can't remember what exactly inspired me to publish this video, but this single decision helped send me down a fun adventure that I've stayed with for the last 3 years.
I didn't get into YouTube for the money. Although I was broke at the time, YouTube never crossed my mind as a viable income source. Looking back on my first six months on the platform, I was driven more by the challenge of learning how to create video content.
I loved the idea of documenting my process. In other words, I was creating content for me.
After my first video, I published one more about 2 weeks later. Then I totally forgot about my channel for 3 months.
When you are new to the content creation game, you lack the momentum to create a real feedback loop. I had no subscribers and my engagement was nonexistent. So I went about my life.
At the end of March 2018, I finally glanced at my YouTube Studio. I was surprised to see that my videos were actually being watched! It was at that time that I started to slowly ease into the world of content creation.
Fast forward about three years, and I now have more than 8,000 subscribers, more than 100 videos, and a nice little income stream.
And by the way, I will be the first one to admit that I have grown very slowly. I honestly believe, that with the right mindset and consistent efforts, a brand new content creator could build a following in the 5 figure range within their first 12 months!
The Challenges of Starting a YouTube Channel
Starting any new venture can be daunting and exhilarating and YouTube is no different. When I first started getting in front of the camera (and even to this day) I felt a mild nervousness.
Everyone who starts a YouTube channel will face a unique set of challenges. Some of these are shared by all content creators while others may be unique to the individual.
Here are some of the biggest challenges that YouTubers may face when building an audience from scratch:
Choosing a Niche/Finding Your Voice
Creating Content that will Attract Viewers and Subscribers
Finding Ideas for Content
Having the Right Equipment
Overcoming that Internal Voice
Staying Consistent
Differentiating Your Channel
Ok, ok, that's enough! The important thing to keep in mind is that 99.99% of the challenges you will face when starting a YouTube channel have been faced and conquered before.
Every big name Influencer you see, started at the same place – 0 Subscribers. 0 Followers.
Reasons to Start a YouTube Channel
Remember that stat from the beginning of this post? YouTube is the second most visited site in the world and the second largest search engine.
In the early stages, it may seem like you have a lot working against you, but the reality is quite the opposite. Creating a YouTube Channel allows you the chance to tap in to the incredible momentum that this platform has (for free).
Here are some of the reasons you should start your channel today:
Get outside your comfort zone and learn new skills.
Grow your personal brand and gather an audience of likeminded people.
Become a creator rather than a consumer.
Create once, reap the benefits countless times.
💸 Make Money! 💸
Gain credibility in your industry.
Teach others and have fun while doing it.
Many of the opportunities to be had through the YouTube platform may not even cross your radar in the early days. You just never know where this opportunity will lead you.
With that in mind, let's break down how to actually make money on YouTube.
How People Make Money on YouTube
There are multiple ways that a content creator can start making money from their small YouTube channel. You don't have to have millions of subscribers to start earning a meaningful income.
That being said, making money with a new channel can be tough and sometimes downright discouraging. YouTube actually doesn't even give new creators the ability to monetize their videos from ads until they are accepted into the YouTube Partner Program (more on this later).
But this platform is all about momentum and exponential growth. The investment of time and money into the early stages of building a following, will pay off exponentially down the road.
Here are some of the ways content creators can make money from their following:
Google Adsense (YouTube Ads):
The first, and most talked about income source for YouTubers, is Google Adsense. Google Adsense powers the ads that appear at the beginning, middle and end of content.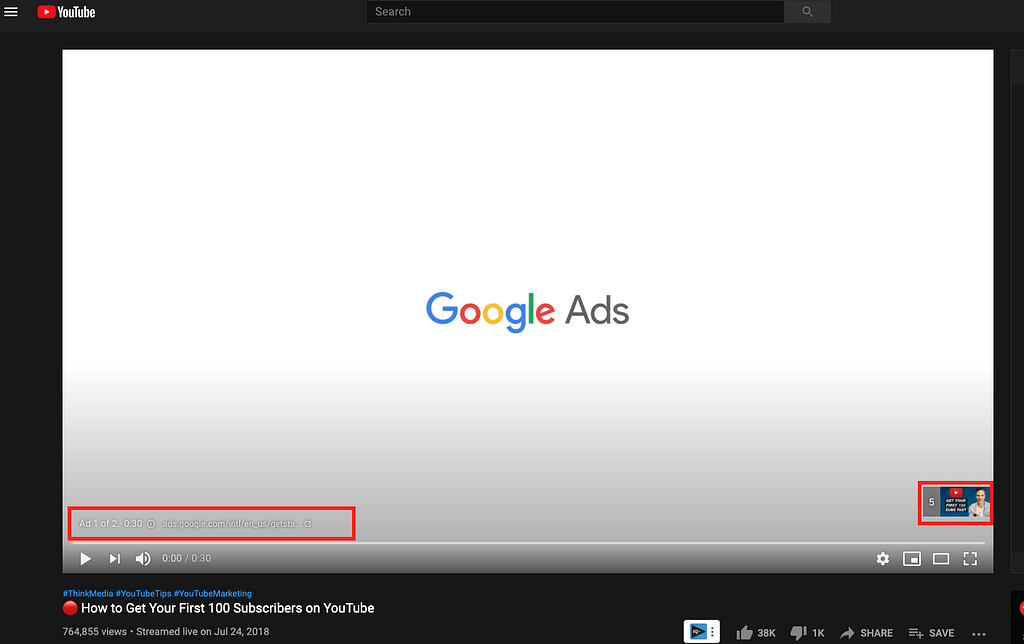 Google Adsense works primarily through an 'Auction-style' platform in which advertisers will bid on what they think different audiences are worth.
Affiliate Marketing is a marketing strategy in which a company allows or invites individuals to promote their products or services in exchange for a commission. The most common way that this is done is through the use of affiliate links.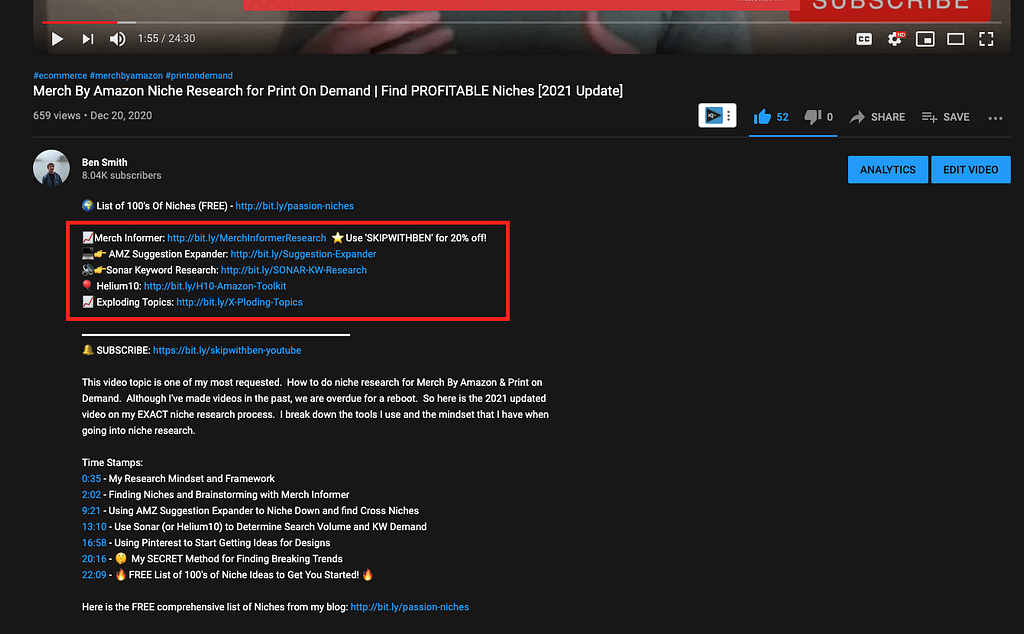 I use these in the description under my YouTube videos and even on my blog! This can be an incredibly lucrative income source with company's offering commissions for each person you send their way
Established channels 'get access' to partnerships in the form of brand deals. In short, brands will often partner with content creators to help spread the word about their product or service. These deals can come in many different shapes and sizes.
Here is an example of one of my favorite content creators doing a brand deal with Notion.so. Brand deals are normally not a viable income source until you have built up at least several thousand subscribers.
Sell a Product or Service:
Content creators can also monetize their following by selling products and services. This can be one of the most powerful benefits of building a loyal audience.
When someone subscribes to your YouTube channel, they are telling you that they like some or all of what you have to say and that they respect your opinion on some level.
Offering products and services to your audience is powerful because no one understands your following as well as you do!
Channel Memberships & Supporters:
Some creators also generate revenue through memberships or supporters. This may come in the form of someone asking for support through the membership platform Patreon. Or maybe you have a video game channel where loyal fans will offer support in the form of some sort of giving.
YouTube Partner Program Requirements (Monetizing with Ads)
While all of these are great options for making an income from your YouTube channel, one of the most straightforward ways to generate income is through the YouTube Partner Program.
Gaining access to the YouTube Partner Program (YPP) will give you the ability to monetize your videos through Google Adsense.
However, there are very specific requirements that new creators must hit AND maintain in order to become eligible. YouTube puts these in place to help protect the community of viewers and content creators.
In a nutshell here is what you need to become eligible for the YPP:
It took me nearly 1.5 years of creating content before I was finally accepted into the YPP program. In fact, I published nearly 90 videos before I was accepted.
So have some patience! AND remember, I went slow. Publishing content consistently will help you become eligible much quicker!
How Much YouTube Pays Content Creators
YouTube pays content creators based on the number of ad views a video or channel receives. It is important to understand that not all views are ad views.
Ad views are those views in which an ad was actually displayed. Some views may not have an ad displayed depending on a number of factors.
The amount a YouTuber can earn will vary quite a bit depending on the type of content they create and the estimated value of their audience.
According to this quick Google search, an average YouTuber may earn $.01 – $.03 per view which equates to $3-$5 per 1,000 views.
YouTube displays this metric as CPM which is the cost per 1,000 impressions. This metric does NOT indicate how much the content creator makes. Instead CPM reflects how much advertisers are willing to spend to show ads to a specific audience.
In a nutshell, CPM is "The cost an advertiser pays for 1,000 ad impressions." (source)
While the average CPM may be in the $3-$5 range, it is very possible to achieve much higher figures. Here is my CPM for 2020:
While, my CPM will likely go down as I grow, this is an important concept to understand. CPM's vary wildly depending on your niche and audience.
I create content about starting online businesses and building e-commerce websites. Advertisers are willing to pay more for views from my audience because it is safe to assume that my audience would have more buying power or buyers intent than the audience of a 'cute cat YouTube channel.'
CPM vs. RPM – Understanding the Difference
We've covered CPM but what the heck is RPM? RPM stands for Revenue Per Mille and represents how much the content creator earns per 1,000 video views.
Essentially, CPM is advertiser-focused and RPM is content creator-focused. Let's look at my account and break down how this works!
How Much My Small YouTube Channel Makes
Now you understand exactly how to make money on YouTube. Let's dive in to my metrics.
My channel was monetized in March of 2019. In 2019, my CPM was $22.12, RPM was $6.90 and my estimated total revenue was $530.78.
2020 has been my first full year earning with the YouTube Partner Program (YPP). While I only published about 10 videos for the entire year, my channel still saw 178,600+ views.
Now let's break down the numbers and see if they line up with the CPM & RPM figures…
Now we see that in 2020, my CPM was $26.81 and my RPM was $10.93. Remember the RPM is the creator focused metric that we want to focus on.
What this figure is telling us is that for every 1,000 video views my channel receives, I will make an estimated $10.93. So does this make sense?
My channel got 178,600 views in 2020. If we divide by 1,000 we get 178.6. We divide by 1,000 because RPM is revenue per 1,000 views. Now if we multiply 178.6 x an RPM of $10.93 we come up with $1,952.10.
This is right on the money! As you can see in my dashboard above, my estimated total revenue for 2020 is $1,952.68!
Pulling it all Together
In summary, in 2020 I made $1,952.10 just from Google Adsense. This number may be exciting to you or it may not even make you flinch. But the awesome part about YouTube, is that it is all about exponential growth.
I only published 10 new videos in 2020 but was able to make money from the content that I published 1 or even 2 years prior. That is the magic of YouTube.
When you make the decision to create a YouTube channel and start putting out consistent content, you are buying into the Build Once, Sell Twice Mentality.
Every piece of content that you generate can be consumed, repurposed, reintroduced, revamped, and reused for years to come. Over time, your consistent efforts will help you build a truly sustainable income source.
So my parting advice to you…
If you have been thinking about starting a YouTube channel or you are just researching how to make money on YouTube, do yourself a favor and give it a real shot.
You already have the desire, you'll build skills on the way, and ultimately you never know where your YouTube channel may take you.
Connect with me on my YouTube Channel and leave me a comment if you are building your own audience!
WHAT'S NEXT?
Check out my latest videos here.