For the month of November 2020, I made $1,061.81 in passive online profit despite working no more than an hour a week. This month also marked a significant milestone for my online income journey as it was the first month that I was able to crack $1,000+ in true profit.
Over the last 12 months, I've been relatively hands off with my online business ventures as they took a back seat to my heavy workload from my full-time job. While it is very encouraging to see that I still managed to see my highest ever month in terms of net profit, I expect that I'll be feeling the effects of the lost momentum in months to come.
My three biggest platforms have historically been YouTube, Etsy, and Merch By Amazon. I haven't uploaded a new video to YouTube in 5 months and Etsy and Merch By Amazon haven't seen any new product uploads in about 4 months.
Shift in Priorities 🙄: For December, I expect to see similar results as I continue to ride off the holiday sales momentum which will inevitably mask any down trends that my business is suffering from. Fortunately, I'll have significantly more time to focus on growing my online business portfolio in months to come!
Digging into the details for November … I generated income from 8 different sources: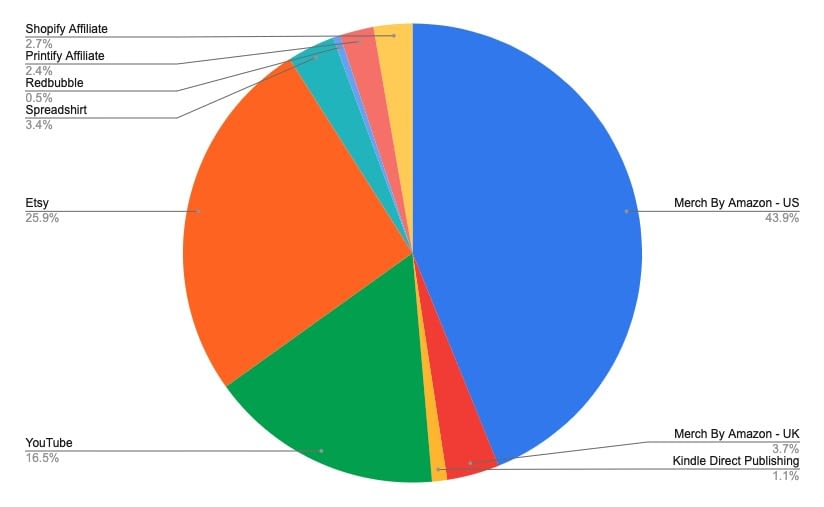 Merch By Amazon and YouTube have remained the cornerstone pieces of my online portfolio, generally fighting off any significant drops in monthly earnings. Surprisingly, Etsy & Affiliate Income have both become substantially larger portions of net profit.
Etsy revenue is up 179% YoY even after pausing my account in June and July. Revenue for this year is quickly approaching $5,000 compared with just $2,491.25 for 2019.
Now, lets get on to the details of my Online Income Report for November 2020…
Merch By Amazon: $505.20
Units Sold: 173 units
Revenue: $3,069.22
Royalty: $505.20
Avg. Royalty: $2.92/unit
Merch by Amazon is still my largest single income source. As of early December, I currently have 3,473 designs live and am sitting in Tier 4,000. While the majority of my products are listed in the US market, I do also have a handful of listings in the UK.
Here are my numbers for the US market: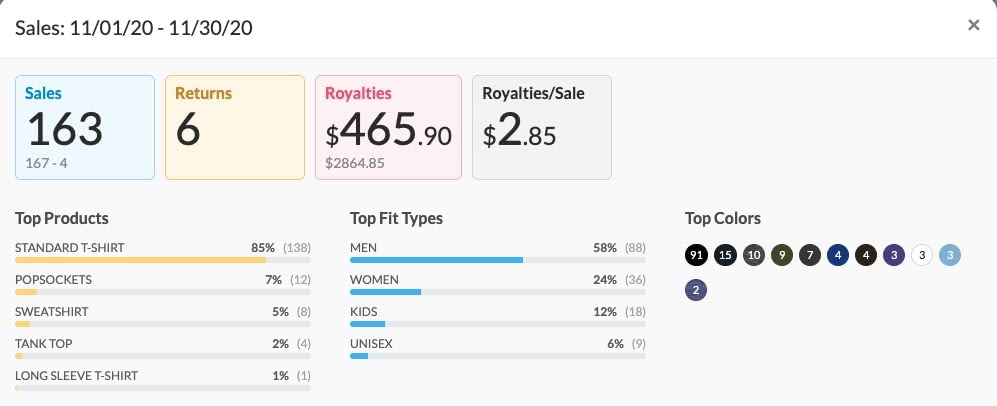 Standard T-shirts made up 85% of my sales with Popsockets coming in at 7% of sales for the month (nearly all from one product). In total, the US market generated $465.90 in royalties.
I received 10 sales in the UK market for a total of GBP29.40 ($39.29 at current exchange rate). This is my best month-to-date in the UK market.
In total, Merch by Amazon generated $3,069.22 in revenue and a royalty payout of $505.20. Below you can see my sold product breakdown. As usual, Standard T-shirts made up the majority of my sales.
And finally, here is the color option breakdown. Most of my designs look better on the darker color product variants so it's no surprise that black, navy and dark heather were the most popular colors.
If you want to read more about how I got my start with Merch By Amazon make sure to read this post about How I Sold 800+ T-Shirts On Amazon and Made $1700 + In Royalties in 2019.
YouTube (Google Adsense): $174.87
Here are my high-level stats on YouTube for the month of November 2020.
Impressions: 146,400
Views: 11,600
Watch Time (Hours): 1,100
Subscribers Gained: 223
Total Subscriber Count: 7,837
Est. Revenue: $174.87
Since I haven't posted a video since June 2020, it's no surprise that my views have seen a downward trend since February 2020.
Despite not publishing any new content, my revenue remained relatively stable. In fact, the last 3 months have seen an improvement in monthly revenue likely due to several of my videos picking up some steam in the last few months.
Over the last month I've finally found time to get back in to publishing content. One of my goals for the end of 2020 was to level up my editing courses. I've been using Skillshare to take a few editing courses which I plan on putting to use over the next 12 months to start pushing out more content.
Here are my top 5 YouTube videos from November 2020:
Amazon KDP: $11.26
Units Sold: 6 books
Books Live: 851 books
Royalty: $11.26
KDP has not had any love in a while. While my first few months were averaging closer to $50 in royalties, things have slowly fallen off. While I do have 851 books live, many of these are less than great.
I published all 851 books in June of 2019 and haven't touched KDP since. Amazon KDP has generated $377.08 in total royalties since June 2019. Not bad for a couple hours of effort but far from where I want it to be.
While I haven't talked much about KDP, this is a platform that I believe has massive potential. I plan on spending more time in 2021 investing in uploading high quality, low content books.
Spreadshirt: $35.74
Units Sold: 14 units
Revenue: $251.84
Royalty: $35.74
Avg. Royalty: $2.55/unit
Spreadshirt generated $35.74 from 14 units sold. This has a been a nice additional income source but doesn't carry the same weight as Etsy or Merch By Amazon. 78% of sales came from T-shirts and the remainder from Long Sleeve Shirts.
While Spreadshirt doesn't boast the same traffic as Redbubble, this is a great fully passive, print-on-demand site. It is easy to publish your products to Spreadshirt with tools such as POD Connect, which automates the upload process.
Redbubble: $5.38
Units Sold: 3 units
Revenue: $36.32
Royalty: $5.38
My old Redbubble account was deactivated nearly 2 years ago. This was frustrating as this platform use to generate $25-$50 a month for me. With my relatively new account I have about 150 active listings that I added in February 2020.
Etsy: $274.99
Units Sold: 49 units (47 orders)
Revenue: $1,046.70
Royalty: $274.99
Avg. Royalty: $5.61/unit
Etsy has been the rising star in my e-commerce business portfolio. This year has been rocky, due to slow fulfillment times and the global crisis, I turned my store off in June and July to prevent issues with orders.
After fully revamping my listings and storefront, I saw a big uptick in sales volume.
This revamp, had a significant effect on traffic and ultimately sales. As you can see above, my storefront/listing visits are up 333% over November 2019. Revenue was up 214% for Nov. 2020 vs Nov. 2019.
I do handle all of my customer service requests myself but this is not very time consuming. Using the integrations from Printful and Printify this income stream is quite passive.
This is one of the easiest ways to get started with Print-on-Demand. Check out this video to start your own Etsy store today.
Affiliate Income: $54.37
Shopify Affiliate: 1 conversion
Shopify Affiliate Payout: $29
Printify Affiliate Payout: $25.37
I have two affiliate sources that paid out last month. Many of the affiliate sources I partner with have minimum thresholds, so while I did make money on a few other platforms they were too small to recognize for this report.
Shopify saw 6 clicks and one successful sign up. Shopify's affiliate program currently pays out 2 x the monthly signup amount. In this case that amounted to $29.
Prinitfy has been a great source of affiliate income and has been consistently generating $25-50/month since I published this YouTube video. For November 2020 I received $25.37 in affiliate commission.
That's all for my November 2020 Online Income Report
I'm quite happy with the results for November. It is nice to see a solid month of income without having to put in loads of time. It's been a long and slow grind for me to get to this point.
Now that I've left my full-time job to pursue building up these online income sources, I'm confident that I'll be able to recognize significant growth in 2021. I'm in it for the long term.
I want to end by reiterating that if you are reading this and starting from scratch, you can achieve these results and so much more. Keep learning and putting in consistent effort and if you want a great place to get started I encourage you to check out my YouTube channel.
Until next time!