One of the biggest objections to starting a print on demand business is finding a capable designer to create products that compel people to buy.
Creating stellar designs is challenging and time consuming. If you are anything like me, then your design skills are probably not up to snuff to create enticing products and your time is limited. It is easy to turn these restrictions into the excuse that prevents you from starting your online business.
Have no fear because I am here to tell you that the process of hiring an affordable designer for your business is much easier and probably more affordable than you think. This guide will detail the exact process for finding, interviewing and hiring the ideal freelance designer for your print on demand empire.
The Benefits of Hiring Your First Designer
If you don't have a design background then the benefit of bringing a freelance designer onto your team may seem pretty clear. The power of the internet gives you access to phenomenal creatives all over the world. Many of these amazing virtual design assistants live in countries where the cost of living will be significantly lower than your native country. This allows you to take advantage of geo-arbitrage on a global scale by leveraging much lower costs of labor without sacrificing quality. This same principle allowed me to find and hire my first designer at a fraction of the cost of U.S. based one.
Often times the consideration of bringing on a part-time or full-time freelance worker may seem like a big undertaking especially for the first time entrepreneur. After all doesn't hiring someone else bring on all sorts of headaches? Not in the slightest. Doing so will challenge you to create defined systems and delegate tasks which will be fundamental future skillsets for growing a scalable online business.
What to do before hiring designer for your print on demand business:
Determine the scope of work. What exactly do you need to get done? Have a rough idea for the project. In this case, how many designs do we expect you will need and what is your expected budget?
Create a hiring template. I'll provide a sample one at the end of this article.
Don't rush. Spend the proper amount of time interviewing and vetting out candidates for your gig. This will save you time and headache down the road.
Building your team of freelance workers will also help you gain increased flexibility and productivity. In most cases you can setup a project based agreement, which will incentivize your new team member to create high quality work without wasting time.
Where to Find a Great Freelancer
There are many great places for finding your first print on demand designer, however I have found the most success sticking to the largest platforms. This guarantees that you will maximize the number of project applicants and increased chances of finding the right one for your print on demand or e-commerce business. Here are my favorite three:
Fiverr – Making a Fiverr account takes less than five minutes and is one of the easiest ways to start searching for a design professional. I find that Fiverr is best for small batch orders of anywhere from 1-10 designs.
Upwork – Upwork is where I personally found the designer that I still work with today. My favorite way to use this platform is to create a job listing and then ask any applicants to submit sample work. Upon vetting out the applicants, you should easily be able to negotiate rates and get started with the one who performs the best for you.
Onlinejobs.ph – Onlinejobs.ph is another great resource. This marketplace caters specifically to finding virtual assistants and qualified workers in the Philippines allowing you to leverage currency differences to get the most out of your workers. I love the idea of being able to find a qualified designer here and pay them a wage that is extremely livable for their local while getting your work done at a discount in comparison to most other US based workers.
How Much You Should Pay Your Designer
Negotiating the right prices can be one of the trickiest parts of the whole process. Quality work done at a fair price is not always easy to find. As you can see in the picture below, one off project based rates will have widely varying pricing.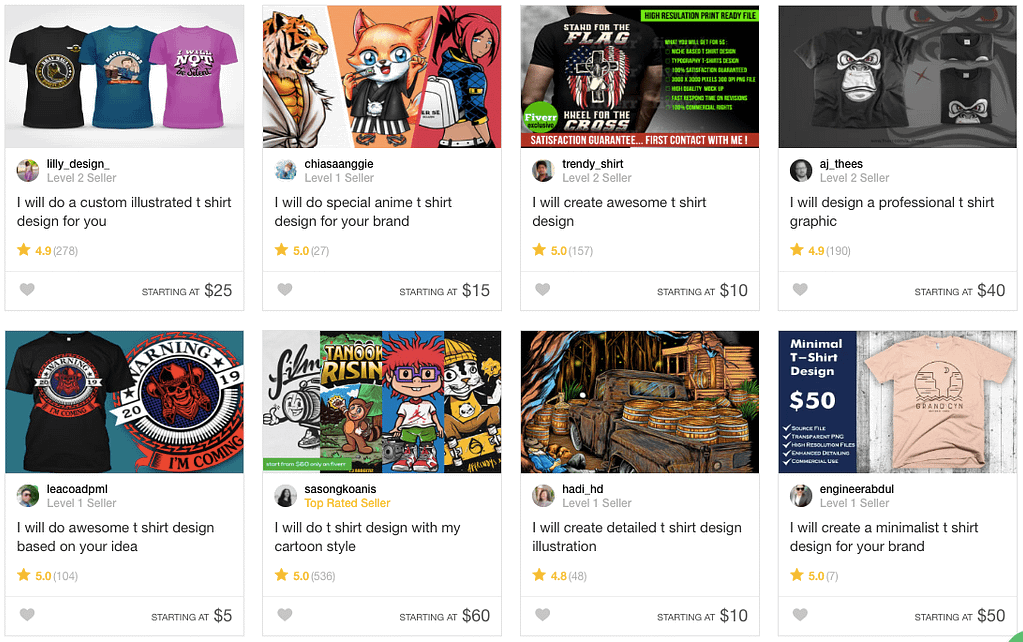 I have found the most success by starting off with a few test designs at a slightly higher price than I ultimately want to pay. This will help entice quality workers to apply for our projects. Down the road we can and should negotiate lower prices per design as we scale up our print on demand business.
In general, I start by telling potential project candidates that I will be paying $5 per design. These are small batch orders in which I am only asking for 5-10 designs to start. This is great for early stages on the Merch By Amazon platform which restricts you to just a few product listings at a time.
As the business grows it is time to start investing in larger volume orders and the consequent pricing breaks standard to most industries. I often order anywhere from 100-1000 designs at a time for a discounted rate of $2-$3 per design.
The Ultimate Designer Job Post Template
Crafting a great job post is critical for enticing the right design candidates to apply for your next t-shirt design project. I've tested different job descriptions over the last two years and developed a great template for finding and hiring your first freelance designer. You can download the exact template which I use on sites like Upwork & Onlinejobs.ph in the link below.
What to Do Next?
Your team is growing and it's time to take your print on demand business to the next level. If you want a step-by-step game plan for growing your business to the next level make sure you check out my in depth guide. This is the exact process I used to sell 800+ products in six months with no advertising.