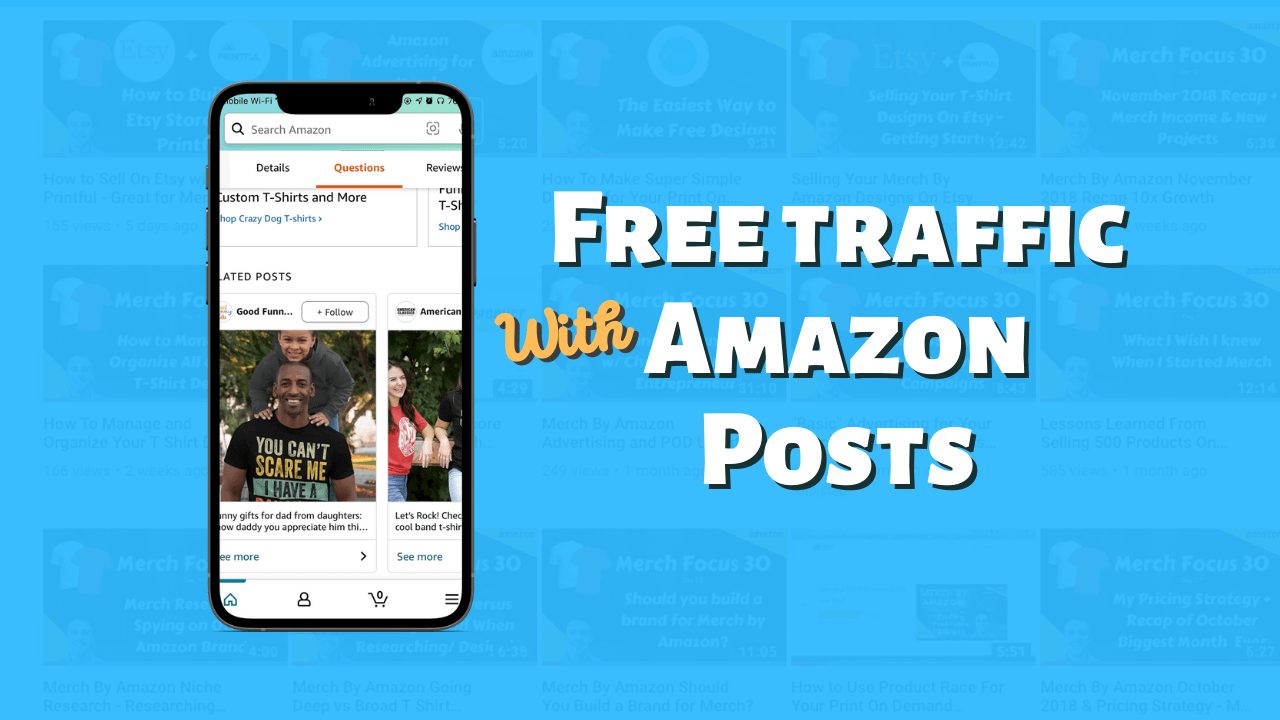 Who doesn't want to drive more traffic to their Amazon listings?
Amazon makes it relatively easy to add product offerings and start generating some organic traffic. But if you are hoping to get noticed and start leveraging the Amazon ranking system, you are going to have to use all the tools at your disposal.
Even if you do all the right stuff to craft a well optimized listing on Amazon, it can still be challenging to drive traffic to your product detail pages. Most sellers rely on PPC to build or maintain their BSR and rank for relevant keywords. However, with increasing competition at the ad auction, this can quickly become a costly endeavor.
Wouldn't it be great if you could drive thousands of clicks to your Amazon listings for FREE?
That is exactly why I wanted to share one of the most underutilized features on Amazon that can do just that! With Amazon Posts, you can share your products with interested shoppers to promote your listings at absolutely no cost. 
Sound too good to be true? Well in this case it is not! Read on to learn more about this powerful feature and how you can use this to get more sales for your Amazon business!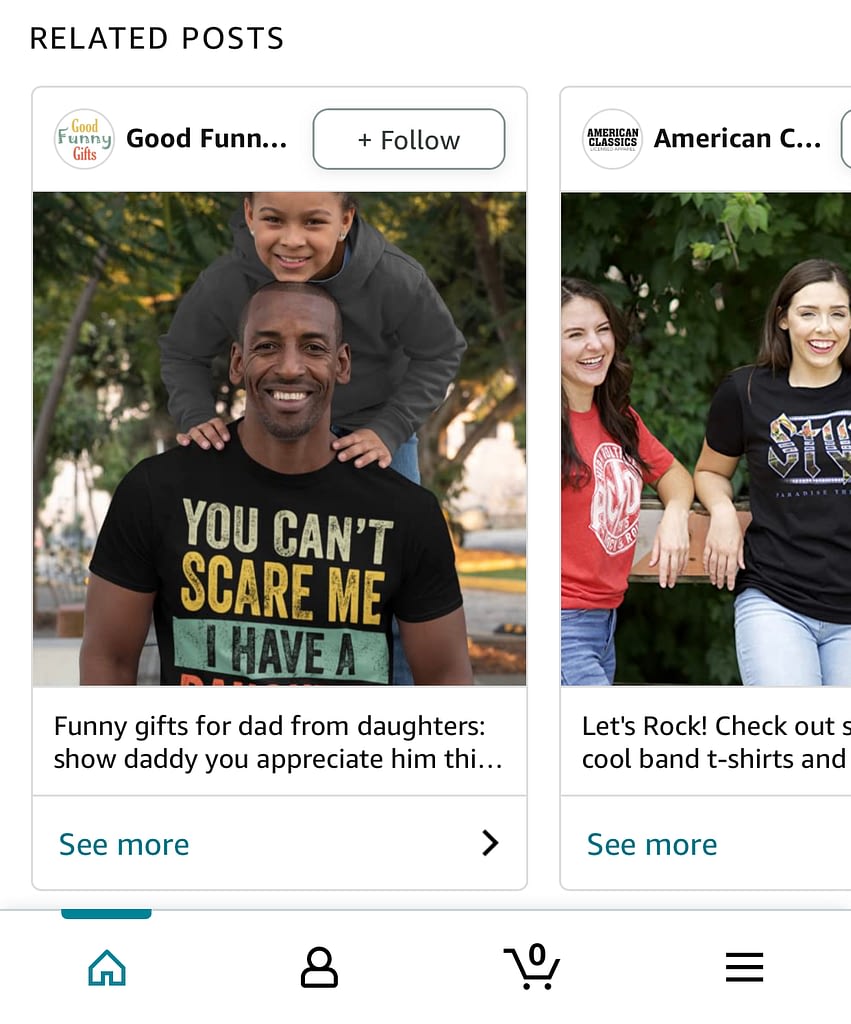 What are Amazon Posts?
Amazon is not one to miss out on any trend that can boost product sales. With the rise of platforms like Instagram and Tik Tok, Amazon saw an opportunity to create an integrated social media platform to help brands engage with shoppers. 
Amazon Posts provides Brand-registered Sellers the opportunity to publish lifestyle images to a feed that appears on the brand storefront and throughout mobile search results. The good news is that if you are a Merch by Amazon seller you can also take advantage of the Amazon Posts platform without being Brand-registered.
Sellers can use posts to reach shoppers searching for related products and expand their brand presence by building their brand feed and follower base. When sellers publish posts Amazon pulls keywords from the caption and associated product detail pages to help display your posts to the best possible audience. And since this is a FREE it can be a great tool for garnering additional traffic to your Amazon product listings.
Where do Amazon Posts show up? 
Currently, Amazon Posts show up in three places:
At the bottom of mobile search results
At the bottom of product detail pages on mobile
Brand storefronts on both mobile and desktop search
While posts are currently geared towards mobile, it is probable that Amazon will expand on the placements to roll more and more post content out on desktop as well! Here are some examples of how Posts currently display on mobile:
Benefits of using Amazon Posts 
Implementing Posts in your content strategy is an effective way to boost your brand presence natively, on the Amazon platform. The Amazon Posts platform is easy to use and helps sellers seamlessly create content that links directly to their product catalog. 
The Amazon Posts platform allows brands to repurpose content from other social media channels to increase discoverability, educate potential customers, and build brand loyalty on the Amazon platform. Tagged products show up directly below the images, removing friction from the initial impressions to a click. Here are some of the other benefits of using Amazon Posts:
Steal Competitor Traffic
Amazon Posts will show up directly on competitor listings. Normally, this is only something a seller would be able to achieve through a paid placement. Although Amazon is constantly split testing, at the time of writing, these posts are found to be displaying towards the bottom of the product detail page.
Amazon has very good conversion rates compared to other e-commerce platforms. However, if a shopper is not completely sold on a product after reviewing images and bullet points above the fold, they will do one of two things: 1) Exit the page and continue their search, 2) Begin to scroll further down the product detail page. Shoppers who scroll are generally looking for reviews and/or additional information about the product, brand or company. This is where Amazon Posts works its magic!
The "scrollers" will get further down the product detail page where they will be served a handful of posts from brands with related products. This means competitors can literally steal traffic without spending a dime! 
Free and Easy to Use
While you do need to be Brand-registered to have access to posts, it is an otherwise free service. Sellers will need to create a storefront if they do not already have one. And for print-on-demand sellers selling through Merch by Amazon, Amazon Posts is accessible without Brand-registry!
Amazon Posts is still in its infancy, and many sellers neglect to use it or just aren't aware of the platform. This provides a unique window for the savvy Amazon seller to build their following and gain the early-mover advantage. Brands that are already creating content for other social media platforms will find it easy to repurpose the same content for the Posts platform. 
Unlike, many social media platforms where posts and stories have a short 24-72 hour lifespan, Amazon Posts are served up to audiences over the preceding weeks and sometimes months. This can provide a great deal of exposure even when publishing on a semi-regular schedule.
 The below screenshot is an example of the results from one of our Posts accounts which published 15 pieces of content over the course of a month. In this short, 7-day snapshot, the content garnered +8.0k impressions and 80 product clicks. This is still a relatively new Posts account so this will only grow with time and consistency. And remember this is all for free!
Increased Brand Awareness
Amazon Posts is also a great way to generate top-of-funnel, Brand Awareness and educate customers about your brand. Customers are able to follow brands creating an opportunity for sellers to connect with and re-engage shoppers on Amazon. 
Getting started with Amazon Posts
Setting up an Amazon Posts account and publishing content is relatively quick and easy. Before getting started, sellers should make sure that their Brand-Registry has been properly applied to their Seller Central account and build out a Storefront. 
Merch by Amazon Sellers can get access to Amazon Posts so long as they have access to Amazon Advertising and have a live storefront setup.  If the Amazon Posts tab is not available in the Ad console, a quick email to Seller Support can get this taken care of.
Here are the steps to setup a new Amazon Posts account and create your first post:
1. Log in to the Seller Central or Merch by Amazon account or head directly to posts.amazon.com. The Posts dashboard is also accessible by entering the Campaign Manager and selecting "Posts" from the menu.
2. From the Posts dashboard click on "Get Started".  Some sellers have multiple brands under one Seller Account. Choose the brand you'd like to setup.
3. Next upload the brand logo and hit the "Submit and continue" button. 
4. Create your first Post by uploading a product image or lifestyle shot, adding a caption, and then adding the subsequent product ASIN(s). Once done, hit "Submit for review."
Sellers also have the option to schedule Posts for future dates, which makes it convenient to schedule all of the content in one sitting. That's it! You've published your first post.  
Here are a few other tips and things worth mentioning 
The review process generally takes less than 5 hours. After submitting the first Amazon post is submitted to the system, sellers will be able to check on the publishing status as well as metrics in the posts dashboard. This will provide insights on impressions, engagement and reach.
In the example below, you'll notice that one of the posts used in this example shows as "Not approved." This happens from time-to-time and you won't be penalized. Amazon will provide a broad reason as to the reason for the "Not approved" status but it is normally easy to drill down and figure out the root cause of the rejection after reviewing the Amazon Post Policies.
Some common rejection reasons we've found are:
1. Duplicate Image: the same image can not be used twice. Amazon is quite good at flagging this but will also sometimes flag posts in error so be on the lookout for this type of rejection.
2. Unsubstantiated Claims: especially important to look out for with any sort of supplement, topical or consumable product.
3. Unsupported Calls to Action: examples include use of phrases like "comment below" or "like this post".
There are many other reasons that posts are rejected but these are a few of the most common slip ups. Often times, you can correct the errors or simply create a new post to resolve any issues and resubmit your content.
A prediction for the future
As we covered in this article, Amazon Posts is a powerful and easy way to get more traffic to your Amazon listings for Free. And, since it is still in BETA, now is a great time to take advantage of the platform to grow your audience. 
While the Posts platform currently only supports images, a prediction that we expect to materialize sometime in the future is video as an additional post format. Amazon Video Search ads have already seen incredibly strong performance in terms of driving conversions on the platform. And with more and more shoppers engaging with video content during their buying process, it seems like it would be a no-brainer for Amazon to add this to the mix.
In summary
Regardless of whether or not this prediction materializes, Sellers who leverage Amazon Posts today are sure to reap the rewards of building a brand audience for years to come.
Repurposing existing content from other social platforms to fit your Amazon content strategy makes it easy to add the Amazon Posts platform to your content strategy. And for Merch by Amazon sellers, who don't have lifestyle imagery, tools like Placeit provide a way to create lifestyle mockups suitable for the Amazon Posts platform without touching any of their own inventory.
I encourage you to give Amazon Posts a shot!  And as always, if you have any questions, let me know in the comments down below.