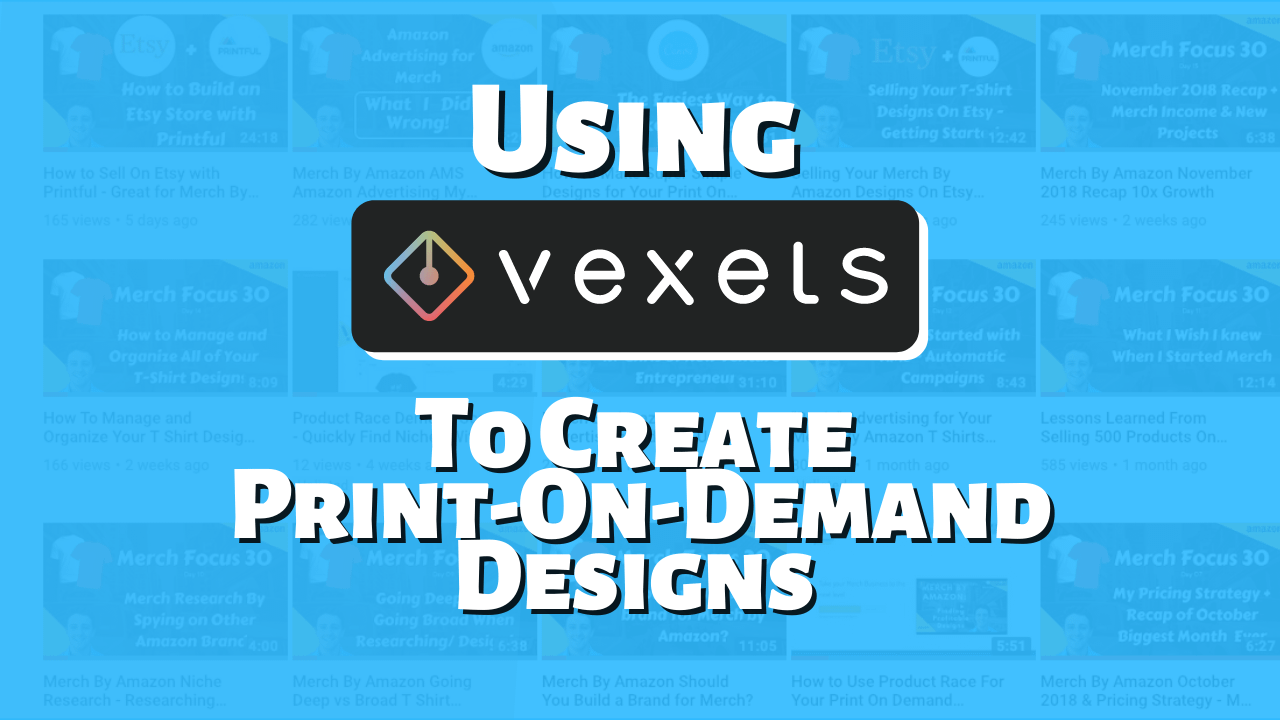 Vexels gives you the power to be a professional graphic designer, even if you aren't. 
Creating designs for your print-on-demand business doesn't need to be difficult. If you choose the right tools, designing professional looking POD designs (that sell) can be a breeze. And you don't even need to have a background in design with the options that we are exploring in this article.
Four years ago, when I first got my start on Merch by Amazon, I had no idea what I was doing. I stumbled into my first few sales using clipart and text mashed together in Photoshop. The results weren't pretty.

I was not a designer back then and still don't consider myself to be one today. If you are in the same boat, it may feel like your only option is to create simple text + graphic based designs. Creating something from scratch, worrying about licensing issues, and learning how to use design software, can seem daunting.
Fortunately, now there are great graphic design platforms that make the process much more manageable. One of these platforms is Vexels.
In this detailed breakdown, I am going to give you the inside scoop on what Vexels is and how it can help you grow your print-on-demand or KDP business.
Disclosure: Please note that some of the links in this article are affiliate links. When you purchase a subscription or design license through my link, I'll earn a commission at no additional cost to you. I only recommend companies that I am personally using for my own business.
What is Vexels?
Vexels is a graphic design platform that has 100,000+ ready-made graphics. In short, their self-serve platform makes it easy for print-on-demand sellers to find graphics and pre-made designs that can be used on platforms like Merch by Amazon, Redbubble, Kindle Direct Publishing, and more.
If you are a print-on-demand seller, you already know the importance of high-quality designs. It's true, you can still make money selling simple text based designs. However; increased competition has shined a brighter spotlight on those sellers who go the extra mile.
Vexels makes it easy to bridge the gap between basic and professional looking designs.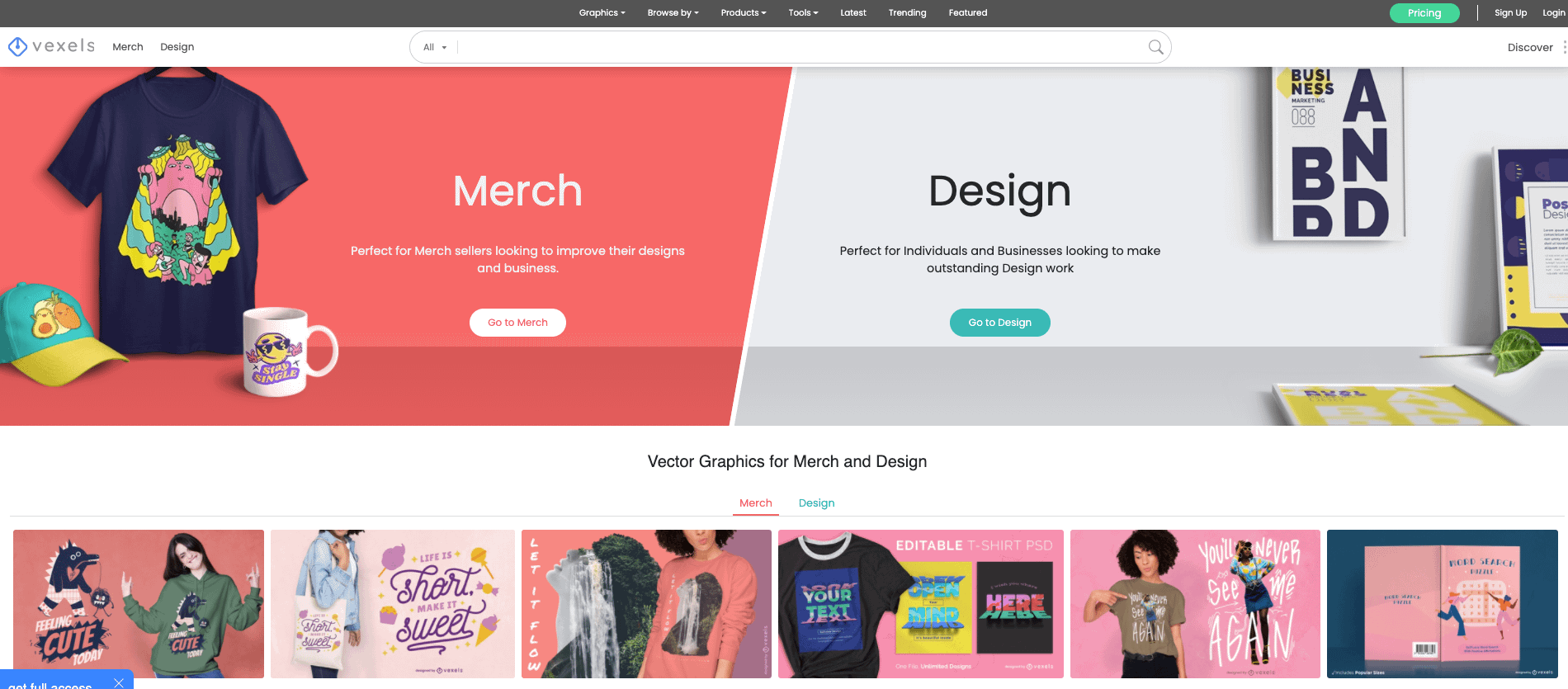 Meet the new and improved Vexels
In 2021, Vexels went through a massive overhaul to their platform. After recognizing the overwhelming demand from the print-on-demand space, they decided to make adjustments to cater equally to designers and the Merch audience.
Now you can take advantage of their improved search experience to find exactly what you are looking for. 
The new platform allows users to filter between "merch" & "design". They've also added a new "discover" button that gives you quick access to both their graphic libraries and their design tools. 
Read on, to learn about all of the features and how you can leverage Vexels to scale your POD business.
Features of the Vexels Platform
Vexels provides users with access to an extensive design catalog that includes everything from "print-ready" designs to individual .png/vector files. Whether you have a specific niche in mind or you are looking for inspiration, you are bound to find hundreds of designs created by professional graphic designers that you can utilize in your business.
Here are some of the other features Vexels has to offer:
Print-Ready Designs
Print-ready designs are one of the easiest ways to hit the ground running. These designs are ready to download and immediately upload to your favorite print-on-demand platform of choice. Of course, you also have the option to make your own edits or use elements from these designs for your own unique rendition.
Design Elements (.svg, .png, vectors, etc.)
Vexels also has a library of more than 50,000 vector graphics at your disposal. These give you true control over your creative process. Whether you are looking for an element to spice up a simple text-based design or you want a finished product, you have thousands of options to choose from.
You can also access "sets" which include multiple designs that share color palettes and styling options. This makes it easy to maintain a consistent feel across your artwork, products, and your brand. 
These elements provide a great foundation for your creative process. You can create numerous print-on-demand products and listings from a single Vexels element.
Right now Vexels is giving my readers a free design asset bundle and a discount on their Merch subscriptions. You can sign up for Vexels and get the free design asset bundle here.
Mockup Generator & T-Shirt Maker
One of the other nice things about Vexels is the built in t-shirt maker & mockup generator. While I still prefer the functionality of Canva for most of my design process, the Vexels T-Shirt Maker gives you an easy way to create and then tweak your design before downloading.
You can search for vector elements and import them directly from the Vexels catalog. Easily add text, change colors, and add effects, all within the T-Shirt Maker interface. Once you are finished creating your new design, Vexels will automatically export it sized at 4500x5400px. This makes it easy to export your design and go straight to uploading it to Merch by Amazon.
Vexels also gives you the ability to create custom lifestyle mockups for your e-commerce listings.
Scalable T-Shirt PSD's
While I haven't personally explored this feature set, the promise of scalable designs is very alluring. Through the use of the downloadable Vexels templates and Photoshop, you can create designs en masse.
This is one of the many features that Vexels has created specifically for print-on-demand sellers. In a nutshell, you are able to turn one template into hundreds of unique designs. Each scalable design can be repurposed for any product type that you want to sell (ie. t-shirts, mugs, pillows, etc).
Book Covers
If you are selling low and no content notebooks, Vexels also has a handful of beautiful covers to choose from. While the book cover options aren't nearly as extensive, there are still some gems available.
Coupling the cover design options available through Vexels with interior design creation resources like Pixel POD and Book Bolt, it is possible to generate hundreds of unique designs for your low and no content book business.
While you're at it, make sure to check out my 12 Low Content Notebook Ideas for Amazon KDP.
The Cost of Using Vexels
When it comes to pricing, Vexels gives you several options to choose from:
Purchase individual licenses
Purchase a Merch subscription (3 tier levels available)
Purchase a Design subscription (3 tier levels available)
Individual licenses range in price starting at around $5 – $39 dollars. Another nice part about Vexels is that they will provide you with a license certificate for your downloads. This is helpful in the unlikely event that you receive a copyright infringement or takedown request on one of your e-commerce platforms.
Your other option is to sign up for either a Merch subscription or a Design subscription. Merch subscriptions are thoughtfully packaged specifically for print-on-demand sellers. On the other hand, the Design subscriptions are more in line with serving the needs of freelancers, agencies and marketing teams.
By using my link you can get 35% off when you sign up for either the Merch Plus or Merch Ultimate Annual subscriptions.
Lifetime Deal Plans
Although it's not super well publicized on the Vexels site, there is one more option for dedicated designers and print on demand sellers. Vexels also offers a Merch Lifetime Deal and a Business Lifetime Deal. You can access these through my link and claim the same discount. 
Unlike the subscription options, lifetime plans are available for a one-time-payment. These are ideal for those of you who plan on doing a lot of design work and don't want to worry about subscription fees or licensing limitations. These plans range from a one-time-payment of $550-$1,500 and give you access to 200-2,000 monthly downloads and monthly design requests.
There are pros and cons to each of the different plan options. Ultimately, it will boil down to what your business goals are.
If you only intend to download a handful of designs here and there or you are just getting started in the POD space, it may make more sense to buy individual licenses. On the other hand, if you plan on listing tons of designs or are in a growth phase, then one of the subscription or lifetime options may be the better fit.
One important call out …
Prior to making your decision one way or another, you should review the Vexels terms of service. If you elect to sign up for a subscription but later cancel the subscription, you will need to purchase the individual license for any designs that you want to keep selling. 
This gives you the flexibility to cancel your Vexels subscription at any time. If you utilize design assets and later cancel your subscription, identify your best sellers or the design assets that you wish to keep and purchase the corresponding individual license to avoid any headaches.
Choosing the right option
If you are unsure of which licensing option is right for you, consider your business goals and what resources you plan on needing. Here are a few things to help in your decision making process.
Long-term approach
If you are already sold on Vexels and plan to use it for the long-term as your business scales, then a subscription or lifetime plan is likely a better fit for you. The Merch subscription fee is extremely affordable for what you are getting. 
If you plan to use more than 2 elements per month, it makes sense to pay the monthly fee. Even the lowest monthly subscription plan gives you access to the majority of the Vexels platform and allows you 100 downloads/mo, 2 design requests per month, and access to all of the Vexels design tools.
Selective approach
If you are not creating large quantities of designs, just getting started with your Print-on-Demand journey, and/or just building a small niche brand, it probably makes sense to selectively purchase individual licenses as needed. You may not get access to the full suite of Vexels tools but you will still get high-quality designs and a commercial use license. 
Test-the-waters approach
The in-between option would be to sign up for a subscription and use it at whatever capacity you can to grow your business. If at a certain point, you decide that you no longer want the full subscription, make plans to purchase individual licenses for your best selling designs or those designs that you want to keep. This is the best of both worlds as it gives you the chance to access high-quality designs and design elements, list them to your various e-commerce channels and see what sells.
Conclusion
Vexels is an amazing resource to have at your disposal. As a print-on-demand seller, Vexels gives you the tools you need to scale your business at your own pace. 
My personal experience with Vexels
I have been using Vexels since the start of 2021 to supplement my print-on-demand workflow. While I do pay a graphic designer to create designs for me, I still try to do 40-50% of my design work myself. For reference, I pay my graphic designer anywhere from $3-5/design.
With that reference point in mind, the Merch subscription to the Vexels platform becomes incredibly attractive. I use design elements from Vexels in conjunction with Photoshop and Canva to create high-quality designs without the burden of starting from scratch each time.
Beyond getting access to thousands of professionally created .pngs, vectors and design elements, getting a Vexels Merch subscription will also give you access to a ton of additional features like the mockup generator and t-shirt maker.
In summary
Leveraging the Vexels graphic design platform gives you the opportunity to scale your business regardless of your design skills. When it comes to determining the right design partner for your business needs, choosing the best one may not be an easy decision.
That's why I've worked hard to compile everything you need to know about Vexels into this simple review.
If Vexels seems like a good fit for your print-on-demand business, I encourage you to sign up and give it a try. And as always, if you have any questions, let me know in the comments down below.